2001 Dodge Ram parking brakes
09-18-10, 06:08 PM
2001 Dodge Ram parking brakes
---
Just thought I'd tap the good resources on this forum. 2001 Dodge Ram 3500 flat bed dually with Cummins 5.9 6 series engine has top hat or high hat parking brake drums and disk brakes on the rear. I can adjust the passenger side parking brake as the slot is on the bottom and easy to access, but the slot for the driver's side is on top and you can't get any kind of adjustment tool in the slot. There are suspension parts within 1/2" of the slot totally blocking it. Any one had experience or any ideas how one goes about adjusting the driver side?? I've got the shop manual, but it doesn't give particulars on the driver's side versus the pax side. Oh, dodge forums are of no help, either.
Sponsored Links
09-18-10, 06:38 PM
Your Backing Plate is on Upside down.....

I'll See if I can Find The Bulletin, but I remember Hearing the Older guys Talk about this. They came from The Plant that way.
09-18-10, 08:15 PM
09-19-10, 03:19 AM
That TSB involves the parking brake cable. That cable only equalizes the pressure between the two top hats. You can't adjust the brake tension via this cable. You have to adjust the shoes via the old method of brake tool through backing plate.
Unclediezel, sure hope you can find something on that. It sure would make my life easier.
Thanks for both responses. I'll keep digging, too.
09-19-10, 07:55 AM
Join Date: Aug 2006
Location: santa fe /texas
Posts: 998
remove rotor/ adjust park brake shoes-for a slip fit to drum surface.
yes-it is a PITA-but it works- also you get a visual inspection
09-19-10, 10:47 AM
Sorry for posting wrong TSB. Database is a mess since partial crash of hard drive. Not aware of tsb for upside down backing plate. Makes no sense either, but this "Old Marine Warhorse" is always willing to learn something new. Someone out there with the "Backing plate TSB? Post it. Love to see it.
Simple logic dictates that;
If adjustment is on top then slot must be on top. If plate was upside down then adjustment would be on top, and slot would be on bottom.
Adjustment on bottom? Slot must be on bottom.
Not rocket science.
See images below.
First is slot on top showing adjustment
Second is home made adjustment tool.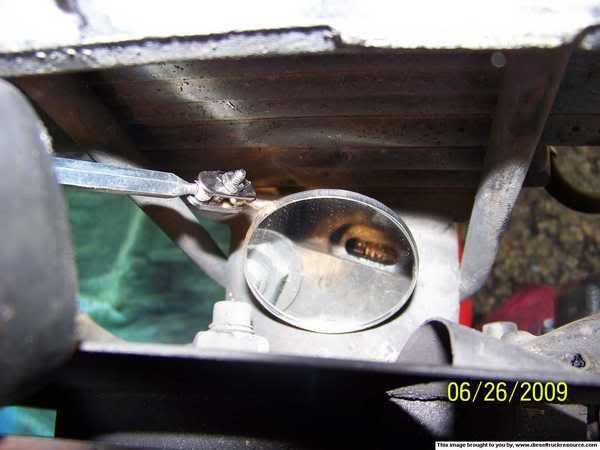 09-19-10, 12:18 PM
Thanks guys, for all the information. Learning is a good thing. I may pop for a "dealer" brake adjustment and when they get to the left side, ask what numbnut designed it that way? I would guess rather than mirroring a left brake assembly, they just took a right one and applied to the left, placing the hole and adjustment on top.
09-19-10, 12:42 PM
(Quote) they took a right one and applied to the left, placing the hole and adjustment on top.
Bamm. Give that lady a cigar.
She finally got it.
In terms of "Cost" for adjustment, dealer is going to take your lungs out, and then shove them down your throat.
Rip-off redefined basically.
Better off making the adjustment tool I posted and adjusting brakes yourself.
09-23-10, 03:50 PM
I got the old guys together, They all remember this......Unfortunately I owe you guys an apology. There are no Svc bulletins to be found.....Much to everyones shock.

I will of course keep looking.....
09-24-10, 03:25 AM
Thanks anyway, Unc. I guess I'll go garage sale looking this weekend for a dollar screwdriver that I can bend up like the pix and give it a shot. I'll let you know.
09-24-10, 04:20 AM
Chandler,
Spend more than a $1.00. Cheap screwdriver will only break. No need to go crazy and buy a
Snap On.
Craftsman is ok. Don't try to make bends cold either. Driver shaft will just break. Best to clamp driver into vise. Use mapp gas instead of propane to heat up shaft and make bends. Mapp burns hotter and cleaner than propane.
diezel,
Hey buddy. No repair info or TSB for this issue. Stop
trying to find anything. It's a production cost thing. Dodge wasn't going to go through the expense of manufacturing another plate for the driver's side. "OE" design was to simply take plate from passenger side, flip it around and use on driver's side.
Semper Fidelis
Sam
09-24-10, 04:29 PM
Ok...Got it....

It wasnt a TSB..... It was an Internal Tech Tip from Mopar Parts. It seems Sam had it right. When Ordering a Backing Plate, It is now necessary To specify Right or left. I'll grab The part #s in the a.m.

Although....Logic dictates it will be cheaper to Bend the death out of a screwdriver than replace a Plate.
BTW....Service info States that rotors are to be removed, and "Installed diameter" of shoes is measured with a Drum Brake gauge, and compared to "Hat" diameter. Any remaining slack is to be taken up by Adjusting The Cable Equalizer.

.........Again..Its far more productive to Bend up a screwdriver....Or an Old Dinner fork for that matter...And have at it..
Posting Rules
You may not post new threads
You may not post replies
You may not post attachments
You may not edit your posts
---
HTML code is Off
---