2003 Buick V6 Oil in Radiator
10-26-10, 08:35 AM
Join Date: Jul 2002
Location: Staten Island, New York
Posts: 201
Received 0 Votes on 0 Posts
2003 Buick V6 Oil in Radiator
---
2003 Buick Century V6 3.1 Litre, only about 25,000 on car since it is only driven infrequently by my 82 year old mother in law (and yes I do get along with her) .

When I periodically check the car out for the the past year there has been oil under the radiator cap and in the radiator - Gray/White in color.. There is no sign of water on the engine oil dipstick or under the oil fill cap. Engine runs fine with no sign of head gasket issues that I could see - I know there were a lot of problems with the original GM Red Coolant Dexcool.

No sign of water on transmission dipstick but Mom did describe what sounds like the trans slipping a couple of times while driving. I took the car for a day and it did slip only once but not again. About 8 months ago I drained the coolant, filled and flushed twice and installed new coolant. It still is getting oil into the radiator.

I'm thinking that the trans cooling lines in the radiator are bad and I probably need to replace the radiator. Anyone have experience with this? Thanks in advance for your advice.
Sponsored Links
10-26-10, 11:54 AM
Just to expand further did you replace the coolant with a GM approved product for that vehicle? I think that the GM coolant/gasket issues were solved before 2003, so just wondering what is in the rad now and whether it is compatable with the cooling system. Also when you flushed did you use an approved product to clean the system? What makes you think that it is transmission fluid that is showing up in the coolant.
10-26-10, 04:14 PM
The first thing is to rule out the possibility of a blown head gasket.
To do that:
Do the test below and post the results. You can also do a
compression test
and post the results or a
cylinder leak down test
and post the results. You can also buy a [COLOR="red"]block tester kit [/COLOR
](appears in image below)
from a well stoked auto parts store, and post the results.
Make sure you follow the instructions on the kit precisely.
Remove all the spark plugs. Get a cooling system pressure tester and pressurize the cooling system to about 20 PSI. Leave the system pressurized for several hours. Now lay down some clean paper towel along the cylinder heads where the spark plugs were. Crank the engine over for a few seconds. Since the spark plugs are not in place any antifreeze that leaked into the cylinder will be blown out onto the clean paper towel. Examine the paper towel for the telltale signs of antifreeze and you will be able to tell which the guilty cylinder as well.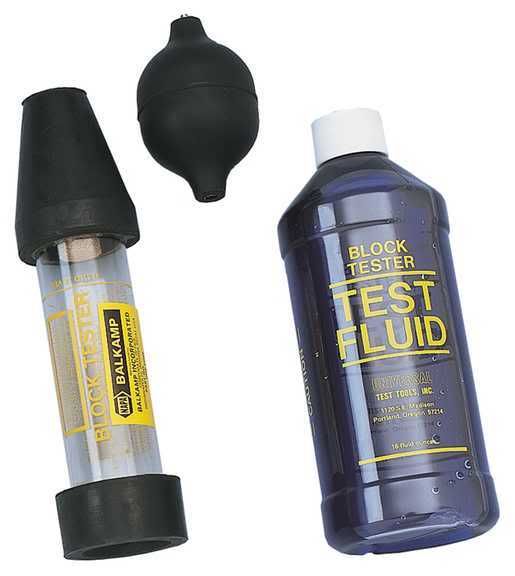 10-26-10, 05:19 PM
looks like you have internal, not EXTERNAL leak. one of the oily substances is getting into coolant. not coolant leaking out into engine chambers, whichever they are.
i am not positive it is oil though. oil in coolant, as 2 liquids do not mix together, looks like droplets. yes, you may notice them on the dipstick, if it leaks inside the combustion chambers, and drips down into crankcase. or, it may be noticed as droplets in the radiator coolant, or as EMULSION, created by fast spinning water pump fins. but that one, every time i saw it, is yellowish light, creamy substance, not gray. maybe your coolant cancels or changes the color.
sounds like gasket leak anywhere oil and coolant run close by. my knowledge on buicks or 3.1L engines is very limited.
ATF would have prolly been more towards reddish tint, due to this:
Automatic transmission fluid (ATF) is the fluid used in vehicles with self shifting or automatic transmissions. It is typically colored red or green to distinguish it from motor oil and other fluids in the vehicle.
plus, ATF has very specific smell, you should be able to smell the difference.
make simply experiment: take some of your car ATF and coolant, and beat it up into emulsion with mixer; then do same with oil and coolant. compare the differences. color, consistency, smell.
11-20-10, 06:29 AM
Join Date: Jul 2002
Location: Staten Island, New York
Posts: 201
Received 0 Votes on 0 Posts
I intended to reply 3 weeks ago but forgot.
I went to a shop recommended by another retired mechanic. As soon as I explained what was going on in the radiator this Technician said that what I was seeing was the Dexcool braking down and turning into this oily residue. He said it fools a lot of car owners and mechanics who rush into replacing head gaskets when its only a coolant problem. He told me to flush and fill the radiator at least 2 more times. I did and refilled with Prestone 50/50 all type antifreeze compatible.
So far there has been no more buildup of oil in the radiator or the coolant reservoir. There is a slight amount still in the system because I remove the Radiator cap when cold to check. The reservoir has remained clean and I had removed it twice to clean it out with solvent because there was a big buildup of oil in it.
11-20-10, 09:09 AM
Gm radiators are not uncommon to transmission cooler failures. Some car were equipped with engine oil coolers on the opposite radiator tank.

So the radiator is a source for both trans fluid & engine oil to contaminate the coolant.

It would be rare for either of these oils to back contaminate the engine or transmission due to the fact that the oil pressures are higher than the cooling system that operates at about 15psi so it pretty much only pushes into the radiator and not the the other way.

Contaminated coolant is less likely a headgasket and the afore-mentioned exhaust gastest kit saves a lot of guessing and is well worth the $30.

If you are doing repeated flushes consider using water with a chemical flush additive instead of new coolant.

This test is more simple & determines the headgasket fault without a compression test and takes 20 min. and the only part to remove is a radiator cap & a vacuum line source.

Headgasket failures will usually pump exhaust gasses-not oil into the cooling system causing overflow coolant loss.

The Dexcool red/orange coolant hailed as long life, is not a good idea to run the coolant 100,000 miles. flush it @25000
---
Last edited by wiillix; 11-20-10 at

09:27 AM

.
11-21-10, 08:07 AM
Join Date: Jul 2002
Location: Staten Island, New York
Posts: 201
Received 0 Votes on 0 Posts
Car has very low miles, only a little over 25,000 miles. I did use a chemical flush second time around. Considering the condition of the coolant before I started flushing, the coolant has remained extremely clean for 3 weeks. I check it at least once a week. Will post if anything changes.
11-21-10, 08:32 PM
somehow, i simply do not buy into coolant falling apart on 2003 vehicle. and 25K miles. i simply do not buy into this, period. i am speaking from experience of many years and hundreds of thousands of miles on ORIGINAL factory coolants, and have never ever seen this or ever heard of this from any of my DIY buddies.
but hey, if it did the trick - then amen. i wish everything was that easy to fix.
PS you see, this is why we, as community, stay away from domestic cars, no offense. i guess, my experience comes from imports. reckon, i need to get rid of that orange junk in my silverado
Car Owners Disgruntled Due to Dex-Cool Antifreeze
11-22-10, 09:05 AM
I found this thread to be very informative and thought I should let everyone know that I have had good success (so far) with "Dex-cool" anti-freeze. My 2001 Buick has faired well and now has just under 150K miles. I flushed and replaced the coolant at 100K miles and used Dex-cool with distilled water. The system is never tampered with, so there isn't much change for "contamination" and I have no complaints. Maybe I have been "lucky"... but I NEVER use "tap" water in anything and I think that is the key to the success.
Posting Rules
You may not post new threads
You may not post replies
You may not post attachments
You may not edit your posts
---
HTML code is Off
---