Priming, Painting, Clearing Plastic Qs
11-18-12, 07:53 AM
Join Date: Sep 2012
Posts: 9
Priming, Painting, Clearing Plastic Qs
---
Hi, Im david, new to this side of the forum. Just looking for some quick advice/opinions on what you think I should use/do for my project. I am painting my plastic hubcaps for my car. I painted them last year but did a rush job and used no primer, plus it was cold. They ended up taking a beating so I would like to do a proper job this year.
Last year I used Duplicolor Acrylic/Enamel spray and duplicolor clear.
This year, I did a heck of a lot more sanding and purchased some primer.
There was a lot more work behind this project, I filled some scratches with quick plastic, but dont wanna post all the pics here, ill make a seperate DIY thread later when I find time.
Im more curious about this question:? I purchased Duplicolor Grey Filler Primer as well as Duplicolor Adhesion Promotor; which I had never heard or seen before, but I bought it. It says it is a clear quick drying primer which improves adhesion for all paints, and it is ideal for plastic.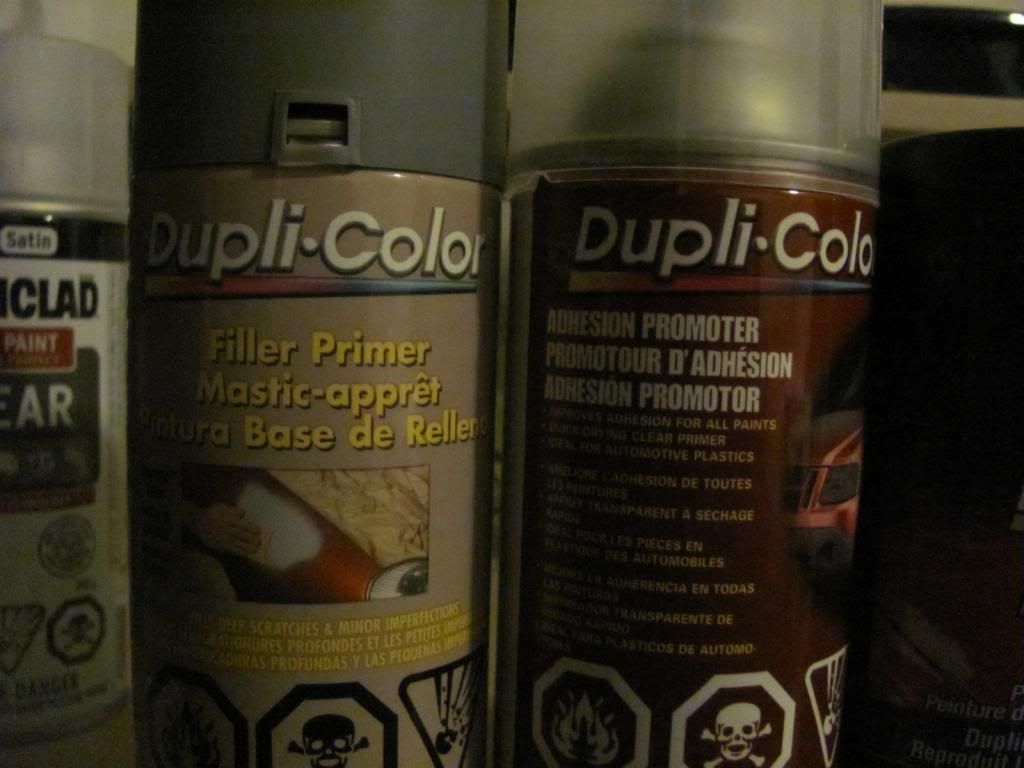 My question is, will these products work together (the 2 primers) and which one should I use first? I am thinking of using the filler primer first to fill all scratches, do my sanding, then go over top of that with the adhesion promotor?
The adhesion promotor must be some type of super acrylic becuase it says paint must be applied within 10 mins of application. Not sure if Im going to use it or not?
Any thoughts/suggestions/advice would be appreciated, or even if you can point me to the right forum if im not in the right place (I didn't see much auto painting threads when I searched).
Sponsored Links
11-18-12, 04:26 PM
Not a direct answer to your question, but for the MOUNTAIN of work you want to do, plus costs involved - ain't it easier to simply buy set of 4 covers for less than $30?
Toyota Wheel Covers, Toyota Wheel Cover
11-18-12, 04:34 PM
Join Date: Mar 2005
Location: USA
Posts: 44,200
I worked in the painting field all my life but only dabble in the automotive side. Generally an adhesive primer would go on first to promote good adhesion as there shouldn't be any issues with the top coat adhering to the primer. Since it requires the top coat to be applied almost immediately, I'd be inclined to not bother with that primer...... assuming you'll need the filler primer to level out the surface.

Painting plastic like everything else depends a lot on the prep! Make sure the hub caps are clean before priming, that includes any cleaner residue. It's also important to reclean [remove any sanding dust, finger oil] before applying the finish coat. Hope it comes out well for you.
11-19-12, 09:56 AM
Join Date: Oct 2004
Location: WI/MN
Posts: 18,759
A second vote for not bothering - I used to remove the wheel covers on my cars if they had them and just show the black steel rims, so take my opinion for what it's worth.
04-26-13, 08:39 AM
Join Date: Sep 2012
Posts: 9
This was a MOUNTAIN of work lol. Not really worth it when I look back on it, but I enjoyed the experience. Good painting practice I suppose. I guess it was kind of worth it, but for the amount I spent on paint, I probably could of found a set of cheap used wheels.
But looks like I did something right as most of the paint stayed on (at least a lot better then the last time I painted them). Here are a few pics of how they looked after I finished painting them: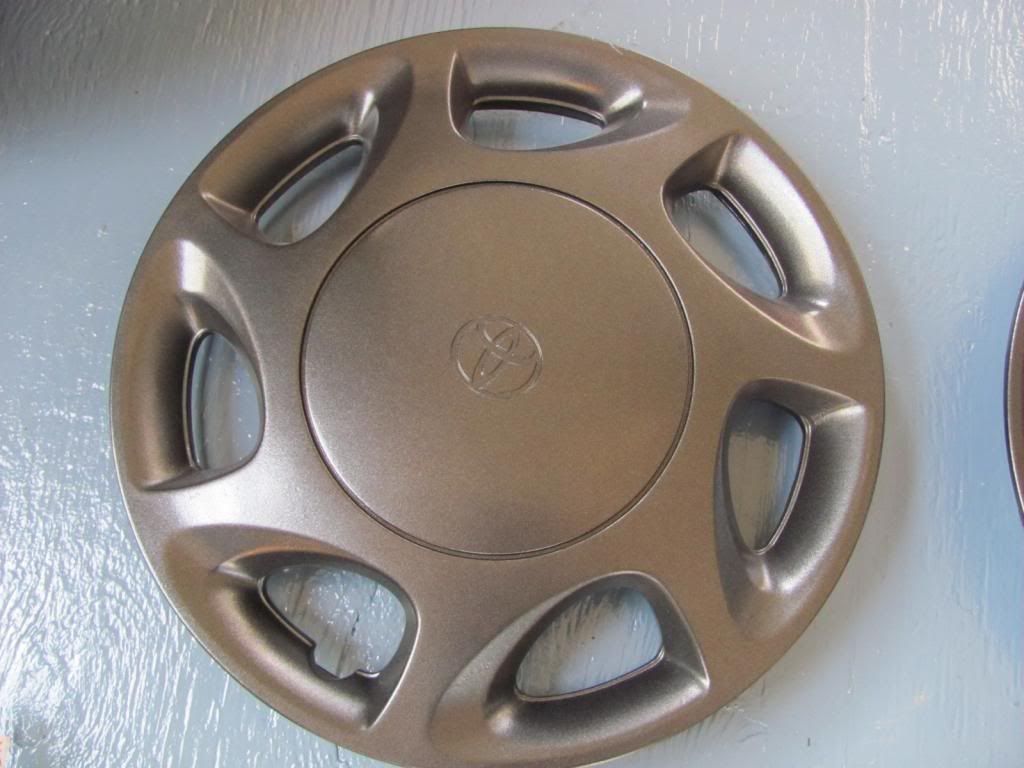 And I just now went to take some pictures of how they look after being used for 1 winter: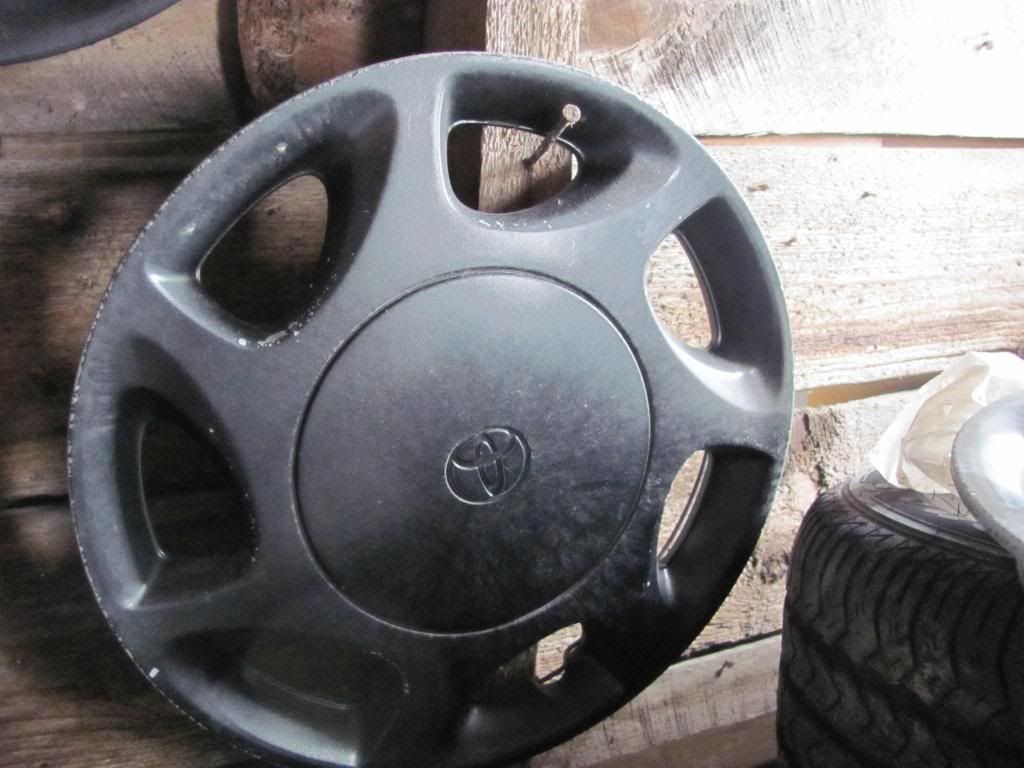 The 2 hubcaps that were on the back got nicked up a little bit, but no worse than what I have seen on some peoples factory painted wheel covers.
It was also under 10 degress Celsius with the sun shining when I painted them. I just did a lot of prep work and if I remember correctly, I kept the hubcaps and paint warm buy moving it inside in between coats, and let it cure inside (in a room with the door shut). Though I cant seem to remember if I used the adhesion promoter or not? lol I think I just used the filler primer.
Posting Rules
You may not post new threads
You may not post replies
You may not post attachments
You may not edit your posts
---
HTML code is Off
---