Plastic radiator repair?
01-23-13, 01:19 PM
Join Date: Sep 2003
Location: somewhere down in texas
Posts: 506
Plastic radiator repair?
---
2007 hummer has about a two inch long crack along the top tank on the radiator. What is the best easy fix. Surely it can be patched w/o replacement. Thanks.
Sponsored Links
01-23-13, 01:21 PM
Join Date: Oct 2004
Location: WI/MN
Posts: 18,760
Eek! Sorry, I've never heard of a plastic one being repaired, only replaced.
01-23-13, 01:24 PM
01-23-13, 03:23 PM
Actually, one of our members repaired one a few years back and had good success. He also had access to and experience with industrial quality fiberglass and epoxy resins.

If you have the same access and the skills to use them, and don't mind the possibility of being stranded...might be worth a shot. Otherwise I think spending the $200 is the most logical course.
01-23-13, 03:26 PM
Join Date: Oct 2010
Location: USA
Posts: 563
Because the radiator is under at least a little bit of pressure, any repair would have to be strong enough to handle the pressure, but flexible enough to flex with the plastic tank.

In a vehicle that I needed to absolutely have running I'd probably replace the radiator if it had a plastic tank.

I did once JB-weld the top tank on a radiator in a '66 Ford F100, but it was a metal radiator. It wasn't my truck and we had broken down on the side of the highway, but I'm not sure that they ever replaced the radiator or even made for a more permanent repair...
01-23-13, 03:41 PM
Join Date: Mar 2005
Location: USA
Posts: 44,211
My son's truck takes a $400 plastic radiator
He's repaired it countless times and sooner or later it leaks again
His boss keeps saying he'll help him build an aluminum replacement but........
If it was my vehicle - I'd replace the radiator!
01-23-13, 05:45 PM
mitch, you apparently have not seen my post from 2 years back. I had son's Eclipse radiator fixed at the upper hose neck. I had a lot of "it's bs, will fail soon" response here, but thing held with no leaks fine for all the time, and I replaced radiator simply to sell the car.

kerry, get some JB Weld, and fiberglass. I used carbon fabric, but it's mostly unavailable and requires acrylic resin anyway.

You have to have crack and work area completely degreased and dry. You need to score a deep mark into the crack, to widen and deepen it some, so that resin goes inside. ROUGHEN plastic around crack, as in - make it rough, with something. Wire brush, rasp.
Then, cut a long fiberglass narrow strip, just right to cover the crack, say, one inch wide. Saturate it in JB Weld or quick setting resin, if you find one, and lay it over the crack. Le tit harden.
Roughen that patch, and go with second strip, twice as wide, and cover the 1st patch. Let it harden/
Depending on how much work surface you have, you can do 3rd patch.
After done, liberally smear resin all over the patches and around them.
Not purty, but works. Keep in mind, fiberglass fibers will stick to gloves like crazy. Takes some finesse to do the job.
Main concerns are - dry, clean, and rough.
01-23-13, 08:08 PM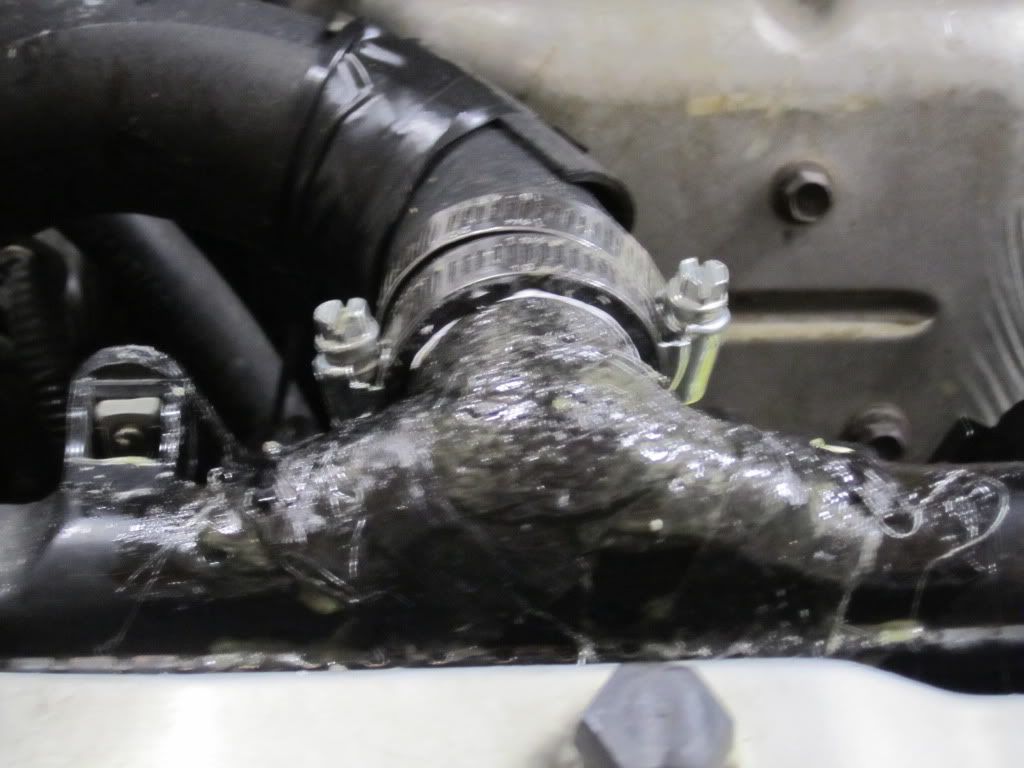 01-24-13, 09:00 AM
Join Date: Oct 2004
Location: WI/MN
Posts: 18,760
Igor - yep, you're right, I missed your post a couple years ago. At least I said I hadn't heard of anything, not that it wasn't possible
01-24-13, 03:13 PM
Join Date: Sep 2003
Location: somewhere down in texas
Posts: 506
Thanks for all the info guys. I got lucky and found a factory replacement for 199.00. I think i will replace as it is unit one's car and she will kill me if my southern engineering fails. I did like ukrbyk's repair idea. looked like it would have worked if it were my car. Thanks again.
01-24-13, 06:49 PM
Always keep in mind, I have access to very good resins and fiber materials. Honestly, I was surprised that patch worked for so long myself. But I also fixed expansion tanks before with JB Weld and it held very well.
Posting Rules
You may not post new threads
You may not post replies
You may not post attachments
You may not edit your posts
---
HTML code is Off
---