How big of a slab should I use for a lift?
01-03-14, 08:32 PM
Join Date: Jan 2014
Location: Canada
Posts: 1
Likes: 0
Received 0 Likes on 0 Posts
How big of a slab should I use for a lift?
---
I am planning on purchasing an Atlas BP8000, which requires a 4" slab. 3000psi is the standard minimum for two post lifts. I was originally planning on pouring a 6" slab across the whole garage, then I realized how much concrete costs. (It would cost more than the lift in concrete just for a small two car garage!)
So my plan now is to pour a separate 6 inch slab just for the lift, and possibly just leave the rest dirt or maybe lay wood. My question is, how big should the slab be? I was looking at this:
http://www.mohawklifts.com/consumer/...eco_2-2010.pdf
and for a lift close to the one I'm looking at, it said it need a 4 x 12 foot slab. Which is okay. A second look says it needs to be 12 inches thick and needs to be surrounded by other concrete! Crazyness.
This is getting silly. How big of a slab do I need to install a 8000lb 2 post lift?
P.s. I have been using two post lifts for years and trust my decision on which type of lift to buy. Garage is not yet built and height will be more than adequate. Don't worry about that stuff
.
01-03-14, 10:59 PM
Join Date: Oct 2012
Location: Jersey
Posts: 71,620
Welcome to the forums.

The supplied pre-installation instructions look to be very thorough and well written.

Your question appears to be how much less concrete do you need or how much smaller can you make the pad. Any recommendation we made that contradicted the supplied instructions could be life threatening.
01-04-14, 05:41 AM
Join Date: Mar 2005
Location: USA - N.E.Tn
Posts: 49,395
It's my understanding that for the most part, the whole garage floor can be 4" thick except where the lift bolts to the floor. Those areas would be 8" thick ..... at least that's what I've gathered from the few installations I've been around. The lift needs a good footer but the surrounding concrete helps to keep everything stable.
01-04-14, 07:48 AM
Go to metal surplus store, where you can find large steel plates. 4x10, 4x12. 1/4 thick. Mark and weld mounting bolt nuts to it, over through holes, to allow mounting bolts to go through the nut. Make those for lift mounts and about 8 more, 4 on each side of the plate, distributed evenly.
Buy 4 of those plates, but put nuts only on 2.
Prep garage floor for concrete and lay those metal plates right where they are supposed to be. I am assuming, you WILL put some rebars or some sort of anchoring net into concrete, as as far as I know, inches of concrete are for non-armored concrete.
Secure nuts with something that will allow access to them later, concrete people know how to.
Pour 4 inch concrete and let it harden. LAY THE SECOND SET OF STEEL PLATES to match ones embedded into concrete, then bolt everything together and mount your lift.
In this manner, you have BRACED slab and WIDE footing for your lift. If they use good quality concrete, that thing ain't going anywhere. You can accommodate surface plates with running boards or floor mats not to drive on sharp metal corners.
That's why I chose scissor lift. Don't have to worry about no slab, as it's sitting flush and flat on the slab via large contact plates.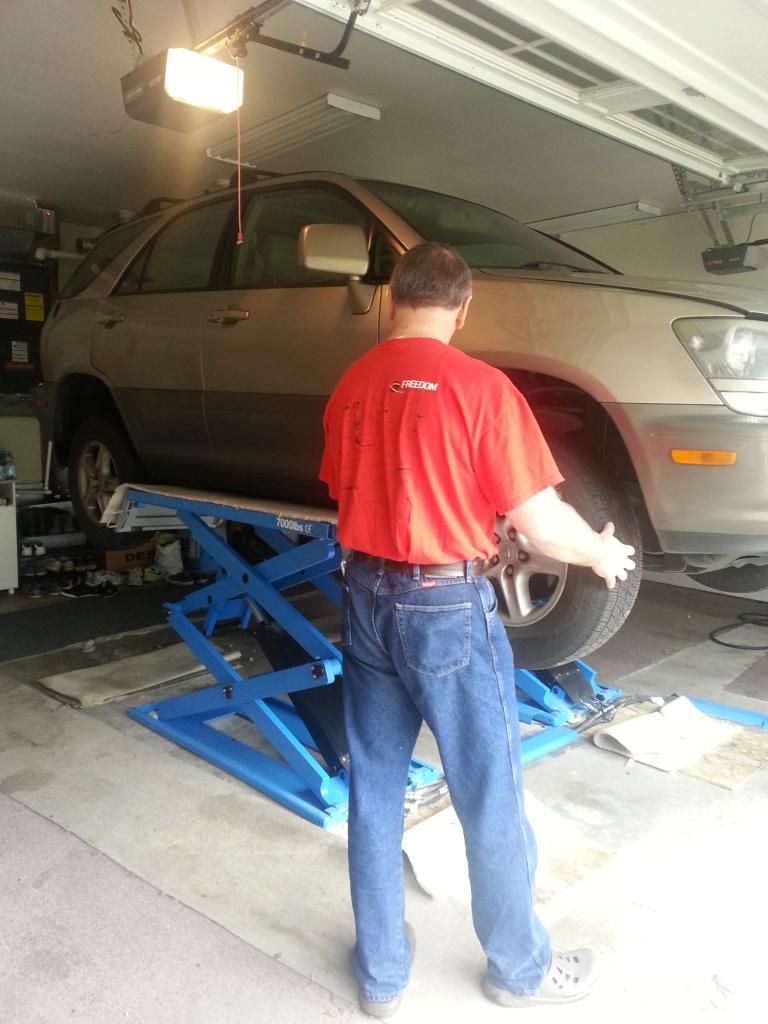 01-04-14, 10:14 AM
Always follow the manufacturer's requirements, but most stipulate 3000 psi concrete, typically in the range of 4" to 5" thick. These specifications are sufficient, but one critical factor is that the lags must be in full contact with the concrete, so 6", at least in the area that the columns will set, is a good call. That extra inch or two allows for the fact that someone is surely going to drag their foot in the sand at some point during the process, and you don't want a mound of sand to create thinner concrete where one of the bolts will be placed. Rerod or mesh is your call, but is typically not required, and rod may necessitate you having to buy an additional bit. Wait at least 3 weeks, 4 is preferrable, from the time that the concrete is poured to the time that you set the lift. Concrete does not dry, it cures, and drilling it prematurely will result in a hole in which the expansion type lags that are provided will not hold. Being the son of a millwright, I can see the rationale for embedded plates, but I would not do that. I have seen installations where that has been done, but try leveling the concrete around 16 or so bolts. Any that I have seen done that way resulted in a lot of unnecessary shimming. And it will not be compliant with any manufacturer's recommendations that I have seen for this type of lift.
01-04-14, 05:56 PM
Sure. I am son of a violinist, but my neighbor has done his shop concrete by some Hispanics. He had anchors for hydraulic pullers spread all over the floor, and they had no issues leveling or pouring concrete around them. As in - it's hollow threaded tubes he screws anchors in.
I am not going to get into argument. But there will be nothing stronger than a slab sandwiched between 2 steel plates. And it's not that much of extra work to insert greased tubes where nuts are and then pull them out to leave holes.
But I drove past those guys today again. I keep passing large concrete blocks on my way to work, barricading a parking lot. Those look like 8 x 2 x 3 solid concrete blocks with embedded "ears" for crane or forklift. Some say "No Parking" or "keep away" stenciled into them. Why don't you get 2 of those where lift footing will be, dig them deeper to stay level, and then pour the rest?
These guys:
http://www.accentbarriers.com/images/slide6.jpg