McPherson strut R/R question
06-04-14, 07:04 AM
Join Date: Nov 2007
Location: MI
Posts: 2,446
McPherson strut R/R question
---
I'm a little baffled by something I encountered while swapping struts in my daughter's 2005 Saturn Ion. The top mounting stud is much smaller than the hole in the shock tower and is held by a nut with a wide flange. There is also a locating pin that limits movement somewhat but what reason would there be for using a 1/2" bolt in a 1" hole? That's not how they teach it in shop class...
Sponsored Links
06-04-14, 07:48 AM
Join Date: Apr 2014
Posts: 115
Did the new struts come with new upper strut mounts that bolt to the tower with w/3 stud/nuts?

If so, make sure that you properly replace the old strut mounts with these new strut mounts according to the manufacturer's installation instructions. Note: some strut mounts come with a "top cap" that has a threaded stud in the middle that can be mistaken for the strut rod itself.

If not, make sure that the replacement struts are a "direct fit" for your vehicle. Otherwise, you might need to purchase separate "bolt-on" strut mounts that fit both the new strut and the tower.
06-04-14, 09:10 AM
Join Date: Nov 2007
Location: MI
Posts: 2,446
The struts look like your 2nd example--top cap with single stud--so there's only the one nut visible. They look identical to the originals I removed.
06-04-14, 10:12 AM
Join Date: Apr 2014
Posts: 115
If you can, post some photos of the new and old struts and one of the towers.

Meanwhile, I'll try to find an expanded view drawing or, better yet, the removal and installation procedure (preferably as per the factory service manual or a Haynes publication). This is really one of those times when a service manual becomes very helpful.

That reminds me; can you post the brand and part # of the new struts?

Some strut manufacturers offer online guides on how to replace and install the units they sell.

Hang in there Guy, you'll get this thing sorted!
06-04-14, 10:23 AM
Join Date: Apr 2014
Posts: 115
OK, I found an online PDF on this. A search of the keywords below should bring up an article that covers both the spring replacement and the strut replacement:

Document ID# 870580 2005 Saturn ION
06-04-14, 03:04 PM
Join Date: Nov 2007
Location: MI
Posts: 2,446
That does confirm I did it right, no missing parts, etc.
it's just really strange that the top mount is a single bolt in a way - oversized hole. In strut assemblies that I'm more familiar with that top nut wiggles as the steering moves. With a single nut tightened to 80 ft-lbs it shouldn't move-- but why the huge hole?

It almost looks like they goofed and used a different strut than it's drilled for.
06-04-14, 03:18 PM
I do not see anything special about your strut. The only "goofy" thing is that normally bearing plate has studs that go through the fender into engine compartment, secured in place with nuts. Here, they chose to drive bolts into the bearing plate. Which is likely fine, as it's major liability area in case fices hit the fan. It's likely well calculated.
Every strut I ever replaced has oversized fenestration in fender for the center nut.
06-04-14, 07:48 PM
Join Date: Nov 2007
Location: MI
Posts: 2,446
I think I know what you mean--but on most the top nut isn't what attaches the strut TO the car.
I don't have access to my daughter's car today but here's a screengrab of a youtube video I found showing the process: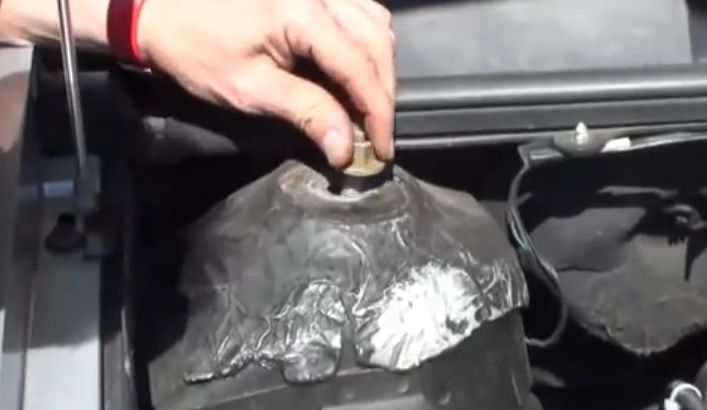 You can see the oversize hole to the left of the shaft & nut.
I asked one of the automotive test engineers at work about this & he had never seen one like it & had no idea why the hole would be 2X the size it needed to be.
Posting Rules
You may not post new threads
You may not post replies
You may not post attachments
You may not edit your posts
---
HTML code is Off
---