Tail lights out 2005 Acura TSX/Accord (fuse diagram pics included)
10-02-17, 07:22 PM
Join Date: Aug 2014
Location: USA
Posts: 33
Received 0 Votes on 0 Posts
Tail lights out 2005 Acura TSX/Accord (fuse diagram pics included)
---
Hello!
The tail lights are out on my daughters 2005 Acura TSX. The lights work when the brake is pressed. She said her boyfriend changed the bulbs, so I'll rule them out for the time being. The reverse lights and blinkers work. I haven't looked at it yet and coordinated time to spend on it is at a premium for both of us, unfortunately. I'm looking at the pics to hopefully make it as quick as possible.
Does anyone know which fuse(s) and/or relay to check for the tail light function on this model from the pics below? I'm guessing it's small lights for the fuse on the under hood diagram, but I'm just guessing. I know to check for voltage at the bulbs, but I can't figure out the correct relay (or if there is even one for them) or fuses. Any help would be appreciated.
Edit: If you right click and open the images in new tabs you can see them much bigger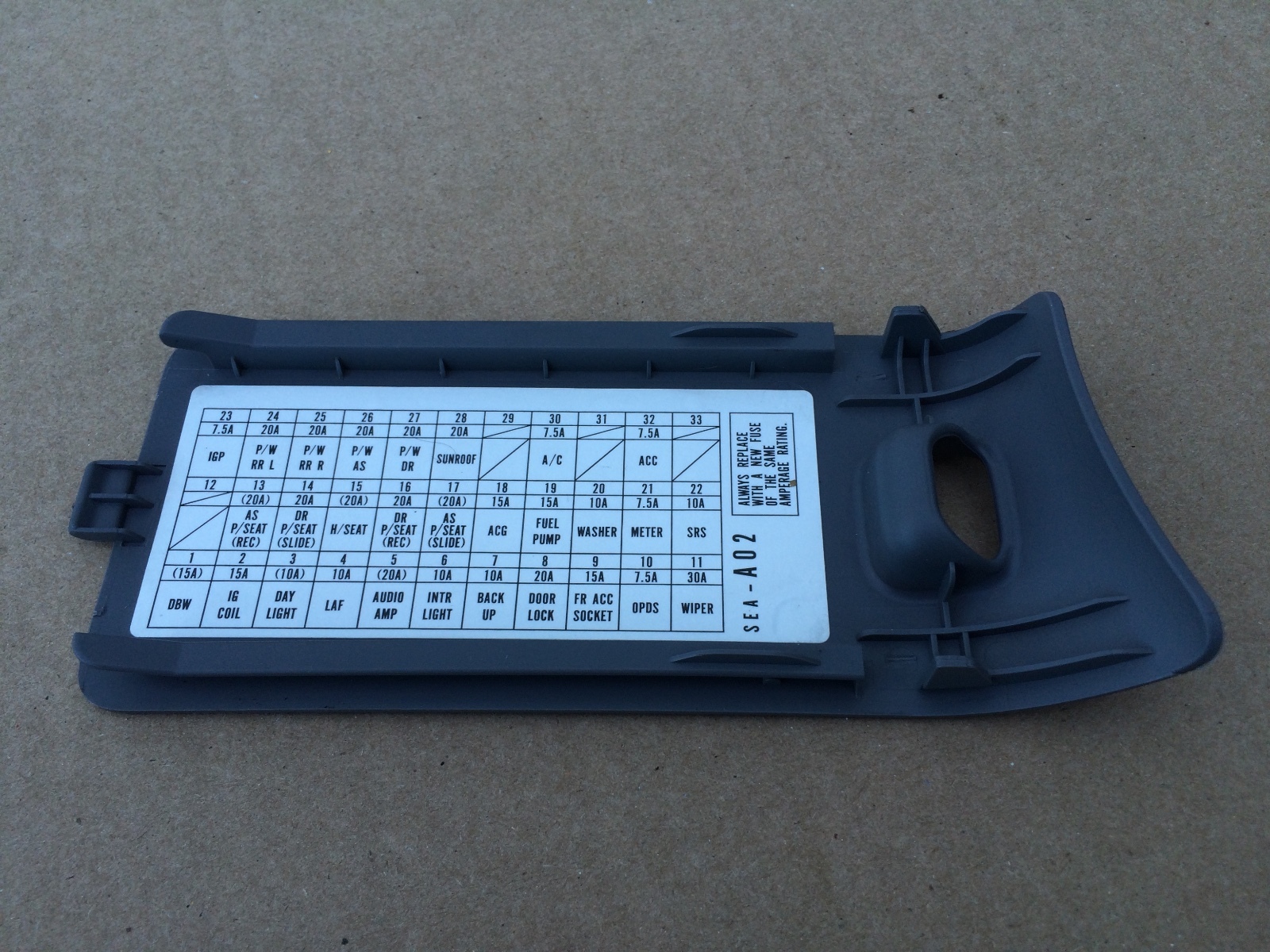 ---
Last edited by MrPotatoHead; 10-02-17 at

07:23 PM

. Reason: Left out something
Sponsored Links
10-02-17, 08:00 PM
My 03-07 Accord reference material says that underhood Fuse 4 (Small Light) controls the tail lights. Also controls license plate light, brake light, and front turn/marker lights on the Accord. There is also a tail light relay. Of course, that's on the Accord, and there could be some differences.

Since you didn't say anything about the other lights being out, I propose a simpler thing to check. What bulbs did the boyfriend put in? The TSX should take #7443 bulbs, which are dual filament for tail and brake functions. If the boyfriend stuck the wrong bulbs in, it might only have one filament and as a result only work for the brake function.
10-02-17, 08:29 PM
Join Date: Oct 2012
Location: Northern NJ - USA
Posts: 53,083
The horn and stoplights are on fuse # 13 in the inside box. That could be the main stoplights or the high brake light. It's not listed.

Do the dashlights/instrument cluster lights work ?
Check fuse #4 in the outside box.
10-02-17, 08:38 PM
Join Date: Aug 2014
Location: USA
Posts: 33
Received 0 Votes on 0 Posts
Thank you for the reply SuperSquirrel! I was actually able to track down a detailed pdf for a 2004 TSX because of you mentioning the other lights it controls. The tail lights weren't working before he changed the bulbs. She said the guy at Auto Zone said they were the right ones. I know how that goes, so I'll just physically check them when she actually brings it over haha.
Thank you as well PJ! She said all the interior lights were working. She might not have thought to look at some of those controlled by fuse #4 though.
Here is the pdf for you and hopefully any future viewers needing help:
2004 ACURA TSX ELECTRICAL FUSE/RELAY BOX DIAGRAMS AND REMOVAL
In the diagram linked above, it doesn't obviously appear that there is a relay for the tail lights on the upper portion of the interior/under dash fuse box. Would this be correct?
10-02-17, 09:27 PM
Join Date: Oct 2012
Location: Northern NJ - USA
Posts: 53,083
Not the interior lights...... the instrument lights.

I doubt there is a separate tail light relay as I think they are switched directly from one of the BCM's (body control module)

Start by seeing if the fuse is blown. There is a lot on it and it may not be easy to troubleshoot.
10-02-17, 09:28 PM
My book says the tail light relay is in the "relay control module." Which appears to be the big flat block next to the underhood fuse cover. How to get into that, I have no idea.

And for what it's worth, Sylvania's light guide lists two different bulb types. For the inner tail light, it's a 168 - single filament, tail only. For the outer tail light, it's a 7443 - dual filament, tail and brake. So if there was confusion, maybe that's where it came from.
Posting Rules
You may not post new threads
You may not post replies
You may not post attachments
You may not edit your posts
---
HTML code is Off
---