How much damage?
06-13-05, 01:46 PM
How much damage?
---
Taking off the dado (?? spelling) rail from around the house which was put up in an abismal was and have damaged a bit of the wall. A link to the pic is here could anyone take a look and advise me on how seriuos this is and is it repairable myself or should I get a specialist in. There are a few more areas like this around the house but this is the worst
Thanks for any help
John
http://i8.photobucket.com/albums/a47...n/IMGP0620.jpg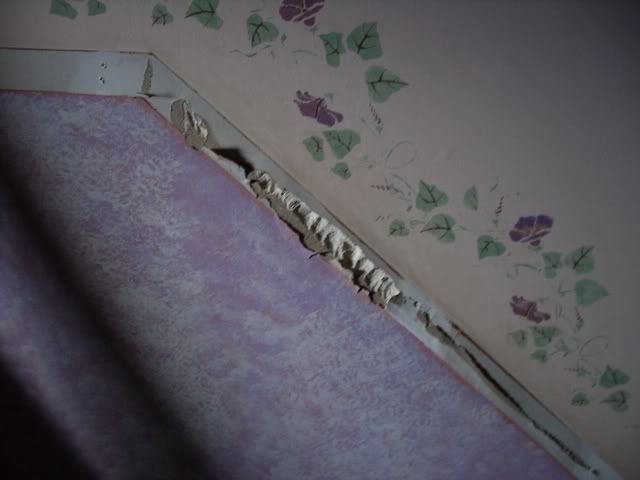 PS please ignore the decoration it is discracefull!
Sponsored Links
06-13-05, 07:09 PM
Join Date: Mar 2005
Location: USA
Posts: 43,838
John

I'm a little confused, you said dado but did you actually mean baseboard? Or am I looking at the pic wrong?
If it is baseboard and you intend to replace it all you need to do is make sure you have a solid level area to nail the new base to.
06-14-05, 04:02 AM
06-14-05, 08:53 AM
Join Date: Mar 2005
Location: USA
Posts: 43,838
The new pic helped. The dado is a chairrail. To repair the walls you will need to insert new sheetrock in any places too big to mud and tape. For the most part you will be able to mud and tape, let dry remud and sand until finished. Some carpenters glue/caulk their trim to the wall so as not to use as many nails. Repairing the walls isn't all that hard of a job but will be time consuming. Use of durabond [fast setting mud] can speed things up.
06-14-05, 10:41 AM
Thanks for your time and info mark. Im am here in the UK think we call it dado rail here but at least we are both talking about the same thing now
As for this sheetrock is it called the same over here in the UK? I have never done anything like this before and im wondering if it might just be easier to call someone out. Also how do you replace the paper that is above the plaster?
John
06-14-05, 01:39 PM
Join Date: Mar 2005
Location: USA
Posts: 43,838
In the US it is called sheetrock or drywall and occasionally wallboard. It is usually easier to let someonelse do the work but always cheaper to do it yourself. Sheetrock is made of ground gypsum sandwhiched between to layers of paper. The paper tape that is mudded onto the wall will be sufficent to replace the paper that has peeled off the rock. Because of the multiple trips involved in this repair you can expect a professional to charge accordingly. Wish you luck with your repairs.
06-14-05, 02:32 PM
Thanks mark your posts help me too understand it I think Ill have a crack myself. If I cant do it I will get someone in to finish off my bad work :-)

John
Posting Rules
You may not post new threads
You may not post replies
You may not post attachments
You may not edit your posts
---
HTML code is Off
---