Opinions of my spray texture results
Join Date: Mar 2006
Posts: 371
CANADA
Opinions of my spray texture results
My first time spray texturing a ceiling with a hopper gun. Used Pro-fin "medium" compound, water, and a cup of white primer. The grains were way smaller than I wanted, but everyone says it looks better than most popcorn ceilings. Looking for opinions/comments/feedback/etc
Two regular shots: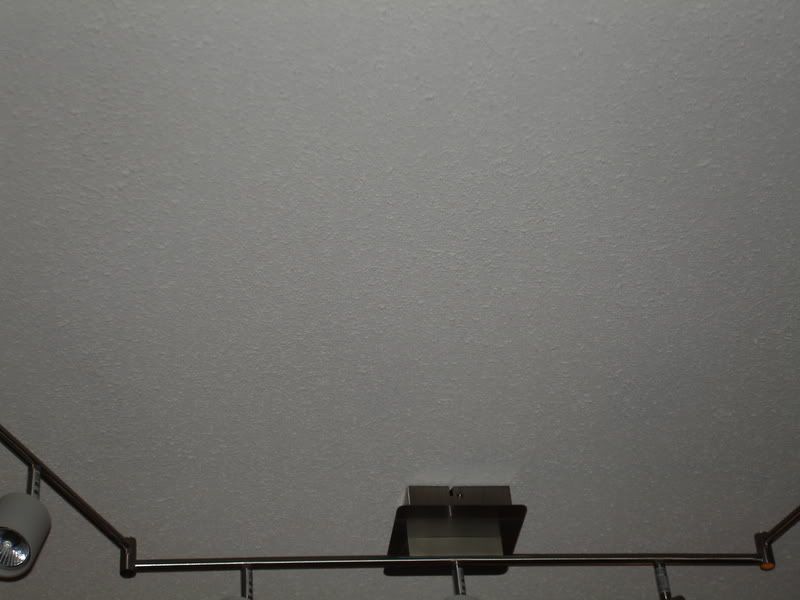 Close Up:
Sponsored Links
Join Date: Feb 2007
Posts: 16
CANADA
Actually that close-up shot makes for a very cool wallpaper...Give it a try!

If you are happy with the result & your friends are giving you prop's for the job you did,then i would be satisfied.

Personally i like a fine texture.Thru experience,the Pattern Pistol(sprayer) has adjustment hole's with a rubber gasket.

Over use they tend to break-down & you could never achieve a consistent stipple pattern....Alway's important to mix to just the right consistency.

Another reason for a poor popcorn looking ceiling is weak pressure in the compressor.

Not too watery,not too thick.

Enjoy the room.
Join Date: Feb 2007
Posts: 16
CANADA
Very similar to what you'd find in most home's..

Whatever suit's your preference.

Builder's would prefer that thicker look in order to cover up most of their mistake's anyhow....Tapers can avoid that 3rd coat! ,)