Major help against my walls
06-11-08, 03:20 PM
Join Date: Jul 2007
Posts: 25
Major help against my walls
---
Just bought my first home and had a fight with my walls and lost
. It had heavy wallpaper on it and during the removal of the wallpaper the razor blade would slip and take chunks out of the wallboard. The wallboard has a cardboard like feel to it.
What is the best approach to get it repaired? I mean do the walls have to come down and be replaced or can they be patched some how?
Sponsored Links
06-11-08, 03:37 PM
Join Date: Aug 2000
Location: USA
Posts: 15,834
You say when you removed the wallpaper that there was 'wallboard' underneath? The drywall was not taped and finished with joint compound?

If there is joint compound that got gouged off, you can simply wash the walls down, taking care not to saturate areas where damage was done. Then, repair damaged areas with joint compound. When dry, sand, prime to seal, and paint. If drywall was never finished, then it should be finished, primed to seal, and painted.

We have had lots of surprises under wallpaper here on the forums, and from time to time one of them is that a previous owner papered over unfinished drywall. I assume that this was done as a shortcut and to avoid paying for finished drywall.
06-11-08, 05:23 PM
Join Date: Mar 2005
Location: USA
Posts: 43,830
I'd first prime the walls with zinnser's gaurdz or a solvent base primer. This will prevent any moisture in the joint compound or latex primer/paint from causing any more damage.
Once the primer is dry you can fill all the divets with j/c. After filling the worst of them, you may find it easier to skim coat the whole wall with j/c and sand when dry. Once that's all done, your ready for primer and paint
06-11-08, 06:15 PM
Join Date: Jul 2007
Posts: 25
I'm not exactly sure what is underneath the wallpaper
so I took a better photo. This is the most severe damage as the gouge went through the cardboard-like layer and into this white layer. I am not sure what type of walls these are.
I also used a lot of hot water over the damaged sections. Can I still Jount Compound and is it easier and cheaper than knocking the walls down?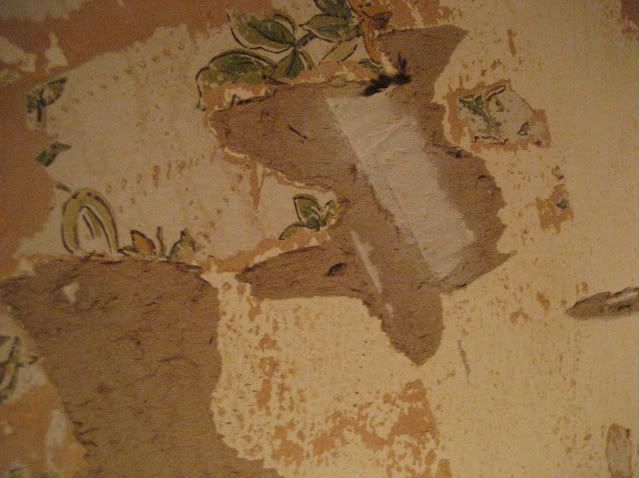 ---
Last edited by bud659; 06-11-08 at

06:30 PM

.
06-11-08, 06:30 PM
Join Date: Mar 2005
Location: USA
Posts: 43,830
It appears that you have peeled off the paper facing of the drywall in spots. It can be repaired with j/c but you must first prime all these areas so the moisture in the j/c won't cause further damage = more work
It would be best to just prime the entire wall and then start the repairs when the primer is dry.
The 'white' layer is gypsum rock. Drywall consists of gypsum sandwhiched between 2 'sheets' of paper.
06-11-08, 06:42 PM
Join Date: Jul 2007
Posts: 25
just to confirm since i am a noob. I can prime with a roller with zinnser guardz right over these damaged gouges? and continue on priming the entire wall?

then after the primer dries, the jount compound wont have any problems being on top of the primer? then sand to make the j/c smooth with the rest of the wall.

Thank you kindly for all your support and patience!
06-12-08, 02:27 AM
Join Date: Mar 2005
Location: USA
Posts: 43,830
Yes, a roller should do fine. Brush any damaged areas the roller misses.
Posting Rules
You may not post new threads
You may not post replies
You may not post attachments
You may not edit your posts
---
HTML code is Off
---