finishing large angle inside corners
06-25-09, 02:26 PM
Join Date: Mar 2009
Posts: 26
finishing large angle inside corners
---
I have a second-story addition where the ceiling slopes down. The part where the slope and the flat part of the ceiling meet is about a 130° angle. The original drywall job was pretty rough and so the seam of the corner is very wavy throughout its length.

I'd like to polish up this corner so it looks more finished…I've tried skimming with a corner trowel bent to shape but it was a pretty sloppy job on my part and hard to keep the trowel on a straight line given the original finish. Any suggestions or tips?
Sponsored Links
06-25-09, 06:59 PM
Join Date: Mar 2009
Location: WA
Posts: 1,167
Tack a long straight edge for guilding your trowel or knife to. Build up the lows with fast set mud, final with topping mud. Feather it out with a wide------------ blade. Be safe, G
06-26-09, 01:33 AM
Join Date: Mar 2009
Posts: 26
Tacking a straight edge is an obvious (er, not to me) and great idea. Thanks, I'll give that a try!

Another question along the same lines—I was thinking of using a two-inch blade instead of a corner trowel to fill in the corner, so after smoothing and sanding it would be more of a gradual curve rather than a straighter edge. Any danger to having that much compound in the corner?
06-26-09, 03:53 AM
Join Date: Mar 2005
Location: USA
Posts: 43,797
If I understand correctly - you are using a corner [90`] knife on the 130` angle
I always used straight/flat knifes; 3"-4" for the intial taping, 6" for the next coat and 10"-12" for the finish coat. The next coat should always be wider than the previous unless you are filling in low spot. If you have trouble mudding both sides of the angle, do 1 side, let it dry and then the other side.
Often 'off angles' that are wavy are more a product of poor drywall hanging or uneven framing.
06-26-09, 05:59 AM
You should re tape the entire angle with a rigid style tape. My favorite is a product called NO Coat. It is a very wide paper tape with plastic in it. I can only find it in my area at a drywall distributor. Maybe where you live they sell it somewhere else? Anyway if you dont find no coat then you can use a product called straight flex. This tape is very stiff.

Now you can pre fill the angle to get it straight as possible. Let dry. Then use all purpose compound to bed the new tape. Use a lot of it on both sides. Then place the tape in the mud. eyeball it to so its as straight as possible then very gently mash the sides down. Let dry.

Good luck
06-26-09, 09:09 AM
Banned. Rule And/Or Policy Violation
Join Date: May 2007
Location: Wisconsin
Posts: 8,629
A real pro, with pride, may attempt to form that angle with a crisp line. But an easy way to make the 1 1/2 story attic ceiling line look good, and not call anyone's attention, is to not use the method of the crisp sharp line!

Rather instead use a 10 inch broadknife and pull the mud through the corner joint perpendicular. In other words, do 10 inches, then move over and do 10 more inches, etc., etc., etc, till you go across the length of the entire room. It will round that corner joint and you can sand it so it looks basically perfect.

It is a very good alternative approach. Some pros even choose that method. People that are not sheetrockers will not even think about that you 'cheated' and chose that that method. Only a person like me, who likes to see how good someone can tape and mud, would ever think about this one. (At my local bank, they tried to crisply finish obtuse angles and you can see waves! - and pros did this job.)

As Marksr suggested, often the fault lies in how the sheetrock was matched up in that corner. I understand this problem entirely, as I have done such sheetrocking of these attic-ceiling corners. It takes a skilled person who understands carpentry - geometry fundamentals - to pull it off so that you get that sheetrock joint (not the mud, mind you - the actual sheetrock seam itself) - perfect.

But as Marksr also alluded to, you are at the mercy of the framing and dimensional lumber used. If the framing has waves, so will the sheetrock. And a crisp tape and mud line will stick out like a sore thumb, if that is the case. But if you round out the corner, your eye will not pick up on this!
06-26-09, 10:11 AM
Join Date: Mar 2005
Location: USA
Posts: 43,797
I have worked with some finishers that used a rubber knife with rounded edges on off angles. It does a decent job as long as the wall and ceiling both paint the same color - no crisp edge to cut in the paint color change to.
06-26-09, 10:43 AM
Banned. Rule And/Or Policy Violation
Join Date: May 2007
Location: Wisconsin
Posts: 8,629
Mark,
The first angle where wall and first angled ceiling is, should be crisp. And it is at
this
transition that the wall/ceiling change color should likely be at (in similar fashion as to how with a gambrel roof, the first angled slope is called, and is a roof, and not part of the exterior wall). It is then the upper angle transition between the angled celing and flat ceiling that can be rounded - IMO.
And if a person does NOT want to round that corner, then it is imperative that the sheetrock meet the framing transition perfectly, and with same width dimension across the whole room. And that the sheetrock joint between that angle and the flat ceiling is finished either with the rock itself, meticulously, or prefilled so it comes out straight. I would firmly recommend prefilling to create a straight line before taping.
Or, as already mentioned by coops, to use a tape, meant for such corners, that does not allow you to conform to an uneven joint.
I personally have not since had to use or try such a tape, but the theory makes sense. I think though that if the whole line is crooked due to sheetrock overlapping wrong or bad framing, or ?, that trying to straighten it with any type of tape will be impossible, depending on the circumstances.
That joint, IMO, is one of the most challenging aspects of fine sheetrock taping/mud work that one can run into. Been there, done that -and blew it, the first go around - so I came to understand what the problem is. So then I rounded it, as I had no other option at that stage.
---
Last edited by ecman51; 06-26-09 at

11:14 AM

.
06-27-09, 03:40 AM
Join Date: Mar 2005
Location: USA
Posts: 43,797
I wasn't trying to suggest that the angled joint should be rounded, just that it was an option. Whenever I've painted behind finishers that used the rubber knife, I've always suggested to the customer that the room would look best if the walls and ceiling were the same color.
06-27-09, 11:53 AM
Banned. Rule And/Or Policy Violation
Join Date: May 2007
Location: Wisconsin
Posts: 8,629
I know. I did not suggest you were suggesting that.
But it can be a good (bailout)route to go, especially if the way the angled ceiling sheetrock joint butts to the flat ceiling sheetrock.
Let's say that the angled wall/ceiling line has no major framing flaws. But let's say that who sheetrocked it ran some of the sheetrock beyond the framing joint, - one must stop right there and correct that, if one wants any chance at a straight crisp paper tape line. Also, if there is a gap where the sheets butt, and a person wants to prefill -it is crucial that the person prefill so that crisp straight line is achieved at this step, before you tape.
What you have to do is use your broad knife and guide it along on only one of those planes; either the angled section, or the flat section. But do not do it off of both during this first prefill step. If you try to fill the joint and guide first off the one section and then come back and guide off the other section, to try to create a crisp line down the middle of the prefill, you are likely to fail, and create uncorrectable wavvyness.
06-28-09, 01:40 AM
Join Date: Mar 2009
Posts: 26
It's a 90° knife but I've bent it to conform to the 130°. It's a pretty cheap knife.
The issue causing the waviness is the sheetrock seam and framing. I don't think tape (even the super-rigid stuff) would work unless I used a huge amount of mud…so much so that by that point I would just rather smooth the joint out with mud and no tape.
I like the idea of smoothing out the corner with perpendicular strokes, but I've tried that already and it's not looking too good. (that's my fault, I'm a hack at this) That's why I'm thinking of running a 2" knife along the length of the corner, essentially filling in the corner with mud until the entire corner is, after sanding, a smooth transition instead of a sharp corner. I'm not sure if that much mud is asking for trouble later. Here's a cross-section to show what I'm talking about…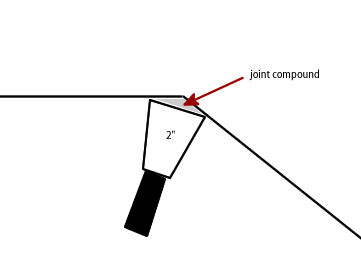 06-28-09, 04:07 AM
Join Date: Mar 2005
Location: USA
Posts: 43,797
Not sure how thick your mud will be. Ready mix joint compound will crack as it dries if applied too thick although you could use a setting compound like durabond. Setting compounds are a LOT harder to sand!

I don't know how well your purposed method will work.
06-28-09, 01:22 PM
Banned. Rule And/Or Policy Violation
Join Date: May 2007
Location: Wisconsin
Posts: 8,629


Adn yes, ready mix mud will get gaping cracks, and shrinkage in it as it dries, and you will have to recoat once or twice more to then fill the cracks and shrinkage. Unless, as suggested, you use the setting-type Durobond powdered mud that you mix with water. If you use a straight edge to guide along, as I suggested, then you should not have that big of a tough-to-sand, issue, - as your joint should come out perfectly true.
07-04-09, 01:23 PM
Join Date: Mar 2009
Posts: 26
I tacked on a straight-edge like GBR suggested earlier…just finished this a day or so ago. I decided to just go for it and see what happened.
The process was easy enough, and in the end (after smoothing, sanding, priming, and painting) the edge definitely looks more rounded than "cornered." It took three passes of all-purpose, and one pass of vertical swipes to smooth the transitions after the straight-edge was removed.
I have one more corner in a separate room that needs to be treated; on that one I will try the rigid tape and see which method works better.
07-04-09, 02:18 PM
Banned. Rule And/Or Policy Violation
Join Date: May 2007
Location: Wisconsin
Posts: 8,629
Oddly enough, when I was at a rental yesterday fixing a gas dryer, I went upstairs to see how he made out when he had hsi attic bedroom ceiling redone the same way you have, and I could tell by looking at it that they had made the wide angle crisp, but then simply rounded it off a tad, across the entire length, and it looks very nice. It has a general quite-straight appearance to that joint.

There are always ways.....if you are clever. In fact, I have seen non-pros come up with some of the most clever solutions to problems because people who do not do things for a living sometimes are more likely to think outside the box.
Posting Rules
You may not post new threads
You may not post replies
You may not post attachments
You may not edit your posts
---
HTML code is Off
---