Mudding & Sanding Question
10-23-09, 05:08 PM
Mudding & Sanding Question
---
I am currently remodeling the kitchen. Putting up new drywall, gonna get cabinets, new floor, trim, crown molding, etc. I have half the drywall up and all of that has mud on it( 2 thin coats). I don't wanna sand b/c of the dust, I have no way to block off the kitchen from our living room or dining room. I learned about sponging it instead. I did a couple spots w/ our dish sponge and I love it.

Does anyone have any suggestions on how to go about doing it, what kind of sponge, Etc.?? I appreciate it. It will help so much not having to put a mask on, getting the tv and all the electronics dusty.
Sponsored Links
10-23-09, 05:43 PM
Join Date: Oct 2008
Location: New England
Posts: 10,139
I've done it a few times for just the reasons you mention. The only difficulty I encountered was not being able to make the surface flat. I know it's good, but the sponge will conform the the surface that is there and not knock down the highs to match the lows. If you work the walls really neat, the edge of your knife will take off any misc spots. When you are all done, any sponge will do, just give it a damp once over.

Bud
10-23-09, 07:27 PM
Join Date: Mar 2009
Location: WA
Posts: 1,167
10-24-09, 03:40 AM
Join Date: Mar 2005
Location: USA
Posts: 44,365
Ya, a sponge float will make it easier than a kitchen sponge to keep the mud fairly flat. To use a sponge you need to do a decent job of applying the j/c. A wet sponge won't do as good of a job as sandpaper but the lack of dust is nice! Oh, and it won't work over setting compounds.
10-24-09, 07:08 AM
Great. I will have to pick one of those up. I only used the kitchen sponge on like 4 screw holes. Also do you have to worry about getting the paper on the drywall to wet?? Thanks for all the help!!
10-24-09, 05:36 PM
Join Date: Mar 2005
Location: USA
Posts: 44,365
You just want the sponge wet enough to soften up the j/c..... and you don't want to spend too much time on the uncovered drywall paper. A little bit of water won't hurt it, just don't drown it
10-24-09, 07:12 PM
Join Date: Mar 2009
Location: WA
Posts: 1,167
It works great on feathering the patch to the existing flat, smooth surface if you work from old to new. It does work on setting type if : you get on it quick; you work fast and keep a 5 gallon bucket 3/4 full warm water to clean it often with a soft bristle scrub brush. Not as fast as you clean your mini hopper after shooting texture setting compound (20 miute), though. lol, only if it's a small area (4'x6').
Be safe, Gary
10-25-09, 12:31 AM
Join Date: Jun 2009
Location: Left Coast
Posts: 44
If you're not into sponges, here is an alternative. It uses a sanding screen mounted on a holder that attaches to a shop vacuum. I have one and I love it. Very little dust escapes. Just make sure you have a fine dust filter in your vacuum.
Also, I noticed that even when using the finest screen the surface seemed a little rough. So I took a piece of 200 grit sandpaper, cut it to size then punched a plethora of holes in it to use for the final sand. Worked like a charm.
I think I paid about $20.00 for it.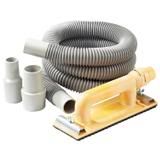 Posting Rules
You may not post new threads
You may not post replies
You may not post attachments
You may not edit your posts
---
HTML code is Off
---