how to repair or replace plaster walls?
Join Date: Dec 2013
Posts: 8
FL
how to repair or replace plaster walls?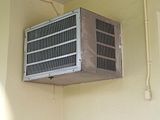 I have an older house made of some kind of really hard plaster (wirless signal has a hard time getting through them and it's really hard to nail things into it)
but I have some area that need repaired or replaced entirely and I need some advice on how to do it.
in the pictures i attached the house cam with this old A/C unit in the wall that goes from the outside to the inside of the house. it's no longer works and is in the way of the attic access. I want to remove it but i'm not how to fix the hole it's going to leave in the plaster.
I also have a door to my laundry room I want to move from outside in the driveway to inside in the kitchen, but again it's going to leave a rather large doorshaped hole that i have no idea how to fix.
Sponsored Links
Join Date: Mar 2005
Posts: 42,802
TN
Whenever I have to repair plaster I use a setting compound like durabond. For large holes, I'll secure drywall to the fill the hole but just shy of the plaster level and then finish it with durabond. For most of us, that works well as it's easier than working with actual plaster.
---
retired painter/contractor
avid DIYer
Join Date: Mar 2005
Posts: 42,802
TN
I've not cut a lot of plaster but we do have some members that have so hopefully they'll post a reply.
It is important to carefully cut the plaster to prevent making larger than needed repairs. You'll need to make plans to reroute any electrical wires in the wall ..... if that comes into play.
---
retired painter/contractor
avid DIYer