Best way to fix this?
12-12-15, 07:14 PM
Join Date: Nov 2014
Location: USA
Posts: 86
Best way to fix this?
---
I plan on removing the doorway and sheetrocking it up. My problem lies in this wood paneling that was placed On top of the lathe and plaster walls in my home. I removed a small section in the hallway around the doorway I'll be removing as you can see in the picture. The paneling was attached to the walls with some glue. While removing the panel, the glue had removed some of the plaster from the walls also. Would u guys spackle the crap out of the remaining wall or just remove the plaster and lathe for drywall? Any help is appreciated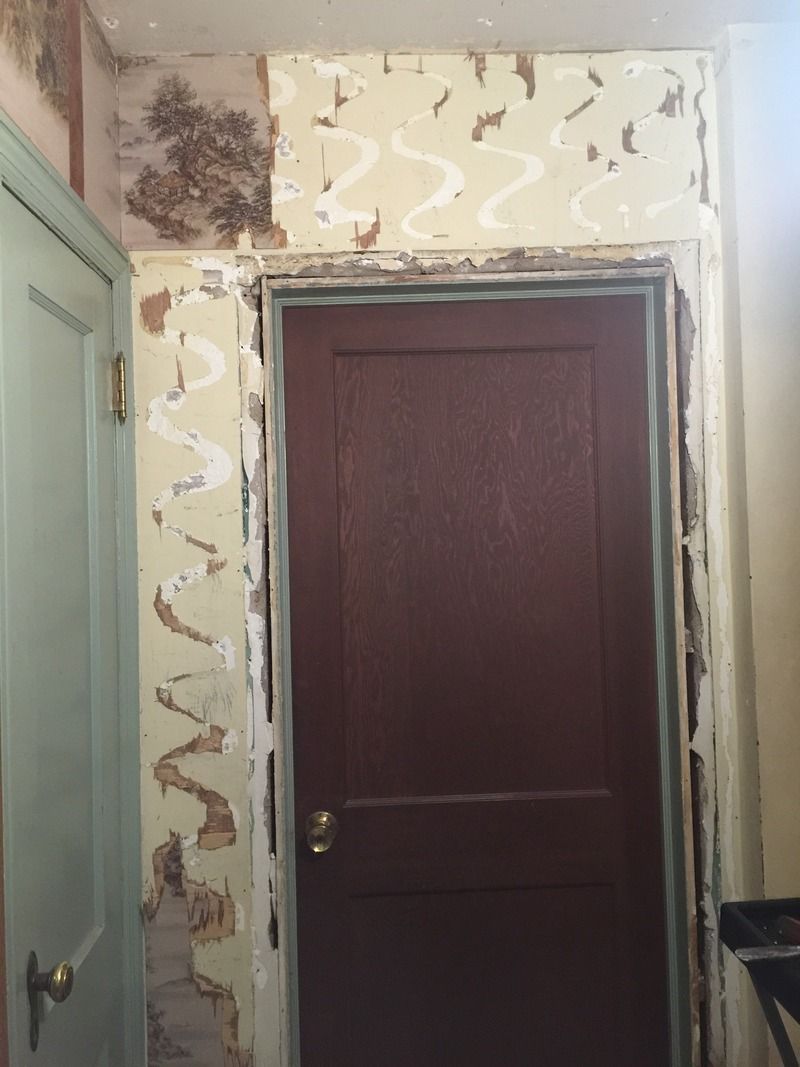 Sponsored Links
12-12-15, 07:55 PM
Join Date: Jan 2011
Location: USA
Posts: 4,185
Remove it and replace with sheetrock.
It may have to be shimmed out so it comes out even with the other walls.
PS Spackle is for filling small nail holes. not wall repairs like that.
12-13-15, 04:48 AM
Join Date: Mar 2005
Location: USA
Posts: 43,842
As Joe said, spackle is for minor repairs. When you float a large area you need to use joint compound [either ready mix or a setting compound]

To save the plaster you'd need to scrape off all the glue and wallpaper, prime the wall if dusty and then skim coat it with joint compound. IMO that would be less work than tearing out the plaster and hanging/finishing drywall. The benefit of replacing is it allows you to inspect the framing and update wiring and insulation if needed.
12-13-15, 05:28 AM
I plan on removing the doorway and sheetrocking it up.
The easiest would be to start with a pristine wall and hang a single piece of drywall. It also gives you the opportunity to reframe the wall correctly. Keep in mind that older framed walls sued slightly larger 2x4's than are on the market today. If you find this to be the case, I would rip down a 2x6 to be the same dimensions as the old 2x4 for a better blend of the old and new.
12-14-15, 06:41 AM
Join Date: Nov 2014
Location: USA
Posts: 86
thanks guys for correcting me on the term spackle vs joint compound. i'm leaning more towards the side of tearing the whole plaster and lathe wall down and creating a new sheetrock wall as the time and effort i see putting into repairing the old plaster that has torn off from the wood glue would be extremely time consuming and not sure it would come out the way i want it to.

On the other side of that wall there is no wood paneling and just your regular plaster and lathe. after i frame out the doorway would it be easy enough to put up drywall in the doorway section and then use joint compound to blend the existing plaster walls to the new drywall section? in some sections where the moulding has been removed have left a considerable gap where the plaster has fallen out. any tips on how to accomplish the best way?

Thanks
---
Last edited by Spunky424; 12-14-15 at

08:08 AM

.
12-14-15, 07:31 AM
Join Date: Mar 2005
Location: USA
Posts: 43,842
Since I don't have any actual plaster experience, I normally use Durabond to repair plaster. It's a setting type compound and dries hard - similar to plaster. You can often get by without using tape when repairing plaster if you use a setting compound. If using ready mix j/c you'll need to tape all the gaps. When a gap is big enough to be filled with a piece of drywall I like to install it just shy of the plaster and then build it up flush with the compound.
Posting Rules
You may not post new threads
You may not post replies
You may not post attachments
You may not edit your posts
---
HTML code is Off
---