Repairing various crack on ceiling
12-17-15, 02:44 PM
Join Date: Dec 2015
Location: USA
Posts: 1
Repairing various crack on ceiling
---
I'm new to this forum and was looking for any input and help on how to fix an array of cracks throughout this house.
This is a home that belongs to my parents which they use as a rental. Recently the homes foundation was repaired and these cracks were left over.
People have quoted $100 up to $250 to complete these repairs, one company even saying $600! So I'd really like to help my parents out, do this myself and save them money. The only thing is I don't know where to start.
Obviously from the picture some cracks are more serious than others.
What is the best way to start on this task?
Thank you in advance for any help!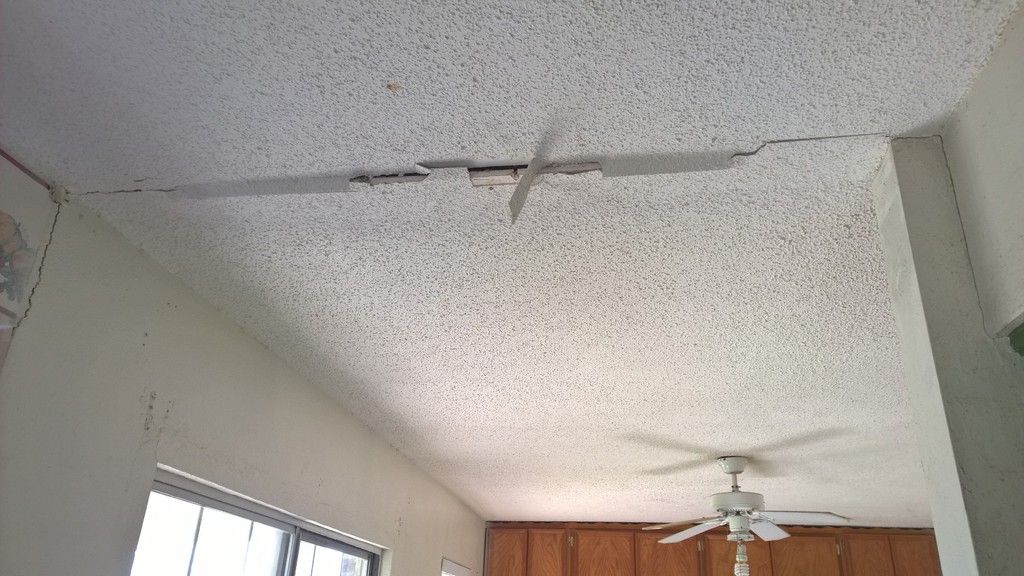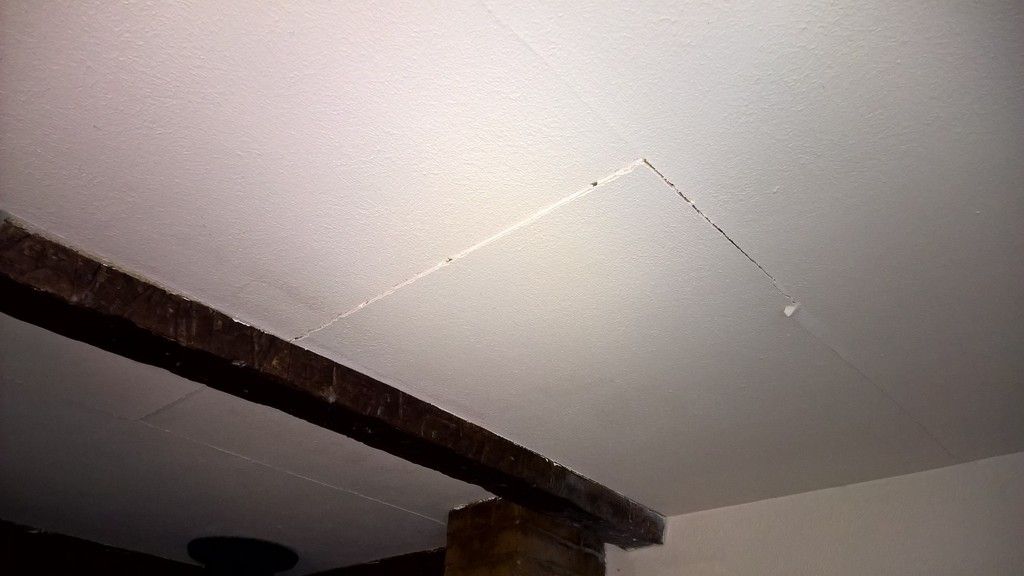 Sponsored Links
12-17-15, 04:11 PM
Join Date: Jan 2011
Location: USA
Posts: 4,183
No way could someone fix this and have it match for $100.00.
Classic example of why I hate texture on walls or ceilings.
Any uneven drywall needs to be lifted and rescrewed.
Old tape needs to be cut out and replaced.
Texture needs to be sanded off or wet down and removed at least 6" from the seam so the tape can be finished.
The last to pictures look like the drywalls been distroyed and would need to be cut out and replaced.
To get that texture to match the whole ceiling may have to be redone unless you remove all of it.
A real pro may be able to get it closer.
12-18-15, 04:38 AM
Join Date: Mar 2005
Location: USA
Posts: 43,804
Welcome to the forums!

As Joe said the first thing you need to do is make sure all the boards are tightly secured to the ceiling joists. Then scrape off the texture on each side of the crack so you can tape and finish the joints. Paper tape has a better track record than the mesh [sticky] tape. I'm not fond of them but you can buy popcorn texture in aerosol cans. While I've always been able to blend popcorn texture in well - I don't know how well it can be done with a rattle can.
01-15-16, 01:32 PM
Join Date: Jan 2016
Posts: 5
All that for $600?! I wonder how some people stay in business!

It looks to me that you have two distinct systems in play here, one is drywall and the other is rocklath plaster.

The drywall is an easy fix, as stated screw the board back up careful not to break the paper on the drywall, coat with durabond 45, lay in fiberglass mesh, let hardened, apply a second coat of drywall compound 20, 2 coats possibly. Expend the patch to about 4-6" on either side of the joint to blend, sand smooth.

For the plaster, and broken drywall.... V out the crack, put durabond in the V and pack it in... Lay fiberglass mesh let hardeden, top coat with drywall compound sand smooth...

Spot prime the patches with a latex based primer like glidden gripper and paint.

For the popcorn, you need to tape off at the ceiling line and hang plastic, from floor to ceiling, cover EVERYTHING with plastic, then get yourself an air compressor that pumps out atleast 4.5cfm at 45PSI AND a hopper, head over to your local drywall provider and buy a bag of medium popcorn, mix that in a 5 gallon pail to the cosistancy of runny oatmeal.

Using a helper, pour the mix into the hopper while u hold it, right before your ready to spray hook up the air, hold the gun about 12-18" from the ceiling and let it rip.

When your done wash your tools off in the yard NOT in the sink, throw out all the pkastic being mindful to not track the wet popcorn all over with your feet. Should take about 6hrs to dry, and your all set. If the popcorn ceiling was painted, wait 12hrs and cut and roll the whole ceiling with a 3/4" roller.

Total time for set up, clean up and repairs; 2 days... For $600?! Thats cheap.
01-15-16, 02:47 PM
Join Date: Jul 2003
Location: California
Posts: 1,722
Some of the cracks are parallel to the joists and some are perpendicular. If you can get to the ceiling from above while you are rescrewing anyway, cut some plywood about five inches wide and the length to fit between the joists and straddle the joints or cracks with the plywood and screw the two pieces of wallboard together into the plywood and tape and finish the joints like describe by others above. It might not be necessary but will sure make for a better repair if you can do it.

If the $600 offer is still good pay a little more and have the contractor do this.

Let us know how it went.
Posting Rules
You may not post new threads
You may not post replies
You may not post attachments
You may not edit your posts
---
HTML code is Off
---