Paint and Plaster Repair Questions
04-11-17, 03:09 AM
Join Date: Apr 2017
Location: usa
Posts: 4
Paint and Plaster Repair Questions
---
Hey guys I'm a novice getting into home improvement, have quite a few upcoming renovation tasks at my new place so looking for more advice and info for this task
So there was a bit of water damage done to some corner parts in my room and kitchen, which was caused by a pipe from the tenant above me. Seems to have dried now
The paint in these areas cracked open and also a coat of some kind behind the cracked paint lumped up resembling like little mushroom clouds(Is this an indication of what kind of paint I should use after I patch/plaster the damage?)
Anyway when I shaved this off it fell off easily and it revealed the old plaster which seems to be either cement or mortar, can't tell exactly, but it's brownish, grainy but also rocky, and it's hard I guess but just a bit flaky(place was built in the 60's). I scraped off some of the outer parts that were soft and chipping away. I think it's ready to be patched/plastered and painted, but I'm not sure if the new patch's weight can tug at the old plaster and fall off at all? Or maybe splashing the bonding agent in option B below may even strengthen the old plaster?
So far based on what researched I can either (A) apply cement or mortar mix to damage, then primer & paint, or (B) splash or brush some kind of bonding agent on the damage, then apply cement or mortar mix for even stronger hold, then primer & paint, or (C) apply bonding agent to damage, then apply joint compound, then primer & paint
seems like these options will get the job done but they seem to have different strength and longevity, anyway I would appreciate any advice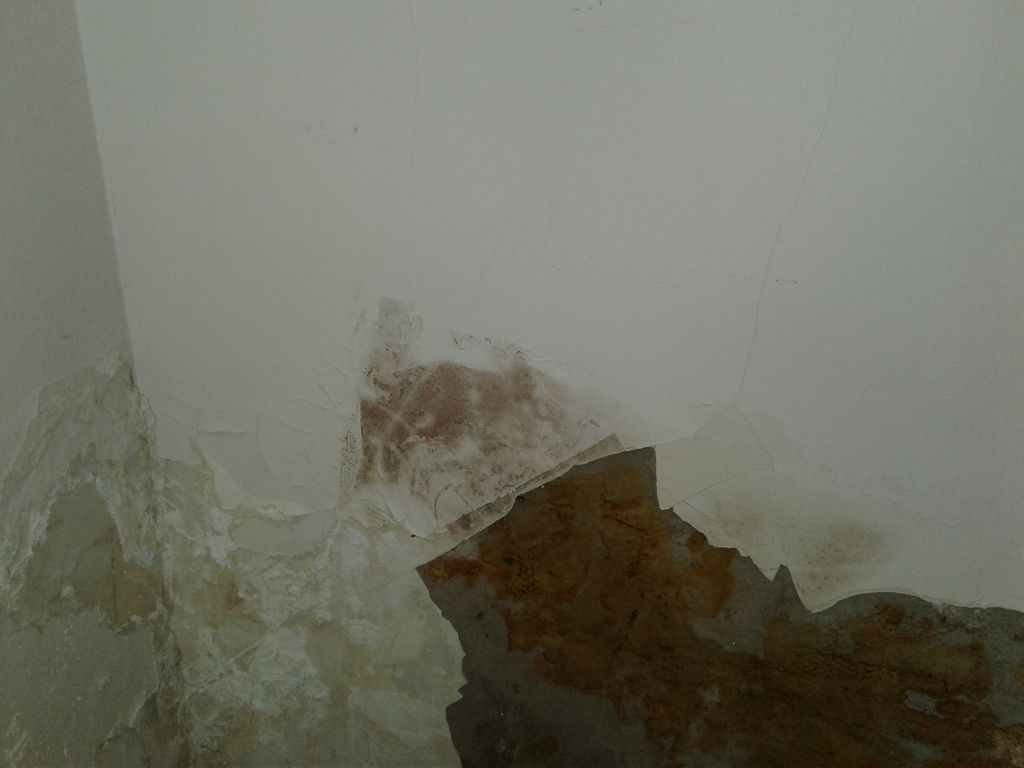 ---
Last edited by earthb0nd; 04-11-17 at

05:20 AM

.
Sponsored Links
04-11-17, 03:23 AM
Join Date: Mar 2005
Location: USA
Posts: 43,792
Welcome to the forums!
I usually use a setting compound like Durabond to patch plaster. It dries harder than joint compound and is easier to apply for those of us not well versed in plaster application. I normally remove what's loose and go for there. I'll prime first if the area to be patched is chalky/dusty.
pics could garner more/better advice -
http://www.doityourself.com/forum/el...-pictures.html
04-11-17, 05:33 AM
Join Date: Apr 2017
Location: usa
Posts: 4
Thanks looks like durabond is a strong joint compound fast-drying and resistant to humidity. Do u think it will work well for this application based on the picture? because that's some solid damage

But also if u have more advanced advice I don't mind the work or challenge, but sometimes a simpler method works just as good or better so whatever you think will work

By the way I recently bought a case of RapidSet Mortar Mix I just thought it would be good based on early research, but let me know if you think I should return it and get another plaster material

And what bonding agent/primer do u think will be proper
04-11-17, 05:38 AM
Join Date: Apr 2017
Location: usa
Posts: 4
Also based on the pic it looks like they coated the cement/mortar with a joint compound before painting it? Is that a standard procedure for a smoother texture?
04-11-17, 09:09 AM
Join Date: Mar 2005
Location: USA
Posts: 43,792
I've always just used durabond on plaster repairs. If the base coat is missing I often insert drywall first. If I suspect any adhesion issues I'll prime first. I normally use Zinnser's Gardz but a lot depends on what I have on hand. On your job I'd likely just use durabond although regular joint compound is softer and easier to sand so it might be a good choice for the final coat.

Keep in mind I'm just a painter that makes repairs for the convenience of customers and so I don't have to wait to finish the job. Tightcoat is our resident pro plaster guy, hopefully he'll have time to chime in later.
04-11-17, 09:48 AM
Join Date: Apr 2017
Location: usa
Posts: 4
I'll check that, I'll see what's available at my home depot.

So after more reading I think I'll return the RapidSet Mortar Mix and get a pre-mixed joint compound like USG All Purpose because I really want to keep the job site as clean and dust-free as possible.

Btw I'm reading a lot about drywall and I'm wondering does "drywall" meaning also include cement/mortar plaster or is that mostly bording like sheetrocks and wood? I mean does it literally mean whatever is on the wall that's dry? haha
04-11-17, 09:53 AM
Join Date: Mar 2005
Location: USA
Posts: 43,792
Drywall is ground up gypsum rock that is made into a slurry, poured onto paper, covered with paper and sent thru an oven to remove the moisture. All drywall is basically the same although the thickness and other properties change to meet given jobs. If I'm not mistaken, sheetrock is a brand name of drywall. Drywall is a product designed to give the look of plaster at a cheaper/faster rate.

Regular ready mix j/c will work but it can't be applied real thick or it will crack. Regular j/c dries by evaporation while a setting compound dries chemically.
04-11-17, 10:27 AM
Join Date: Jul 2003
Location: California
Posts: 1,722
Well, I started a reply and hit a wrong key and lost it all.
I have more questions?
Can you put up a few more pictures? One from farther back and maybe a couple different angles?
Is there a difference in hardness or crumbliness between the stained and not stained areas?
How difficult do you think it would be to scrape off the white surface material down to the brown or grey material?
Do you know if the house is wood frame construction or masonry?
You mentioned tenants above. Do you own the building? Should this be a landlord problem or are you the landlord?
How deep is the damage? That is how thick on average will the new material whatever that is be?
I think joint compound will be the most friendly material to use. It looks like the water caused some efflorescence You should wash down the area with a 50/50 solution of water / vinegar, rinse it let it dry then decide what to do.
This is a doable patch. Just figure out the best way to do it.
Posting Rules
You may not post new threads
You may not post replies
You may not post attachments
You may not edit your posts
---
HTML code is Off
---