Cleaning Dogs Ears
01-29-09, 11:34 AM
Join Date: Jun 2002
Location: Northern Minnesota
Posts: 1,626
Cleaning Dogs Ears
---
Just bought some Vets Best Ear Relief Wash, also Ear Relief Dry. His ears sure seem to have a lot of wax in them. I clean them out with q-tips but it's never ending.
The wash says to "apply to openings of ear canal, massage base of ear and remove excess."
So....I just lay him on his side, squirt some in, massage and remove excess? How much do I dare squirt in there? I'm sure he will shake any out.
As you can see, he has big floppy ears. They don't stink or appear red or raw, he just shakes his head a lot.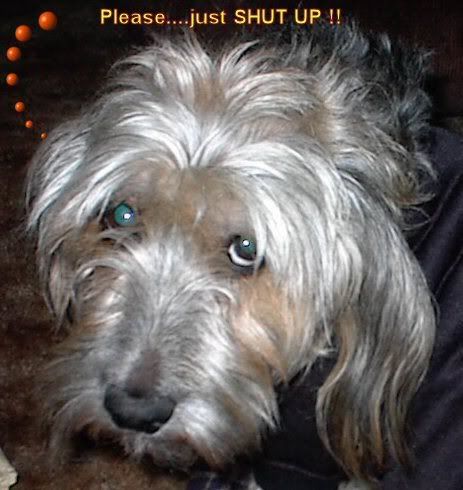 The Ear Dry says it dries to a soft powder.
I've never used anything like this before, I'd hate to have him mad at me.
Disregard the caption, that was for someone else.
Thanks
Baldwin
01-29-09, 11:55 AM
Most ear cleaning solutions recommend applying solution to cotton ball and wiping interior of ear. Then, wet cotton swab to clean nooks and crannies, taking care not to enter the ear canal with the swab. The deep cleaning is best left to a vet. Typically, all that is needed is to wipe away soil with a cosmetic pad or cotton ball. No solution needed.
Moisture that remains in the ear canal can be a source of infections. Dogs with big floppy ears tend to be more prone to infections.
If using an ear cleaning solution that requires squirting in ears, squirt some in ears, as you have been doing. Massage the ears for a few seconds. Give the dog a break to shake out excess solution. The ears will only hold so much solution, so excess will run out or dog will shake it out.
Then, wipe ears with cosmetic pad or cotton ball and use swab to clean nooks and crannies, avoiding inserting the swab into the ear canal. Then, hold ears back several minutes to allow for air circulation and the ears to dry. Follow up with ear drying powder, available at pet stores. Clean ears on a regular basis.
Vet's Best Ear Relief Wash dries to a powder, so you can skip the ear drying powder. Sounds like you are doing everything correctly.
How to Clean Your Dog's Ears: Avoid Ear Problems with Routine Maintenance
---
Last edited by twelvepole; 01-29-09 at

12:23 PM

.
01-29-09, 12:39 PM
Join Date: Jun 2002
Location: Northern Minnesota
Posts: 1,626
Well, I haven't done anything yet, this stuff just arrived today. I was worried about squirting too much in there but it sounds like that isn't such a big deal. He'll just shake it out.

I don't know if he'll sit still whilst I massage it in, he's rather independent if you know what I mean.

I'll give it a shot.

Thanks
01-30-09, 08:34 PM
Join Date: Jul 2005
Location: Blaine, Washington
Posts: 550
You really can't get too much solution in the ears, as you say, the excess will get shaken out. One thing you might want to do is have the vet do a thorough ear check, as it may be mites or possibly a yeast infection. Both are not uncommon in dogs with floppy/hairy ears. I actually have a cat that is prone to them as well.

As for the powder, after the ears have been cleaned well, and dried totally, then do the powder according to the directions. With our dog, she has been very good about us cleaning ears, though we have worked with her since we got her. Have patience and try to make it an enjoyable experience. Most dogs love the attention.

Do keep us posted.
02-11-09, 03:08 PM
Join Date: Jun 2002
Location: Northern Minnesota
Posts: 1,626
This is working much better than water on a q-tip. Bit smelly if you get too much but he isn't shaking his head anymore.
Baldwin