Sneezing kitten
12-13-12, 01:02 PM
Sneezing kitten
---
Hey Rhainy...I know you are out there.

Can cats have allergies? And if so...is there a simple treatment?

We got a little boy from our vet about 5 months ago and they said he was recovering from a cold...but a week later we took him back and they gave a ten day treatment for a possible URI though he had no lung issues or temp.

He just sneezes and blows snot all around occasionally. No breathing problems or anything.

Wifey thought maybe the litter dust, but ours is low dust (clay based) and the vet uses a cellulose type(?)...so I don't think thats it. Not like he comes out of the cat bathroom sneezing every time.

We're going back in early Jan for his last shot so we'll talk to them then.

Just doing a little research.....
12-14-12, 10:33 AM
Join Date: Jul 2005
Location: Blaine, Washington
Posts: 550
Vic,

It is possible that he can have allergies but the real culprit is more than likely something a bit less good news.

Many strays have FeLV (or other incurable diseases) that are not a good thing. I would definitely ask the vet to do a blood panel to rule out any major diseases. FeLV has a quick test as well. I suggest also the FeLV mainly because it is the most common one. Your vet should hopefully have the quick test in office so you won't have to wait to get the results.

Do keep me posted as to what goes on with the little guy! Hopefully it is something simple and curable.
12-14-12, 10:59 AM
Oh...I wasn't clear I guess...we actually adopted him from the vet. A dropoff of some sort? He had already been neutered and had all the standard tests and shots done. Negative for anything like FeLV or Parvo. They loved the little critter...all black with a sprinkling of individual white hairs...they called him Sloppy Joe cause they were on a food kick that week. They also had two named Hamburger and Hot Dog. He's Rascal now...and that he is! We only had to keep up the shots...no other fees. They'd had him already for a few weeks....think he was something like 6-8 wks old when we got him (w/o checking the paperwork).

He's energetic as all get out and will probably be the dominant cat (if he isn't already) over our 2 y/o girl and our 16 y/o boy. Inside only...so no exposure to outside disease possibilities.

Maybe he's just like me...I sneeze and have to blow my nose all the time during certain seasons...unless I use my Flonaze. Do they have stuff like that for pets? (only cheaper than a vet filled scrip) He doesn't really have watery eyes or anything, though we do occasionally have to wipe his eye boogers. Of course we do that with the other 2 once in a while as well.
12-15-12, 10:27 AM
Join Date: Jul 2005
Location: Blaine, Washington
Posts: 550
Vic,

Ah, you hadn't mentioned he'd had all the testing done.

Cats can have allergies as humans can. I would check with your vet for the dosages and try benadryl, AND if possible get kitty in before the January scheduled visit.
12-15-12, 11:38 AM
Join Date: Nov 2007
Location: United States
Posts: 13,890
Is he a long or short hair? Our long hair was sneezing a bunch for about a week after he tossed a hairball. Looked at him one day after a sneezing attack and saw some hair hanging out. pulled it out and he's been fine since. Maybe he has something stuck up his nose?
12-15-12, 12:03 PM
Real short coarse hair. He's been doing it since we got him....seems maybe a bit less as he gets older?

Most of the time not a big deal....til he gets a big boogie and sneezes and whips his head around (I know the feeling) and now there's snot globs on the table/dryer/mirror/my face (pick 2). Wife esp hates it since he sleeps wrapped around her head at night...and she occasionally gets the full brunt of it.

I really doubt it's serious...since it's been going on so long with no real ill effects. In some ways much better than our old cat that passed last year...he was a puker. Never on hard surfaces...always carpet.
12-15-12, 12:06 PM
Join Date: Nov 2007
Location: United States
Posts: 13,890
Cats will always find carpet to puke on. I think it is because it is less slippery.
This is likely a dumb question but, have you tried a different food?
If you can, post a pict of the little guy.
I love cats!
12-15-12, 12:29 PM
[IMG]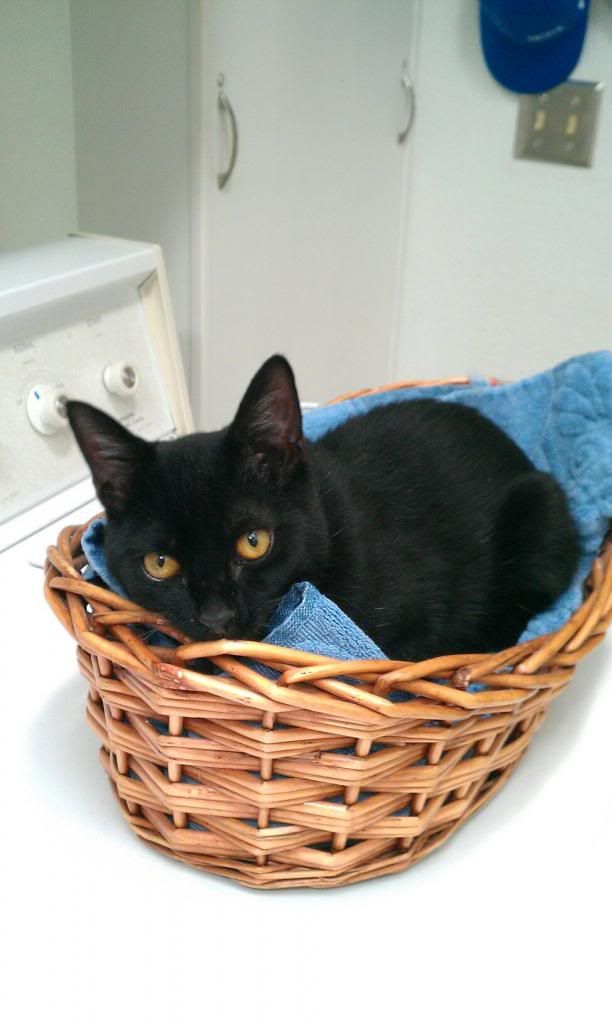 [/IMG]
He was a little bigger here...but wifey doesn't know where any of the other pics are. I asked "Don't you have a folder called cats?" Nope...she goes by dates....really?
As to the food....checked with the vet when I asked about the litter and they use different (fancier) brands of both wet and dry. (Probably because they don't pay full price.)
12-15-12, 03:01 PM
Join Date: Nov 2007
Location: United States
Posts: 13,890
Looks like a typical short hair to me, but looks pretty healthy. Standard cat, laying in the laundry.
12-15-12, 04:04 PM
Yeah..def an American Shorthair (American Alley...lol)...but the fur is so coarse it's real strange...and the pics don't show the sparse white hairs. Never saw anything like that before.

His big sister likes to lay in the warm laundry...but that basket was on the way to the garage-donations when he crawled in....now they both use it all the time.

Cats are some damn weird critters.
12-16-12, 09:44 AM
Join Date: Jul 2005
Location: Blaine, Washington
Posts: 550
Vic,

The coarse hair Might come from him having some Oriental Shorthair in his bloodlines. I have one and his fur is such that he almost feels like a dogs hair.
12-16-12, 10:01 AM
Well....his body type and head shape reminds me a lot of the Siamese we had when I was a kid..if that means anything. And you are right, except for his belly...his fur does remind me of a shorter haired dog.
I just looked up the info on oriental shorthairs and many of the traits fit him to a tee. He's lean and thin looking but all muscle and solid as a rock. His ears aren't nearly the same though.
Oriental Shorthairs are intelligent, social animals who bond very closely to their people. They are often inquisitive, friendly, emotional, demanding and often quite vocal. Their purr can be extremely loud when happy.
Except for the vocal part (which comes out when he goes in the carrier for a vet trip)....describes him perfectly.
Thanks!
12-16-12, 11:46 AM
Join Date: Jul 2005
Location: Blaine, Washington
Posts: 550
Vic,
Yes his head isn't quite right for a purebred, but he has a lot of the characteristics, and when you mentioned the coarse hair, I figured he must have some OS in him.
01-27-13, 10:55 AM
Just wanted to do an update....

As he has grown (and I swear he's grown a lot in the last 2 months, now 8.5lbs) and the weather has changed....he hasn't shown nearly the symptoms as before. No nasal discharge, very light eye boogers and no sneezing (no more than the other two). Thinking he has a grown out of it or it's a seasonal thing (just like me). We'll see in a couple of months when the weather warms up and the plants start growing.

I was wrong about his next shot...it's in Feb. I"ll ask about the allergy stuff then.

Btw...yes...he is now the dominant critter.
01-27-13, 11:24 AM
Join Date: Jul 2005
Location: Blaine, Washington
Posts: 550
Gunguy45,

Glad to hear he's doing well. Allergies can be a real pain, but are treatable. You may want to ask about a different food, as many allergies are food based. Just a thought. Do keep us updated once you've talked to the vet.