89 Chev 4 x 4 Rear Axle Seals Kapoot
03-09-09, 12:03 AM
89 Chev 4 x 4 Rear Axle Seals Kapoot
---
Bought this truck 11-07 with 123,000 miles.....great shape except both rear axle seals were leaking. Brought it in for new shoes and seals.
Last September I drove it to Carlton and back, about 250 miles, rest of the time it sits in the garage.
Drove it out of the garage a couple months ago to warm it up, everything fine.
Drove it out today and there is oil on the inside of the rear drivers tire (just one spot) and a small puddle on the floor.
How in the heck can a seal, with less than 300 miles on it, just decide to start leaking after 15 months? I don't get it. And why would both seals be bad when I bought it? Something else has to be going on here.
The
only
thing I can think of is pressure building up??? Is there some sort of breather/vent on the rear end that might be plugged? I haven't a clue right now, very odd to me.
Any suggestions for what I can look for?
The truck is very tight and runs great except for this.....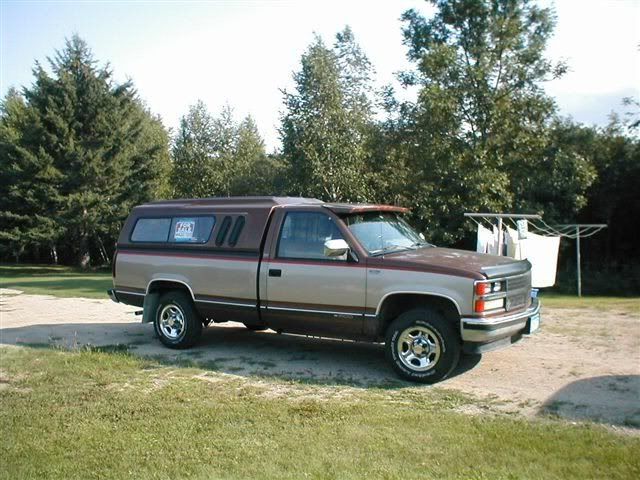 Thanks, guess I won't worry about the headlights.
Baldwin
Sponsored Links
03-09-09, 01:45 AM
there is a vent you might turn the cap on the vent to make sure its free and not clogged if your sure its oil and not brake fluid.
would also take a closer look at the axles and axle bearing if you do have it repaired as excessive wear on either of these could cause it to leak. at any rate the brakes probably are not going to work very good with oil in them usually causes them to grab and probably should clean them off and the drum with brake cleaner.
03-10-09, 12:25 PM
I found the vent hose and the plastic thingie on top seemed to move ok.
Pulled the drum off and there was oil sitting in the bottom of the seal.
Checked this morning and it's still leaking on the tire. I think I'll drive it up on a 2x4 so the oil goes to the other side.
Thanks
03-22-09, 09:14 AM
Axel seal
---
I had one that kept leaking after the dealer had put two seals in it. I found the axel housing was out of round. Put some sealer on outside of seal and fixed the problem. This would be unusual tho. RW
03-22-09, 12:17 PM
Leaking Seals
---
Usually the reason the seals leak in the first place is because the axle bearing gets worn and allows the axle shaft to be in an off center position. Replace the bearings with new seals and you should be good for another 100,000 miles ;-)
Posting Rules
You may not post new threads
You may not post replies
You may not post attachments
You may not edit your posts
---
HTML code is Off
---