No heat in '99 Jeep wrangler straight 6
11-15-14, 11:40 AM
Join Date: Nov 2014
Posts: 5
No heat in '99 Jeep wrangler straight 6
---
I have changed my heater core and my thermostat. I am not leaking any fluid from anywhere. I have checked all my fuses, all good. Heater HVAC unit sounds like its working properly. I have all of the wires connected, I think. I made sure the vacuum hoses were all connected. I still have no heat. Can anybody please help?
Sponsored Links
11-15-14, 12:02 PM
Join Date: Jan 2013
Location: U.S.A.
Posts: 1,379
Positive that you have the thermostat installed right side up? Are both heater hoses getting warm? You said "HVAC unit sounds like it is working properly", and I don't want to put words in your mouth, but does that mean that you can hear the doors open and close? I'm guessing that they are vacuum operated, so you may want to see if you can get to the controls and confirm that you have engine vacuum at that point. I don't monkey with engines any more that I have to any more, but there are a couple of things to consider. Some more ideas will come along from others at some point.
11-15-14, 12:37 PM
Join Date: Mar 2005
Location: USA
Posts: 43,236
To clarify, the fan/blower is working but not putting out any heat ?? What does the temperature gauge read?
11-15-14, 12:55 PM
heter control valve.. center of pic. round cylinder with vacuum hose attached...
You can open manually I think. There is a lever.. It may just me stuck..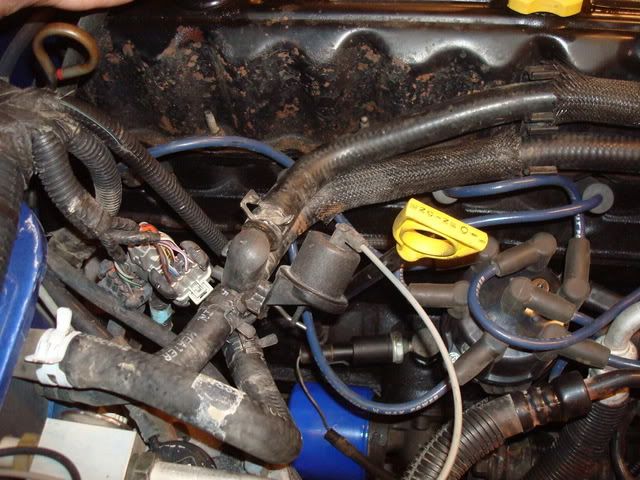 ---
Last edited by lawrosa; 11-15-14 at

04:19 PM

.
11-15-14, 03:43 PM
Are you getting any air flow? If no air flow, then you possibly have blend door problems. Wifey's 2000 Grand Cherokee Limited has "personalized" heat/cool control and her side doesn't heat properly. Blend doors are not working properly to move heat, just air.
11-16-14, 12:08 PM
Join Date: Nov 2014
Posts: 5
I have checked everything from hoses to air flow. My thermostats in correctly installed. I have heat to the core. My HVAC is air driven and works properly. All of my wires are connected,but I still have no heat. Can anyone give a suggestion what that may be?
11-16-14, 12:10 PM
The blend door motor as chandler suggested would be the most logical IMO...
11-16-14, 12:12 PM
Join Date: Nov 2014
Posts: 5
Temp is great as far as gauge shows. Just no heat
11-16-14, 12:16 PM
Join Date: Nov 2014
Posts: 5
Is there a way to easily check that?
11-17-14, 03:23 AM
Join Date: Mar 2005
Location: USA
Posts: 43,236
It's kind of hard to get to but you need to get under the dash and inspect the duct work. The blend door is near the heater core. I don't know if you'll be able to see where the rod or wire [if electronic] is but you should be able to locate the hinge [rod] where the end sticks out of the duct work slightly.
11-22-14, 09:38 AM
Join Date: Nov 2014
Posts: 5
Thanksfor the help Marksr!
11-22-14, 09:59 AM
I hop you get it fixed before it gets too cold
Posting Rules
You may not post new threads
You may not post replies
You may not post attachments
You may not edit your posts
---
HTML code is Off
---