Compression Numbers - What Do You Think?
10-22-19, 08:34 AM
Compression Numbers - What Do You Think?
---
1999 Ford Ranger 4.0 4x4 83k miles. Was mostly parked for last 4 years.
I did a compression test, results are...
Cylinder 1-170, 2->160, 3->175, 4->175, 5->172 6->170
P/S First test on cylinder 2 was 165. Something made me re-do it twice, it came to 160 twice.
A little back ground - has bad gas mileage about 10mpg. It gave P0174 & P0171 a little while back. After using up old gasoline, filled it with a can of techron. Cleared codes and been driving about 150 miles city miles running errands. Codes haven't popped up, my long term fuel trims are outta whack & maxed, both banks. I am performing tune up on it but I thought I do compression test. Because if engine is toast then I will determine beforehand how much $+time to put into it.
My questions are what do read from these compression numbers? Should I do a wet test (I learned later there's dry & wet tests.)
During testing when I pulled the compression tester outta 2 and 3 it had a bit of oil on threads.
Then when I pulled spark plugs I noticed white soot/coating??? on 2&3 on the tip that makes contact with plug wire. What does this indicate?
FUEL TRIMS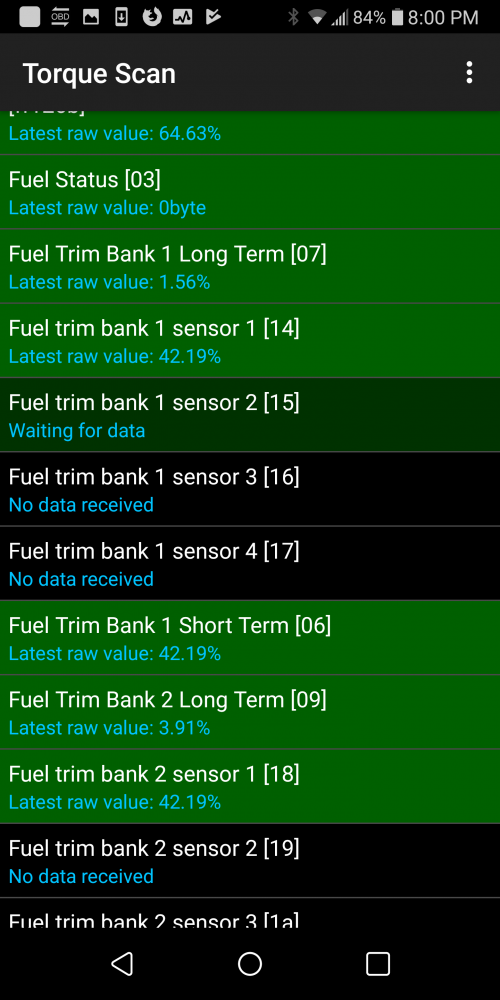 Sponsored Links
10-22-19, 09:36 AM
Rule of thumb is compression numbers should be within 10% so that seems ok.

P-codes are air fuel mix or bad 02 sensor.

Plugs dont look saturated in oil.

10mpg? Is that what it's still getting with new gas?
10-22-19, 09:57 AM
Sorry I rechecked, it's 12mpg but yes, with new gas. To run out old gas I gave it two partial fillups twice after running it to empty each time, then filled tank.
Here are O2 sensors data, what do you make of them?
---
Last edited by bambata; 10-22-19 at

10:17 AM

.
10-22-19, 10:03 AM
Plugs are definitely not saturated in oil but is presence of oil in threads a concern? And what causes that?

So based on these compression numbers you don't think this engine is on it's way out?

Also forgot to mention it was losing coolant. Nothing was dripping on the floor or on engine. After I drove the 150 miles while checking on fluids I found the reservoir & radiator were both empty. Topped them and after a couple days more I would say the reservoir line has dropped a bit. This was the main reason for compression testing. Oil cap, dipstick are clear, no presence of coolant, nor blue smoke outta tail pipe either. Radiator cap is clean as well.
10-22-19, 11:22 AM
presence of oil in threads a concern?
Oil on the threads of plugs is common on these engines and most of the time is from valve cover gaskets leaking small amounts of oil. Compression looks fine. I would be more concerned with the coolant issue, you need to test the coolant in the radiator for exhaust residue, you may have a head gasket leaking or a crack in one of the heads leaking coolant into the engine. Look at plug #6 a little more closely as it appears from what I can see it hasn't been firing as well as the others, which would indicate a possable coolant leak in that cylinder. You won't always see "smoke" coming out the exhaust from a coolant leak but you will damage the catalytic converters if not corrected. Changing head gaskets or replacing a cracked head on these trucks is not all that difficult or expensive if you have the ability to do so. 12 mpg is low but these trucks aren't know for great mileage 16 to 17 mpg is about average.
10-22-19, 08:58 PM
Your compression is OK. But the plugs look like the center electrode is burned off. What are the gaps on the plugs you have posted the pic of?

I would do a complete tune up, check the air pressure in your tires and lift all four tires and check for brake drag. With that done, check the mileage and see where your at.
10-23-19, 03:29 AM
would probably check fuel pressure, clean the maf sensor if needed and check for vacuum leaks on a cold engine around the upper intake plenum. might even pull the vacuum line off the fuel pressure regulator to see if its leaking gas.
as for the o2 sensors bank 2 sensor 2 is reading a high voltage but that is just a catalyst monitor and not really going to affect the way the engine runs was the engine even warmed up to operating temp when you took these readings?
Posting Rules
You may not post new threads
You may not post replies
You may not post attachments
You may not edit your posts
---
HTML code is Off
---