water pressure valve
08-22-02, 07:39 PM
water pressure valve
---
Could somebody give me directions on replacing a water pressure valve? When our city replaced the main water pipes in our street, all of a sudden we have rattling pipes when we turn them on and now I find out that our water pressure is too high and we need to replace it with a pressure reducer. It is under the house in the crawl space.
08-23-02, 01:41 AM
---
A Pressure Reducing Valve
is
a water pressure valve.
They are adjustable. You should be able to find it between your meter and your main cut-off valve.
It may be in your crawlspace.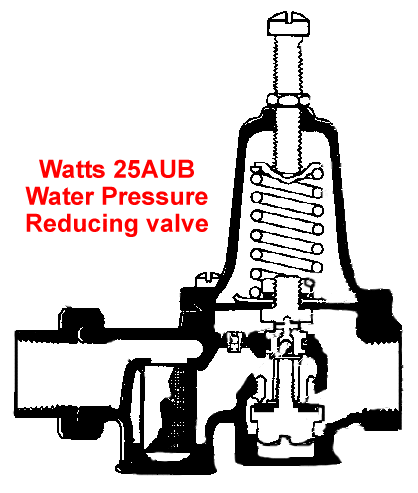 PRV
Loosen the nut, and screw the adjustment UP to decrease pressure.
Good Luck!
Mike
08-23-02, 08:28 AM
Thank you SO much for such a quick reply. I will check this to see if I can do this, although I am kind of under the impression that this house is so old, that I may not even have one to adjust. I work out of state for one week and then home for one week, so I will check this as soon as I get back home. Thank you again.