Kenmore water softener
11-13-03, 03:26 PM
Kenmore water softener
---
My water softener holding tank won't dump the water used for the fill cycle some of the time after going through a full cycle. Any help would be appreciated.
11-13-03, 04:06 PM
Join Date: Dec 1999
Location: Northeastern NC On The Albemarle Sound
Posts: 10,701
Upvotes: 0
---
If it is similar to this softener, it is possibly due to the float valve beginning to clog up with salt residue. Remove it, soak it out in a bathtub (length), and clean it up. See if that doesn't solve the problem.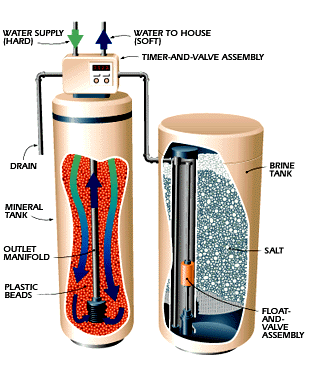 Good Luck!
11-13-03, 07:00 PM
These are other possible solutions. Information below is directly quoted from the Kenmore UltraSoft 150 Owner's manual - Troubleshooting.

Problem: Brine Tank Flooded

1. Restricted drain line - Check for kinks, bends or obstructions.

2. Plugged or dirty Nozzle & Venturi - Take apart and clean or replace damaged parts.

3. Valve-rotor disc & seals - Check for scratches or grooves, replace if needed.
11-14-03, 05:35 PM
I believe I fixed the softener last night, I took apart the valve head and venturi and cleaned some particles out and ran it through a cycle and it seemed to work fine. I think the float valve was picking up some junk from the water in the holding tank. I think my next step will be to clean out the bottom of the holding tank where all kinds of sludge has built up over the years.
Thanks for your suggestions.