Bathroom Drain Layout
02-14-09, 06:57 PM
Join Date: Mar 2008
Location: USA
Posts: 8
Received 0 Votes on 0 Posts
Bathroom Drain Layout
---
I'm completely re-doing my 5'x9' bathroom and the plumbing. I was wondering if this drain layout is ok. From my basic understanding I'm close enough to the stack to "stack vent" everything.
My questing is, am I able to tie into the 3" toilet drain on it's way to the stack? If I can tie into it, how many times can I tie into it, and do I have to come in from the top? or can I come in from the side?
If possible I thought I would put a 3" coupler with a 2" or 1 1/2" Y on each side in between the toilet and the stack and tie the shower and sink into it.
The joists run across the drains. Top to bottom in this picture. The ceiling below will be lowered to accommodate the drains.
Obviously this overhead picture is overly simple and each fixture would have a trap. The sink is actually vented separately into the attic where it ties into the stack.
Any ideas or suggestions are appreciated!
Sponsored Links
02-15-09, 12:33 PM
not even close unless you vent each additional fixture individually.
here is what you are talking about doing but is not what your picture shows. note how all the other drains connected and wet venting the toilet are above the toilet drain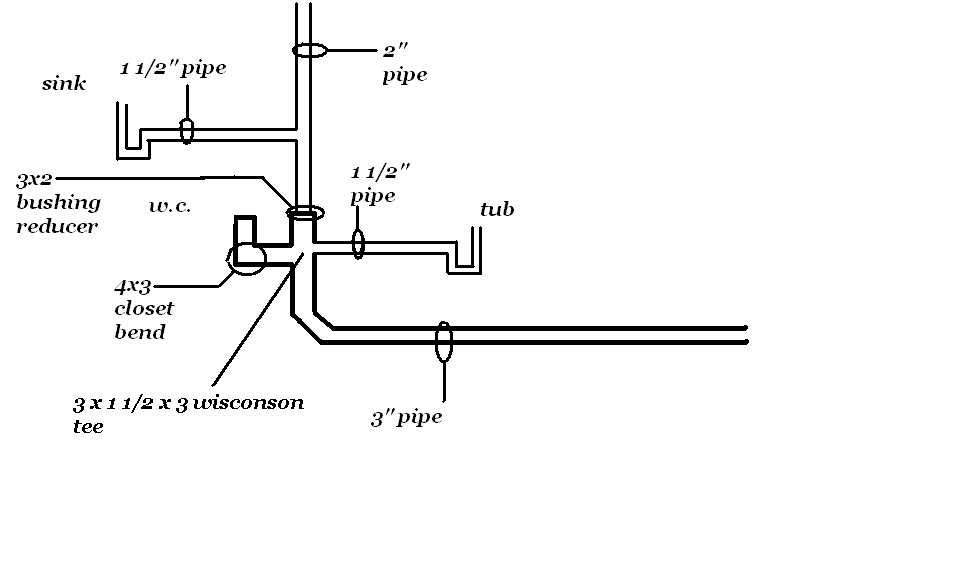 Posting Rules
You may not post new threads
You may not post replies
You may not post attachments
You may not edit your posts
---
HTML code is On
---