Another Basement Bathroom Install...
04-01-09, 04:31 PM
Join Date: Jun 2008
Posts: 41
Received 0 Votes on 0 Posts
Another Basement Bathroom Install...plus main vent questions
---
The layout: this basement bathroom was originally added to the house about 10 years ago after all the 1st and 2nd floor plumbing was completed (about 50 years ago). I'm moving the existing location of toilet and sinks and adding a shower. I'm located in MA. Here we go:

1. the main sewer line is 4" PVC and there's a 4" vent running undiminished through the roof. This 4" vent is installed after all the 1st and 2nd floor drains tie into the 4" main line but before where the old basement bath 3" line ties into it - presumably because the basement bath was installed after the 1st and 2nd floor were completed. So, I can either run a new 2" vent from this basement bath group (as was done previously) through the roof or I can remove the old 4" vent and install a new one after the basement bath "Y" into the 4" main line. Is there any real benefit to moving the main vent? I know in a new installation that the 4" vent would be required after all drains, but in this case it's technically a remodel. Esthetically, it may be better for me to move the 4" vent and I do have the access/space to do so. Opinions?

2. the first and second floor bathrooms', etc. DFU total is greater than what a 2" vent will accomodate. My understanding is that if I bump the 2" vent to 3", then I can accomodate all the baths, etc. However, it's also my understanding this 3" vent would have to run undiminished which I interpret to mean that it would have to originate as a 3" vent at each sink, toilet, etc and continue as a 3" through the roof. In other words, I can't just bring a bunch of 2" vents up into the attic and connect them to a 3" "header/manifold" that would continue through the roof. Is my understanding correct?

3. It's my understanding that an unvented branch drain can't connect to the 3" toilet line until the toilet line is vented. I want to run the 3" toilet line to the wall and use a 3x3x2 "Y" to connect a 2" shower drain (up stream) to this 3" toilet line and 3" waste line. The 2" shower drain line will be vented prior to reaching the 3x3x2 Y. The WC to Y distance is within 6' and the vent is within 4' of the shower drain. Is this acceptable to wet vent the toilet in this manner?


4. I've read that the toilet must be at the end (or was it beginning?!) of the line. I'm not sure exactly what that means. Anyone?

5. Part of the main 4" PVC line runs a little less than a 45 degree angle for 6 feet. Do you think I should increase this angle to insure solids aren't left behind?

I would appreciate your feedback...thanks, John
---
Last edited by scubaguyjohn; 04-01-09 at

05:51 PM

.
Sponsored Links
04-01-09, 09:38 PM
first i have to start off by saying Ma. does not allow an unlicesensed person to do this work and this job should be filed and inspected.

that is way to much info for a single post. if you could draw and post a diagram showing what you have now and what you plan to do we can give better and easier to understand advice
04-01-09, 10:22 PM
Join Date: Jun 2008
Posts: 41
Received 0 Votes on 0 Posts
Originally Posted by
plumbermandan
first i have to start off by saying Ma. does not allow an unlicesensed person to do this work and this job should be filed and inspected.

that is way to much info for a single post. if you could draw and post a diagram showing what you have now and what you plan to do we can give better and easier to understand advice
The job will be permitted and inspected, I'm aware of the limitations in this state...we can electrocute ourselves but can't get some poop on our hands.
While a bit lengthy (sorry), I tried to ask in a clear manner as many initial plumbing posts need clarification ...I thought the questions were fairly straight forward, especially 1,2, 4 and 5. I'll try and post a diagram for question #3. Shall I break it into 4 posts?
I'd like another opinion(s) on what my options are as I have to cut concrete, reframe for a stack move, add new roof holes, etc. and I'm sure the answers will benefit others as they don't exist on these forums...I searched and read posts for 2 hours and couldn't find the answers (except #5 which had a variety of opinions).
04-02-09, 12:52 PM
well ill tell you a little secret as to why you can electrocute yourself but not play in feces. doing electrical work wrong may kill you but not others. doing plumbing wrong can kill you and others or at a minimum make everyone sick.

your questions were good but there are too many variables to answer in less than general terms.

ill give answers as best i can but youll see i need a few

1. what does this statement mean? it contradicts itself. where does the vent start? what if anything ties into it and where? a diagram would be very helpful in determining how your existing plumbing is ran which in turn will help us advise you on what the best course of action would be.

2.your understanding is incorrect. you are thinking in terms of a drain line not a vent. your plumbing should look like a < the top being the vent and the bottom being the drain. going from the point out, the pipe can get larger but not smaller. meaning that the vent can start small at the fixture and get larger as you add more lines. you can start with 1 1/2" at an individual fixture, depending on how you have plumbed them and your local codes, and increase the vent as the dfu's from the other fixtures being added require a larger vent pipe.

3. completely depends on the total distance from the weir of the toilets trap to the vent and that depends on what your local code allows. the piping arrangement is completly dependant on how you are connecting what and where.

4. it requires the largest drain pipe so that would put it at the begining since you can increase a drains size as you go but not decrease it

5. what angle are you refering to? the pitch (fall) of the line? if so 45 deg. is very sharp since the minimum is 1/4" per foot. you really do not need to worry about this angle to much for a 3"-4" pipe unless it is flat or pitched backwards
04-02-09, 08:05 PM
Join Date: Jun 2008
Posts: 41
Received 0 Votes on 0 Posts
Hey Dan - thanks so much for the feedback... I do appreciate it. I've attached a diagram at:
http://momentskept.com/PlumbingQuestions.pdf
my comments:
1. My understanding is that at some point downstream (Point A) of all the drain lines tied into the main house sewer line (but prior to exiting the building) a vent is required that's the same size as that main sewer line. And this vent must run through to the roof undiminished in size. ie, a 4" main sewer line would require a 4" vent. Now imagine that downstream of Point A on the 4" main sewer line an additional basement bathroom is connected (Point B). This is my current plumbing set up.
My question is: is there any value in eliminating the 4" vent at Point A and moving this 4" vent downstream of Point B (and then continuing it through the roof as a 4" vent)? I don't need to do this but may for aesthetic reasons. I'm also wondering if there are any other considerations I'm missing in either leaving or moving this 4" vent as it presently exists at Point A.
The baths aren't drawn in detail but assume Vent 1 and Vent 2 and New Bath vent are adequate to handle their respective bath DFU's.
2. Cool...so I can indeed run six 1 1/2 inch vent pipes to the attic, connect them all to a 3" pipe and run one 3" pipe through the roof. This would allow me to eliminate the six 1 1/2 inch pipes through the roof provided that the 3" pipe can accomodate the DFU load.
3. The total distance from the WC trap to the vent is less than 6 feet (5 feet is shown on diagram). Am I correct to assume that vent to trap distance is measured from the WC trap to the Y (therefore, 5 feet) and the 6 foot distance indicated on the diagram is simply a wet vent for the WC?
4. That makes total sense. I guess the scenario I was thinking of was having a 2" shower drain connected to the heel of a 3" 90 degree bend from a WC. In the diagram, the shower would be upstream of the WC but the drain pipe would increase from 2" to 3" at the point of the WC's connection. Would the scenario I've drawn be to code?
5. Yes, I'm referring to the fall or pitch of the 4" pipe...it's nearly 45 degrees for 6 feet. I've recently read that studies have shown there is no basis for believing the solids will be left behind in pipes with this pitch. I guess it was a bigger issue with less slick iron pipes.
thanks again Dan, John.
Ps....I respectively disagree that electrical mistakes don't kill other people and, in fact, many, many more than plumbing errors. Just ask the lineman killed because a generator is wired backwards or the neighborhood kid whose electrocuted in a pool due to faulty wiring. Gas is another matter ... my take is that the plumbing union is much stronger here and that's the sole reason. If it weren't the case, then many other states would prohibit homeowners from doing plumbing work while allowing them to do electrical. Having said that, incompetent folks in either field can do a lot of harm.
04-02-09, 11:38 PM
under older codes, yes that was the case for your 4" vent, not sure if that has changed for MA. although it has for pretty much everyone else. there would be no benefit or the opsite from moving that vent but even though many codes today dont require a full size vtr they do require a certain amount of venting.

1. most codes (not sure about MA.) allow a 2" vent for a bath group (sink, tub/shower, and toilet. now you still have to have enough venting and i am not sure if 3 2" vents are enough since i havent calculated that in a while but i think they have to equal something like 2 times the agrigate area of the main drain line or something like that.

2. yes you could be that would be time consuming and a waste of money. if no drains above tie into the 4" vtr (vent through roof) why not just run the new bath vent over to the 4" vent and not worry about running pipes up to the attic?

3/4. drawing #4 is not legal to do anywhere i know of. drawing #3 would work if you switched the positions of the toilet and shower coming out of the wye. which means that the vent must be before the toilet. i must have confused you or i was confused by your question about the toilet being at the begining/end of a line. the distance from the weir of the toilet to the vent is measured from the flange(finish floor) down and over to the vent

5. no it was not a bigger issue with older cast iron pipes or any other pipe. think of tall buildings with plumbing on the top floor, what kind of pitch do you think they have on their old iron lines? you can never have to much pitch but you can definately have to little and even negative pitch.

in answer to your p.s. it is true people are killed by electricty but it is normally contained to one particular event, but nothing like the SARS virus or the Black Plague which both were spread and or caused by bad/improper plumbing. people think about electricity and how it can hurt you, most people have been zapped at least and/or have seen what it can do on tv/movies. people dont think about legionaires or other possible bacterial diseases or infections because it is not as common (thanks to our plumbing systems) and is not as dramatic as electrical.
04-04-09, 08:32 AM
Join Date: Jun 2008
Posts: 41
Received 0 Votes on 0 Posts
#2 - excellent question...the existing 4" main vent is cast iron so not easy to tie into...that's why I was thinking of deleting it and moving to a new location...otherwise I can just bring a bunch of 2" vents into a new 3" "header" in the attic that goes through the roof.
#3. Please see the attached diagram with 2 new options. Note that this is the top down view of the plumbing layout. Will either of these work? I'm still confused as to why my original #3 wouldn't work, is it the lack of vent on the WC line before it reaches the Y?
http://momentskept.com/PlumbingQuestions2.pdf
It's really too bad that this forum doesn't host images as the image files will disappear from my site over time (or others too)...which then renders these posts pretty useless.
thanks a bunch Dan...
and onto the PS...
agree that bad plumbing could make you sick BUT everything is inspected and major mistakes would probably be caught (as with electrical). Also, SARS is caused by a virus like the common cold and not bad plumbing. The black plague was caused by infected flea bites which originally came from rats due to poor garbage disposal....I don't think we're going to have a bunch of rats running around our homes with piles of trash in this day and age.
In the best case scenario, bad plumbing is equally dangerous as bad electrical work...which then makes no sense as to why our state will allow us to do electrical but not plumbing especially on a SFR on septic.
04-05-09, 09:28 PM
right, the diseases werent caused by bad plumbing but the spread of them to epidemic proportions was. i know that about 10 years ago a hotel in houston had somewhere around 100 people go to the emergency room because dirty water had gotten sucked into the potable water supply.
i have to laugh at many houses i go to to repair things or clean drains. it is not hard to spot a diy repair. i see accordian type drain pipes under sinks, rubber p-traps and a host of other things that are not legal by any code or are just a bad idea and the people wonder why they have problems with things draining and smells.
see if this drawing of a legal wet vent system helps you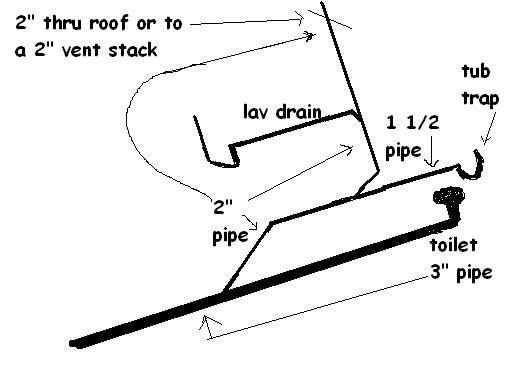 just change the 1 1/2" pipe for the tub trap to 2" pipe for a shower trap
04-05-09, 10:05 PM
Join Date: Jun 2008
Posts: 41
Received 0 Votes on 0 Posts
excellent...however, I don't understand why my diagram #3 in my original drawing isn't a legal system...
http://momentskept.com/PlumbingQuestions.pdf
its' the exact same as yours where I'm wet venting the toilet back up the 2" shower vent pipe. Can you explain the difference please? Also, where you "Y" the 2" into the 3" pipe, I'm assuming the 2" inlet on the Y is simply rolled up marginally to allow a 1/4" per foot slope on the 2" pipe and not rolled completely to the top as shown...or does the Y have to be rolled at a minimum to 45 degrees?
thanks again.
---
Last edited by scubaguyjohn; 04-05-09 at

11:17 PM

.
04-06-09, 10:38 AM
because the vent is after the toilet not before it. use the branch where you have the toilet for the shower and put the toilet out the end of the wye where you have the shower coming from and it would be legal
04-06-09, 10:52 AM
Join Date: Jun 2008
Posts: 41
Received 0 Votes on 0 Posts
still not understanding...My 2" vent is upstream from the Y as is yours. Why is my vent after the toilet but yours isn't? Is it because the distance from Y to the vent is 6 feet and the distance from the Y to the toilet is 5 feet? Why is your wet vent not also considered after the toilet?

thanks, John.
04-06-09, 08:26 PM
because my vent comes off the toilet line before the toilet. yours, the toilet comes off the line before the vent. your drawing does not protect the toilets trap it will only protect the shower. my drawing protects the toilets trap as well as the shower and sink
Posting Rules
You may not post new threads
You may not post replies
You may not post attachments
You may not edit your posts
---
HTML code is On
---