where to hook new water lines in?
05-25-10, 09:47 AM
Join Date: Feb 2008
Location: USA
Posts: 91
Likes: 0
Received 0 Likes on 0 Posts
where to hook new water lines in?
---
I am running new 3/4" CPVC lines to the master bathroom. I am confused as to where I should hook into the current copper system.
One person says to Connect at (A) and the other says run it back to the hot water heater and connect them at (B). It that longer run ok? Will an additional 20Ft affect water flow/pressure to the shower?
Connecting at (A) at the capped line would require some work to do it over the duct work.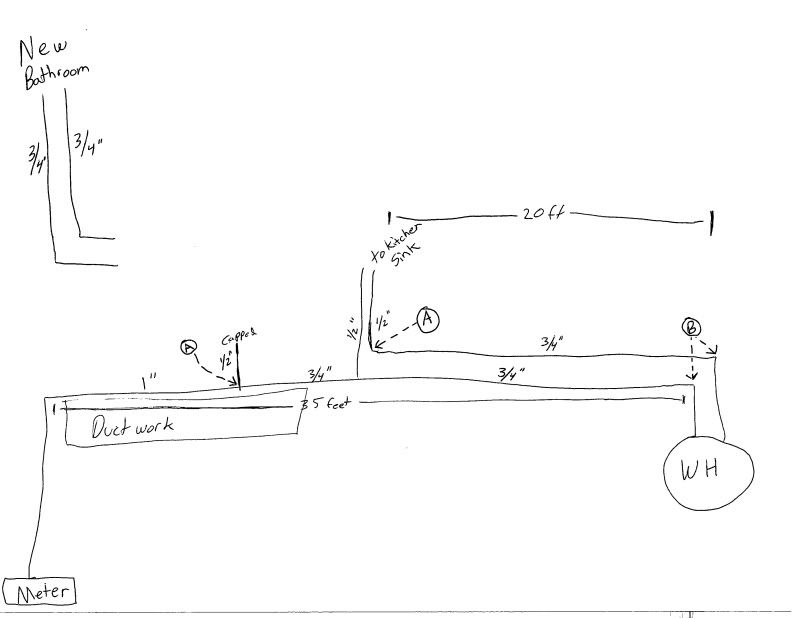 Thanks,
Scott
05-25-10, 08:05 PM
Join Date: Sep 2005
Location: USA
Posts: 6,405
Taking your tap off the "A" position should be fine. A 3/4" line can feed at least two fixtures. Running all the way back to "B" would obviously work, but it's extra piping for nothing.
One suggestion though, I personally would tap the cold water line not over the duct unless you have a lot of room to work. I had a recent bad experience soldering above a duct. Due to the small space in the joist area it was difficult to get a good solder joint. Testing it made a mess in the duct, etc etc. So long story long, I try to not solder above ductwork.
Just some thoughts...