Need help with Kraus Vessel Sink Drain Pipe Plumbing
10-25-10, 07:26 PM
Need help with Kraus Vessel Sink Drain Pipe Plumbing
---
Hi,
I got a Kraus vessel sink that came with a pop-up drain, PU11:
http://www.faucetdirect.com/mediabas..._10_082610.pdf
I'm having some trouble to get the right plumbing for the drain. It looks like that the drain has a 1.5" drain. However, the threading seems to be incompatible. Perhaps it is 40mm European plumping. The drain came with an adapter (tail pipe). However, the with of the tail pipe isn't compatible either with my plumbing. It's outer diameter is 1 3/16". My plumping is 1.5"
Could you give me advice on what plumbing I should get?
10-26-10, 03:31 PM
According to their site all you parts should be in inches. The measurement you get for your tailpiece of 1 3/8 is probably 1 1/4 1.d. the way it should be measured. If you have the trap that comes with them you can't use it; thats a drum trap and they are banned is most areas.
If your drain piping is 1 1/2 I.D. there's no prob. hooking the two up, you just need a 1 1/2 x 1 1/4 trap adapter. These come in male or female or brass and copper.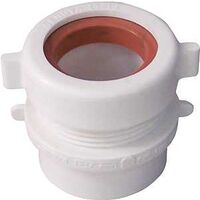 10-27-10, 07:35 AM
Thanks, this should work. However, I'm somewhat concerned about adding a "restrictor" (1.5" to 1.25" back to 1.5") in my drain.
Unfortunately, I couldn't find a solution to connect my 1.5" drain to the pop up drain. The pop up drain is 1.5" but with an incompatible threading. I wonder how bad it would be to use some kind of rubber sleeve to connect the tubes?
Just found this:
Swivel Drain Connectors, 90 Degree, Straight, Fresh Water
Could this fit? The outer diameter of my male threaded drain is 1.5". 1.5" female threaded adapters found at the hardware store do not fit.
---
Last edited by destruct05; 10-27-10 at

08:20 AM

.
10-27-10, 04:24 PM
I can't follow what you are trying to do, according to the site that you linked you have an 1 1/4 tail piece, thats what you should be hooking your trap to. If you are trying to hook up to the drain WITHOUT the tailpiece thats where you problem is comming from.
Can you post a picture?
10-27-10, 05:13 PM
I will take some pictures. I would like a 1.5" tail pipe to match my plumbing.
In the absence of such a tail pipe I was hoping to connect the piping directly to the drain without using the 1.25" drain.
10-28-10, 03:54 PM
I believe you are over thinking your situation, what you have is a standard lavatory drain that comes with a 1 1/4 tail piece, the only way you can change is to go to a commercial install with a grid strainer and no pop-up. What you have is a standard install just like 90 per cent of the lavatory sinks out there.
01-08-11, 12:48 PM
For anyone with the same issue. I found an adapter ring in Europe for this exact purpose.
01-10-11, 06:14 AM
It sounds like you have your problem solved however as stated the standard size for a bathroom sink is 1 1/4". If you have 1 1/2 coming out of the wall then you can get a 1 1/2 nut that uses a 1 1/4 washer. This will fit the 1 1/2 wall and the 1 1/4 tail piece. HD or Lowe's carry them.