Connecting vanity sink and utility sink to one drain and one vent
11-15-10, 01:53 PM
Join Date: Nov 2010
Location: USA
Posts: 4
Upvotes: 0
Received 0 Upvotes on 0 Posts
Connecting vanity sink and utility sink to one drain and one vent
---
Hello every one.
My basement has the rough-in for bathroom with one 2" drain for vanity coming out of the basement concrete right at the wall.
I am planning on finishing the basement and I am in planning stages.
I would like to install a utility sink and share the same 2" drain.
There will be a wall dividing the vanity and utility sink.
Unfortunately the 2" drain pipe is
NOT
between the two fixtures.
The drain will have to run inside the 2x4 wall behind the fixtures.
I also have a capped vent under the joist intended for this rough-in.
See diagram (sorry I am not an artist)
How do i pipe the drain for both and how do I vent them properly.
My State/County goes by the IPC rules.
Thank you in advance.
Front view:
Top view:
11-16-10, 02:24 PM
Join Date: Nov 2010
Location: USA
Posts: 4
Upvotes: 0
Received 0 Upvotes on 0 Posts
Can any one help?
I need to know if I have to run the drain close to sill plate until I am between the two sinks and then split to both sinks and vent it there at the split or can I just slope the drain from the utility sink to the drain in the floor and tap into it with the vanity. How do I vent it if I do it that way?
Thank you.
11-16-10, 02:49 PM
Join Date: Dec 2005
Location: USA
Posts: 38,974
Upvotes: 0
The utility sink will require a 1 1/2" drain while the vanity will probably use a 1 1/4" to the 1 1/2" stub. They will use the same vent since they are close together. Keep the slope toward the drain, gravity will do the rest. If you have to put the vanity a little lower you only need 1/4" per foot, so in 26" you are talking about 1/2" slope.
11-17-10, 06:03 AM
Join Date: Nov 2010
Location: USA
Posts: 4
Upvotes: 0
Received 0 Upvotes on 0 Posts
Thanks for quick answer Chandler.
I am not sure how to run the drain, what fittings to use and where to vent.
I am attaching two more pictures. One with drain starting at utility sink and vanity tapping in
and the other which may be more work but I can at least understand the connections and fittings.
Please advise which is legal. If both then which is more practical.
If picture 1 is OK by code then what type of fittings and where to install. Also where to vent.
Thank you.
Picture 1:
Picture 2:
11-17-10, 03:38 PM
Your second picture is close to right, start at your 2in. and add a 2in long sweep ell, head toward the laundry tray with 2in until you are in the center between the fixtures, put a 2in. long sweep on looking up, to that ell add a 2in. double fixture fitting, I would reduce the branch to 1-1/2 going toward the lav. I would run 2in toward the laundry tray and reduce it out side the wall (this is for the possibility of adding a wash machine hook-up), then reduce to 1-1/2 to hook up the laundry tray, the center of your double fitting would continue up to the vent and tie in.
11-17-10, 07:15 PM
Join Date: Mar 2006
Location: Wet side of Washington state.
Posts: 17,784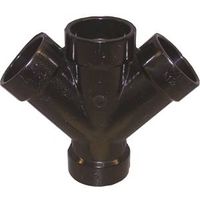 or
The first requires additional 1/8 bends. Use either ABS (black) or PVC (white) as appropriate for the piping already installed.
11-18-10, 05:39 AM
Join Date: Nov 2010
Location: USA
Posts: 4
Upvotes: 0
Received 0 Upvotes on 0 Posts
Thank you shacko and furd.
I figured the second was more likely the right way.
One more question, are the long sweep elbows required by code or just good practice.
I am afraid that with two long sweep elbows + required rise per foot to reach the middle of the sinks + double fixture fitting height + two arms to each sink may put the whole thing too high.
I have not done the math yet and all may be OK but I just wanted to know if I have an option of using the standard elbows.
Thank you again.