Question on soldering fittings on copper pipe
12-14-10, 01:49 PM
Question on soldering fittings on copper pipe
---
I am getting ready to start the installation of copper pipe in my hot water line rerouting. In some cases, it will be easier to solder the fitting on to one pipe and then on to another. Are there any tips for this so I don't "un-solder" the first connection?
12-14-10, 02:49 PM
Join Date: Dec 2010
Location: Galivants Ferry SC USA
Posts: 17,433
Did you ever solder before?
You are almost always going to melt the solder at the other end of the joint. Dont over heat and re touch up the other joint with somemore solder and or wipe the joint with the acid brush dipped in flux. Dont use that homecenter white flux. Bad stuff. Buy the self cleaning tan waxy looking stuff
No. 5 Paste Flux :: Oatey.com
Dont burn down the house. Have a spray bottle with water in it by you. If you see flames or wood gets too hot by where your soldering spray away. I have set somethings on fire in my day.
Mike NJ
12-14-10, 06:21 PM
Join Date: Sep 2005
Location: USA
Posts: 6,239
Two suggestions: 1) Where the pipes are reasonably accessible, cut, clean, flux, and assemble a whole section of piping, then solder the whole assembly moving along the pipes. This makes the whole process faster as you don't need to let one piece cool before continuing.

2) Where you have a few fittings together, or especially valves (which require more heat), cut, mark, and assemble them on a workbench or cinder block so you don't have to worry about twisting into some uncomfortable location. Then just solder the whole assembly in place.

Good luck!
12-14-10, 07:07 PM
Thanks for the feedback folks. I've done a good bit of soldering in the past but it was always adding something on and not putting a new line in between two existing lines.

Funny you mention the fire warning. I asked guy who does plumbing if he had any tips and he said "make sure your fire extinguisher is full & ready". Up to that point I hadn't even thought about that. Forewarned is forearmed...
12-15-10, 12:04 AM
Larry:

You should understand that the purpose of sanding off the oxide formed on copper and brass prior to soldering is to ensure low surface tension between the bare copper or brass metal and the molten solder. It's that reduced surface tension that results in the high capillary pressure that draws molten solder into the joint. If there's a layer of copper oxide on either the pipe or socket, then the capillary pressure won't be strong enough to draw molten solder into the joint, resulting in a leaking joint.

It is capillary pressure that draws the solder into the tiny space between the pipe and fitting of a soldered joint. So, even if you did melt the solder in a previously soldered joint, the capillary pressure would retain the molten solder in the joint. So, as long as you don't pull the pipe out of that previously soldered joint, then melting the solder and allowing it to resolidify won't do any harm. The joint won't leak as a result of that.

However, by reheating a fitting with open sockets you are causing the copper or brass on the ID of that socket to react with oxygen and form an oxide layer on the inside of the socket. In that case, I'd say it would be better to brush out all of the sockets on the fitting and solder short pieces of copper pipe into each socket. Then, when you connect your other pipes you can do that with a slip coupling to each short piece of pipe. So, when soldering that fitting in for the first time, simply sand the whole length of each short piece of copper pipe you insert into each socket and flux the whole length of copper pipe. By doing that, you have pieces of pipe sticking out that you can connect to rather than sockets in a fitting. It is easier to sand the oxide film off of a piece of pipe rather than brush it off the ID of a socket. By sanding and fluxing the entire length of the short pieces of copper pipe you solder into the fitting, you protect the sanded copper from oxidizing until you're ready to solder.

The things you most need to understand about soldering is that:

1. Copper rusts. However, the oxide layer that copper forms when it reacts with oxygen in the air and water is very impermeable and bonds tenaciously to the bare copper metal (different than iron oxide on both counts). So, as copper forms a thicker and thicker brown oxide film over itself, that oxide film better and better protects the underlying copper from further oxidation. So, the thickness of the brown oxide film over copper pipe or pennies that are 100 years old isn't much thicker than the brown oxide film thickness over copper pipe or pennies that are 10 years old. This is why copper pipe will typically outlast the buildings that it's installed in... as it rusts, the rust better and better protects the underlying metal from further rusting.

2. Sanding down the copper pipe or brushing out the sockets of the fitting is to remove that oxide layer. That's because in order to have high capillary pressure to draw molten solder into the joint, it's imperitive to have the highest affinity between the bare copper metal and the molten solder as possible. Both copper and molten solder are "metals" and as such they share their outermost electrons. Oxygen, on the other hand, is highly electronegative, and hoards it's outer electrons. That difference increases the surface tension between molten solder and the ID of the socket and OD of the pipe, and increased surface tension means lower capillary pressure. Consequently, high capillary pressure requires that you eliminate any oxides from the surface of both the pipe and socket, and that means sanding the pipe and brushing out the sockets.

3. The purpose of flux is primarily to act as a physical barrier between the oxygen in the air and the bare copper metal. At room temperatures, the sanded copper pipe or brushed ID of the sockets will form an oxide film over themselves relatively slowly. However, as the pipe and socket are heated to soldering temperatures (300 deg. F), that oxide film forms very rapidly. Most of the reason for coating the surfaces to be soldered with flux is to protect them from forming an oxide layer as they are heated to soldering temperatures. And, of course, the reason why flux is made from a heavy hydrocarbon grease is to ensure that at high temperatures it's fluid enough to be pushed out of the joint by the capillary pressure drawing the molten solder into that joint.

4. The flux will contain a chemical called zinc chloride. This chemical acts like an acid at soldering temperatures. And, it is more aggressive in dissolving oxide films than bare metals. Thus, the zinc chloride in flux acts like an acid to dissolve any residual oxide from the surface of the pipe or socket that wasn't removed by sanding or brushing as the joint is heated. The Oatey #5 Paste Flux linked to in a previous response in this thread contains from 10 to 30 percent zinc chloride and from 0 to 5 percent ammonium chloride which does much the same job. After soldering, it's best to remove the old flux from the piping with a rag or paper towel dampened with mineral spirits or paint thinner. So, if you're heating a solder joint and the solder isn't melting for whatever reason, it's better to brush some flux onto the hot joint rather than take it apart and start over again. That's because the hot flux will be drawn into the joint by capillary pressure and melt any oxide films that formed inside the joint on the copper, brass or bronze metal.

If you've yet to buy a torch, make certain the torch you buy mixes the fuel with air PRIOR to igniting that mixture. "Pencil tip" torches (so named because such torches produce a bright blue "pencil tip" inside of a pale blue flame) don't do that and can't produce high temperature flames. Any torch that mixes the fuel with air prior to igniting it will have a flame of uniformly pale blue colour (without any internal "pencil tip") and will reach much higher temperatures as a result. Successful soldering requires high temperatures, and so using a torch that mixing the fuel and air prior to ignition is important.
---
Last edited by Nestor; 12-15-10 at

01:02 AM

.
12-15-10, 07:23 AM
A MAPP torch is a good investment. Higher temps mean less time heating the joint. I usually assemble all close joints and then just solder them in sequence. If you have a joint that you are concerned about reheating, wrap a damp rag around it.

I keep a small piece of sheetmetal and a square of frazzle cloth in my box to shield nearby wood from the flame. Layers of folded tinfoil over a wet rag also works.
12-15-10, 10:32 AM
Another good investment is an inspection mirror
and an inspection light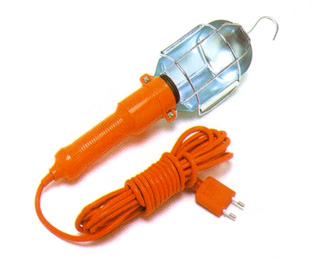 So that you can check your soldered joints before turning the water back on. If you clean the old flux off with mineral spirits you can often confirm there's a ring of solder between the pipe and fitting.
12-16-10, 02:12 PM
Thank you all for your replies (and a special thanks to Nestor for the detail on how things work - that put my mind at ease on my resoldered joint)

Well, after two days of soldering and cussing and a couple of minor burns (why won't my hand remember that the pipe gets hot too?) I have completed my rerouting of the hot water pipe in our house. It cost me under $300 and a few days of my time (probably a day and a half cutting & drilling the access for the new lines and another day and a half for actually routing the pipes and soldering them up.

I started out with a regular propane torch but one fitting near the slab was giving me a rough time. Many years ago my father in law had bought me a small map gas & oxygen torch set. When it ran out of O2 I pretty much forgot about it. However that stubborn fitting reminded me and with the extra heat, it soldered up in about 30 seconds.

So now I still have a few holes in the drywall to repair but other than that, everything is back together in time for my wife's Xmas party Friday.

Thanks again to all and hopefully I can return the favor some day (need advice on homebrewing - one of my favorite hobbies - and I'm always willing to share)
12-16-10, 02:32 PM
Join Date: Dec 2010
Location: Galivants Ferry SC USA
Posts: 17,433
Hmmmmmmm..... Home brewing...... sounds yummy this time of year.... glad we can help and it all went good.

Mike NJ