Installing pvc p-trap .. how to connect to metal pipe from wall (no threads)
05-07-11, 08:37 PM
Join Date: Dec 2008
Location: New England
Posts: 55
Installing pvc p-trap .. how to connect to metal pipe from wall (no threads)
---
A few days ago our pedestal sink started leaking, so today I started looking around and noticed that the pipe going to the p-trap is leaking. While moving the pedestal, the minor shocks completely broke the pipes going to p-trap and going to the wall. so I went to Home depot and bought new sink popup drain (pvc, expandable with chrome top, 1-1/4") and new pvc p-trap (1-1/2" because I thought the old chrome one was 1-1/2")
Then I noticed that the metal pipe coming from the wall has no threads. I am guessing that the pipe corroded and the threaded part broke down. (Is that galvanized steel?) Here are couple of photos. The ID of the pipe is 1-1/2" and OD is 1-3/4")
So question is how do I connect all this together?
After some reading around forums, I came up with this idea ..
Use
fernco reducer rubber coupling
and connect a 1-1/4 threaded on one side pipe to this wall pipe, buy another 1-1/4 p-trap and connect that p-trap to the pvc popup drain on inlet side and this metal threaded pipe on the outlet side. Does that seem right? Is there a better way?
Thanks
Sponsored Links
05-08-11, 06:04 AM
Remove that escution on the wall and lets have a look there. It looks like copper with a chrome sleave. The threaded portion might be behind the escution. That looks too clean for the threads to have just broke off.

Mike NJ
05-08-11, 08:01 AM
Join Date: Dec 2008
Location: New England
Posts: 55
beind escutcheon
---
Couldn't pull out the escutcheon completely. But pulled it far enough to see behind. Its just coming out of the wall .. connected to waste pipe behind the wall I presume. might be copper .. may be I can use compression fitting on it?
05-08-11, 01:19 PM
Cut the copper pipe just where the chrome sleave ends. It should give yo 1"-2", from what I can see, left sticking out of the wall.
Then get a brass or copper trap adapter and solder it on. This is the correct way with out using any rubber connections. The escuhen will cover the nut nicely.
This solders right to the copper. Then your trap slides right into the adapter.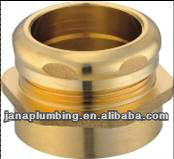 If you insist on using a rubber coupling, you need a mission coupling. 1 1/2" copper and pvc are not the same size. This mission coupling is smaller on one end.
They look like this. Make sure you use the type with the band around it. The otheres are not to code.
Mission Rubber Products.html
Mike NJ
05-08-11, 05:07 PM
Join Date: Dec 2008
Location: New England
Posts: 55
Thanks
---
Thanks Mike ..

I might do the mission coupling as a quick fix. (This will be first time I will solder copper pipes, so I would need some time to get right tools, practice and then do it. Family is getting impatient and I need to get the sink working fast)
05-08-11, 06:50 PM
The CK 115 in my link is what you need. They sell them at the home store, but not this brand probably. Make sure the other #'s are the same.

1-1/2" CI, PL or ST to 1-1/2" COPPER or 1-1/4" PL

Mike NJ
05-09-11, 01:50 PM
Join Date: Dec 2008
Location: New England
Posts: 55
The equivalent at HD seems to be
Fernco Model # P3001-150
.. I will buy that tonight and should have a usable sink in the bathroom
Thanks
05-09-11, 04:02 PM
Thats it!!!!!!!!!!!!!!!!!!!!!!!

Good job.

Mike NJ
05-10-11, 06:19 AM
Join Date: Dec 2008
Location: New England
Posts: 55
As luck would have it .. HD did not have the part stocked.
They did have the copper trap adapter. However, it did not seem like PVC trap would work with that trap adapter. PVC 1-1/2" OD is bigger than what that trap adapter can fit. So is that trap adapter for metal P-traps?

So what is the right way to transition from the copper waste pipe (1-1/2") to PVC P-trap (1-1/2")?

We had our kitchen remodeled recently, so I looked under the kitchen sink and the plumber had used the same proflex coupling (3001-150) and the town inspector had come and looked under the sink before he signed. So I suppose that is according to code in our town.
05-10-11, 06:36 AM
The trap should slip into the trap adapter......Possibly you got a 1 1/4 trap adapter.
plumber had used the same proflex coupling (3001-150)
Yes thats the same one in the link below that you posted.
One end of the fernco goes to the copper, and the other end you can insert the pvc trap adapter.
Insert this to the other end of the fernco. One should come with the new trap you bought.
Mike NJ
05-10-11, 11:08 AM
Join Date: Dec 2008
Location: New England
Posts: 55
It seems that local HDs have stopped carrying that particular model of fernco!! A trip to another HD and found out that none of the HDs in our district have that model in stock. just my luck.
Anyway, local plumbing supply store stocks mission .. so bought CK 115 .. now I have to cut/clean the copper tube and fit everything nicely and I am good to go
05-10-11, 05:12 PM
Join Date: Dec 2008
Location: New England
Posts: 55
all together now ..
---
So now everything is dry fitted. Looks good .. I think I am done for the day. Tomorrow I will install the popup drain (with plumber's putty at the drain) cement all PVC pieces and tighten the coupling .. Point out any omissions .. give any suggestions ..
Thanks MIke
05-10-11, 05:55 PM
Because it not a vanity I would of used a chrome trap, and a box escutheon. Although you probably need a split. I know they make them.
Is that a plastic pop up assembly???? Uggg.
Just as that pop up sits on the sink as I see it in the pic, add teflon paste to the rubber washer and threads. The nut will turn easy and seal better.
Looks good.
Mike NJ
05-11-11, 06:19 AM
Join Date: Dec 2008
Location: New England
Posts: 55
We plan to replace the pedestal with a vanity sometime this summer .. so I decided to not go for metal trap.
HD guy said the pipe is aluminum, the rest seems like plastic. It was one of the cheapest there ..
How's this one?
Danze D495002RB Metal Pop-Up Drain Assembly
? I will have to install the popup drain again when we do the vanity ..
Ace hardware handed me Pipe thread compound TFE paste when I asked for teflon paste .. same thing?
Once again, Thanks
05-11-11, 06:34 AM
LOL... Nothing wrong with plastic I guess.. I stripped a couple of them on installation. They usually come with low end home store fuacets. Ususally when homeowners have these with the faucets they want installed, I chuck them.

Its may just a personal thing that I only use brass I guess.

Yesr the TFE is good.

Mike NJ
Posting Rules
You may not post new threads
You may not post replies
You may not post attachments
You may not edit your posts
---
HTML code is On
---