Washer drain issue
05-25-11, 08:12 PM
Join Date: Apr 2003
Location: USA
Posts: 34
Upvotes: 0
Received 0 Upvotes on 0 Posts
Washer drain issue
---
we have a super old house - someone before us connected a hose directly to the drain that hooks to the septic drain. Then the washer drain hose was directly connected to that.
We have been having issues with it not draining properly and backing up into the washer. so I figured it might need a air vent. I took a pipe - put a tee in the middle of it - put an air admittance valve on the straight part and put the washer drain hose in the tee part. All that it does is fill up and spout out all over the place.
plus it smells. Do I need a P or U trap?
and I thought about by passing it by putting in a utility sink & pump it up and out the window - what size pump would I need.

I can't give a link to a pictures so here is a crude drawing.
this is the part that I just added

| | <-amt valve
| | washer drain hose connected here
| | | |<- this is higher than the top of the washer
| ---| |
| -----|
| |
| |
this is directly connected to septic drain
05-25-11, 08:46 PM
Join Date: Dec 2010
Location: Galivants Ferry SC USA
Posts: 18,190
Hi.

Cant make heads or tails of your drawing, but I assume the sewer pipe is higher then the washer.

1. It not legal as far as I know to directly connect a washer to a sewer line. A air gap is needed.
2. Air gap would be a trap off the sewer line, then at least 18" vertical pipe off the trap. The washer house goes in that pipe. This would all be 2"
3. Probably if you do this you may not to be able to put a 18" vertical pipe. It may hit the ceiling. If so then a laundry sink and pump would be in order.
4. Also a backwater valve should be used. This way if the septic fails you will not get raw sewage in the room where the washer is.
5. When any sewage runs down this main sewer pipe from other bathrooms, or kitchen, sewage is just wanting to dump in the washer.
6. Also your septic tank , or sewer might have issues. Like a backup, or leachfields failure. Washers are know to destroy septic systems.

Hope this helps.

Mike NJ
05-25-11, 09:02 PM
Join Date: Apr 2003
Location: USA
Posts: 34
Upvotes: 0
Received 0 Upvotes on 0 Posts
It does help - I wish I could find a picture that shows what it is to look like from washer to whereever it is to go.
You said about illegal to connect directly to the sewer line - do you think that I could cut in the middle of the line that goes to the washer area and make a 'drain' ?

If so, working from sewer line to washer; would it be 'sewer line' 'direct attached line' make a cut 'install a drain with ?U / P? trap and air handler' then the wash water drain into that ?
05-25-11, 09:41 PM
Join Date: Dec 2010
Location: Galivants Ferry SC USA
Posts: 18,190
What is the material of the sewer pipe? Cast iron, pvc???
Yes, you need to cut out a section of the sewer pipe and add a Y and trap. Preferably cut out the part of pipe where the current connection is.
Here is something you may have.
Now on this one, its all good and close to what you probably want to do. Except ignore everything above the trap. Should just be a 18" piece of pipe.
You can see the washer on the left and it drains at the top of the black pipe. Like I said ignore all those other connections. It should just be a 18" or longer piece of pipe.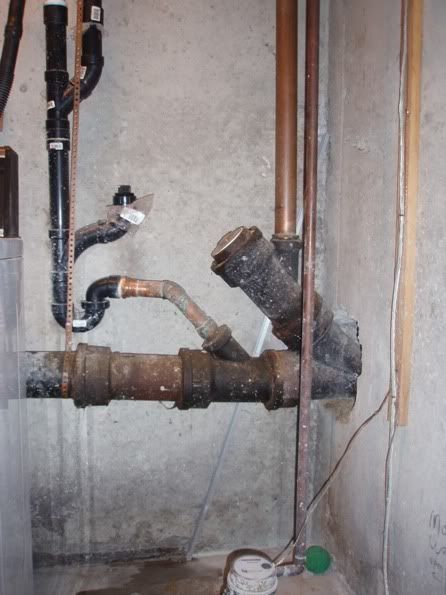 Mike NJ