connecting up tub supply questions?
07-31-11, 04:30 PM
Join Date: Jan 2004
Location: United States
Posts: 1,239
Upvotes: 0
Received 0 Upvotes on 0 Posts
connecting up tub supply questions?
---
I have a mock up of my tub setup. It is a corner jacuzzi tub that will have a deck surrounding it. I have mounted the valves on the deck, but the spout/divertor will be mounted on the tub itself. really had to mount it on tub cause it wasn't long enough to reach over the lip of tub if I mounted it on the deck, unless I wanted it to put water on the head of the person sitting in the one seat. I did a mock up of the setup. the spout will sit 2" higher than the valves (hence the 2x4 and plywood that it is sitting on). I am debating on how to connect this all up. The simple way would be to replace the "T" and elbow with sharkbites. not sure if I trust them? see my post on cpvc copper transition. or sweat all 5 of these joints. If do that, I was thinking of sweating the elbow and the short horizontal pipe to the spout divertor before I attach it to tub. then attach it, drop tub in and connect that short section to the "T" and then solder all 3 joints of "T", being careful to put cold wet towel on the elbow to protect those two joints. the short pipe is about 3" long. I think it would be hard to do all the joints once tub in place as the elbow is a little close to some tub plumbing. just wanted some thoughts on this and opinions of ways to connect everything up.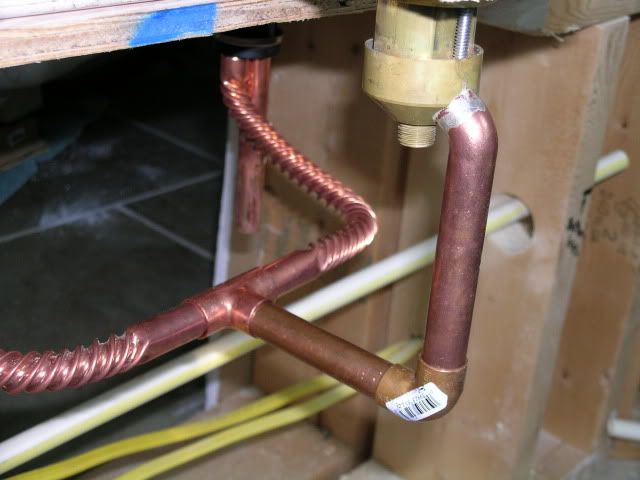 08-01-11, 07:55 PM
Join Date: Dec 2010
Location: Galivants Ferry SC USA
Posts: 18,190
IMO looks pretty bad hammerash....


Roman tub faucets are long enough to fit on the deck. Possibly your mounting the tub 180 degrees the wrong way or have the wrong faucet.

Tub pics will help.

I dont recommend any type of compressions in a closed area but I am sure you will have an access door.

And I cant tell but is that all 1/2" pipe? Are you going to use those plastic valves I see? Uggg....

It may take you a hour to fill that tub with 1/2" lines. Not enough volume. Seen it many times. Yes I mean "1 HOUR" I see the tub in the background but cant tell the size.

Well good luck so far.

Mike NJ
08-01-11, 09:58 PM
Join Date: Jan 2004
Location: United States
Posts: 1,239
Upvotes: 0
Received 0 Upvotes on 0 Posts
what looks bad? cosmetically it will look fine when done. the spout is on one side of the tub controls and the handheld is on other. the valves are on front of deck centered around the spout. I think it will look quite nice myself. But that is just opinion.
the tub is jacuzzi 6060 2 person corner unit. yes it is roman tub faucet-delta T4740 two handle roman tub trim. and no it really can't go on deck. The lip of deck is pretty wide -the minimum is 5". some things to consider are that you want (at least I want) the spout to be relatively close to the valves and I want BOTH accessable from outside the tub. I think good idea for filling to feel the temp and also for washing it. There are two locations where you could put the spout where the lip is smallest (note this is 2 person corner tub so the two locations are just mirror images of each other.) But you may hit your shoulder on the faucet and if the water is on it would be coming on your shoulder.
jacuzzi 6060 two person corner tub-5'x5'. the two holes on lip are for spout and handheld. the areas I mentioned are just to the right of my right hole or left of my left hole where the lip is slightly less (5")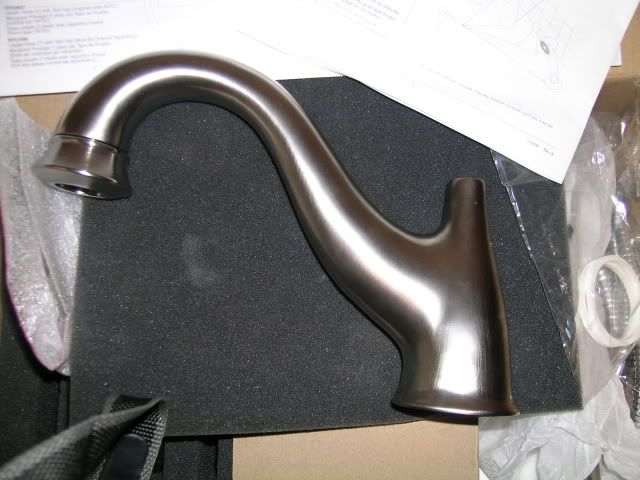 delta T4740 two handle roman tub trim with hand held sprayer
this would be spout mounted as close as possible at one of those locations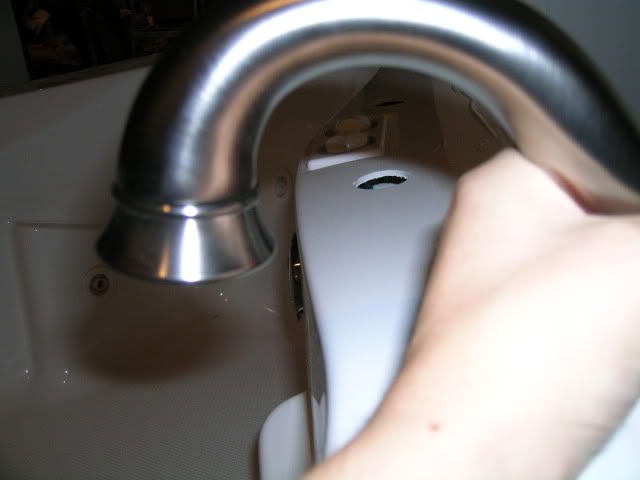 even so the water would be coming out close to the lip and may spray and make mess
and I wouldn't want to be the person sitting there. arm/shoulder hitting up against it.
The valve area you see will be behind a removeable panel. THe two GFCI outlets will be there as well.
The plumbers put 1/2" lines there, not me. drywall up below so nothing to do now. besides, given that the valves have 1/2" lines it really wouldn't matter as that would be a bottleneck, no? I will say that I filled up tub with hose from my washing machine (one 1/2" line) and it didn't take an hour. I will have two 1/2 lines to fill it although depending on the water temp the cold likely won't be on all the way.
so what about my question? are you suggesing compression fittings given I have access?
08-01-11, 11:29 PM
Join Date: Dec 2010
Location: Galivants Ferry SC USA
Posts: 18,190
All I could say is you are committed.

You already have the holes in the deck, and drilled the holes in the $2K plus tub.

Would not of been my choice of faucet either. That type gooseneck is not at all the best option you could have picked IMO. I know there is alot better that would have worked very well.

But it does not matter anyway its done.

As far as your original question, use what you feel comfortable with in your tub and under it.

When I was doing those tubs the access panals would never come off. They were there but behind tile. They said you can cut them open in a way but it never worked out that way.

We would pipe the whole tub ridgid. All soldered and/or threaded. The shut offs for the tub would be under the sink. This way you can sevice the cartridges when needed. Also the mixing valve would be there. Thats code in my neck of the woods anyway. Does not look like you have one.

Anyway I remember your other projects with that bath and IMO you often follow your own advice anyway and not too much from what you seek to be answered here.


Just sayin'

Mike NJ
08-02-11, 12:15 AM
Join Date: Jan 2004
Location: United States
Posts: 1,239
Upvotes: 0
Received 0 Upvotes on 0 Posts
you are more than double in your tub estimate. this is drop in unit, not a skirted one. I am making own access panel. will use piece of wood color matched to cabinet and than put in "picture frame" moulding that will be the panel

wife picked the spout. can't change that. I told her my concerns and options and she wanted this. spout matches our vanity faucets. none of the others came in anything that was even close as far as style and finish. water under bridge now.

As far as using the info i get, I always analyze the info I get from friends, books my knowledge and what i get here. then I make informed decision. I mostly take the advice I get here, it just may not always be your advice. took your advice and didn't get cable drain. went with gun guy on using silicone over putty. took my own advice on leaking sink--time stopped leak-mineral coating?. hasn't leaked anymore. will keep eye on it. as far as the tub, I think soldering is probably best, but was hoping to get more responses regarding whether shark bites are reliable long term or other options but not much response.

by the way, jacuzzu website has (or at least did before) this exact tub with everything mounted on the tub. that is where I got idea or at least knew it could be done that way. I thought too crowded underneath to put everything there though.
08-29-11, 03:08 PM
Join Date: Jan 2004
Location: United States
Posts: 1,239
Upvotes: 0
Received 0 Upvotes on 0 Posts
well finished so thought I would post result. ended up soldering since only got once response on the sharkbites so just wasn't certain if to trust it long term. guy doing work for me said he had one leak in shower and had to remove tile to redo area-bad idea using where there was no access! note that the faucet inlets are 1/2" copper and outlets are 1/2" FLEX copper. so diameter of this pipe is ?? certainly a good bit smaller than the 1/2" cpvc that I have installed up to the faucet. It took 12 minutes to fill the tub to overflow (about 80 gallon?) using only cold water. so fill times are not going to be issue. I filled it up with cold in prep for hurricane in case lost water, but I didn't get hitby storm very badly. I don't think it looks bad at all. note that if hand held really does need to be mounted on tub like I have it, otherwise the inevitable drips that occur briefly after you use it would not reach into the tub. mounting this way prevents water from all over the deck. maybe could have centered the valves with the tub instead of centering with the spout? the way I did it does leave more room to sit on the deck to clean or just when turning it on and adjusting temp.