Venting Pedestal Sink
09-03-11, 05:53 PM
Join Date: Dec 2010
Location: USA
Posts: 91
Received 0 Votes on 0 Posts
Venting Pedestal Sink
---
Hi everyone, very quick question.

I am replacing the old vanity sink in my bathroom with a new pedestal sink. The old sink wasn't vented at all. I have a 2" vent stack coming off my main waste stack in the basement and going straight up through the roof. Can I tap into that to vent this sink? Or do I need some sort of dedicated vent?
Sponsored Links
09-03-11, 06:11 PM
Hi,

What else is on that 2" line?

The 2" line comes off the main correct? On a vertical or horizontal line?

What is on the main line before that 2" line?

If you can describe in better detail it would be helpful.

Mike NJ
09-03-11, 06:42 PM
Join Date: Dec 2010
Location: USA
Posts: 91
Received 0 Votes on 0 Posts
Sorry...here is a sketch of what I am working with.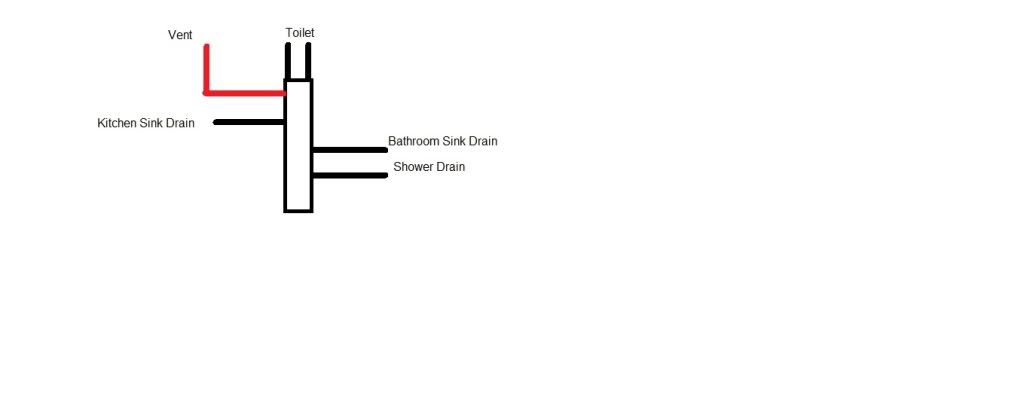 09-03-11, 07:18 PM
Last question. Does the main stack go up through the roof also?

If so, how close are all the fixtures to that main vent, 3"?, that goes up through the roof?

If they are within so many ft that stack is the vent. I need to check the code to double check, but that may be why its not vented as you think...

Mike NJ
09-03-11, 07:25 PM
Join Date: Dec 2010
Location: USA
Posts: 91
Received 0 Votes on 0 Posts
Mike-

That would make sense, but no, that main 4" stack literally drops from the toilet and then exits my basement wall with all of the other drains emptying into it in the basement. That 2" vent is the only vent in the house to the best of my knowledge. So I don't know, maybe due to it's position my toilet isn't vented properly?? It still seems like I should be able to tap into the vent as it passes through the bathroom wall to vent this sink...

Thanks so much for your help.
09-03-11, 07:32 PM
Too many fixtures on that 2 " vent.

You sure its 2"?

No other vents through the roof?

Kitchen vented? Usally they are the longest run. Even way back 40s,50's they were venting the kitchens because of the length.

What yr is the home????

Tell me what issues you are having.

Tieing in the sink to that vent really will not do nothing.

Mike NJ
09-03-11, 07:45 PM
Join Date: Dec 2010
Location: USA
Posts: 91
Received 0 Votes on 0 Posts
Wow that was impressive...the house was built in 1956.

The kitchen has a 20' run to the main stack, whereas the bathroom drains all basically drop straight down.

And after further inspection in the basement and on the roof I see that the kitchen sink does indeed have a dedicated 1 1/2" vent (sorry this is a brand new rehab project I hadn't even noticed the kitchen vent due to its position on the roof.)

So what do you think?

The only reason I am not wanting to run a new vent through the roof for this sink is that it will exit about 4 ft from the existing vent and that just looks crappy. Also I would have to box in an elbow to get it around a joist and that's just more drywall work that I don't want to do.
09-03-11, 08:03 PM
OK gotcha.......

Venting the sink will do nothing. Unless you are having water siphon from the traps I would suggest a alternative.
I see nothing wrong except that the 2" vent should be 3". But having the kitchen vent kind of makes the whole set up act as the proper vent.

The way its set up from your drawing all the traps are protected by one of the two vents at any given time. If the bath sink or shower were longer then 1ft or so I would suggest it.

But then I would say to tie the bath sink arm into the shower arm then vent the sink. Of course you would cap where the bath sink line comes off the main.

Hope you get that.

So with all said and done I would just leave it.

Unless anyone else thinks there is something else in the code I am missing by all means please add to the post.

Hope this all helped you.

Mike NJ
09-03-11, 08:11 PM
Oh and the only thing I suggest is, since I am pretty sure those vent lines are cast iron, I would run a garden house down them. Make sure they flush out clear and free.

Because of the vent size you cant afford to have them blocked up. Often leaves and debris may sit down in there at a turn...etc. This is where rare vent issues come into play in houses like yours.

When you stick the hose in the vent, run it and listen down in the basement for good water flow in the pipes.

Thats all I can suggest.

If your doing a bath remodel I suggest a champion 4 toilet also. Made by American standard. I have them and IMO, best toilet made today.


Mike NJ
09-03-11, 08:14 PM
Join Date: Dec 2010
Location: USA
Posts: 91
Received 0 Votes on 0 Posts
Thanks Mike.

After I noticed the kitchen vent my thought was that leaving everything would probably work fine...glad to hear you confirm it.

I just didn't want to do all this work, close up the walls and then realize I should have vented the sink independently or in a different manner.

Thanks again for all the help, enjoy the rest of the weekend.
Posting Rules
You may not post new threads
You may not post replies
You may not post attachments
You may not edit your posts
---
HTML code is On
---