Need Help Extending A Cast Iron Toilet Flange In my Concrete Basement Floor
01-25-12, 06:39 PM
Join Date: Aug 2009
Location: New York
Posts: 256
Received 0 Votes on 0 Posts
Need Help Extending A Cast Iron Toilet Flange In my Concrete Basement Floor
---
I'm remodeling a 1/2 bath in my basement and will be replacing the vinyl tile flooring and toilet. The old floor in the bathroom was vinyl tile on top of concrete.

As a precaution, because the bathroom is in the basement, although its quite dry, I'm planning to install a DRIcore subfloor over the concrete then install the new floor covering over it. The additional height will be about 1" total.

My question is how to handle extending the toilet flange that is cast iron and is imbedded in the concrete floor by about 1"?

I don't want to break up the concrete and change the piping to raise it. In the past in the upstair bathrooms when I raised the floor I was able to simply use a 1/4" flange spacer or extension. However, with the cast iron flange I'm not sure how to handle it because the flange spacers only have a very small seating surface and the cast iron flange I have is much larger. The top of the flange seems to be a standard OD about 7" but then it reduces to 5" with a step down to an ID of 3 3/4".

I'm not a plumber but I hope there is some practical way to extend the top of the flange and still be able to properly seal the new toilet on top of the new floor.

I took a picture but I'm not sure if and how to add it to this site.

I would appreciate any help and suggestions.

Thank you
Sponsored Links
01-27-12, 01:22 PM
Something of this type should work, check on the net for other options, you will need to look for toilet flange extensions; you probably will need to go to a plumbing supply to find them, luck
01-29-12, 10:42 AM
Join Date: Aug 2009
Location: New York
Posts: 256
Received 0 Votes on 0 Posts
Thanks for responding shacko! While stacking enough flange extensions would probably work I'm hoping to find a single part that could work just to keep things simple.

I did find a product Sioux Chief makes called a Push-tite Gasketed Closet flange that looks like it might be just the solution. Anyone have any experience with this product? If so, was it good or bad?

Thanks
01-30-12, 03:14 PM
Join Date: Aug 2009
Location: New York
Posts: 256
Received 0 Votes on 0 Posts
Assuming I did everything correct I'm trying to add a image of the Sioux Chief Push-tite Gasketed Closet Flange I mentioned in my last post.
I believe this will work well and thought I'd share it with the forum in the event that it could be helpful to someone else.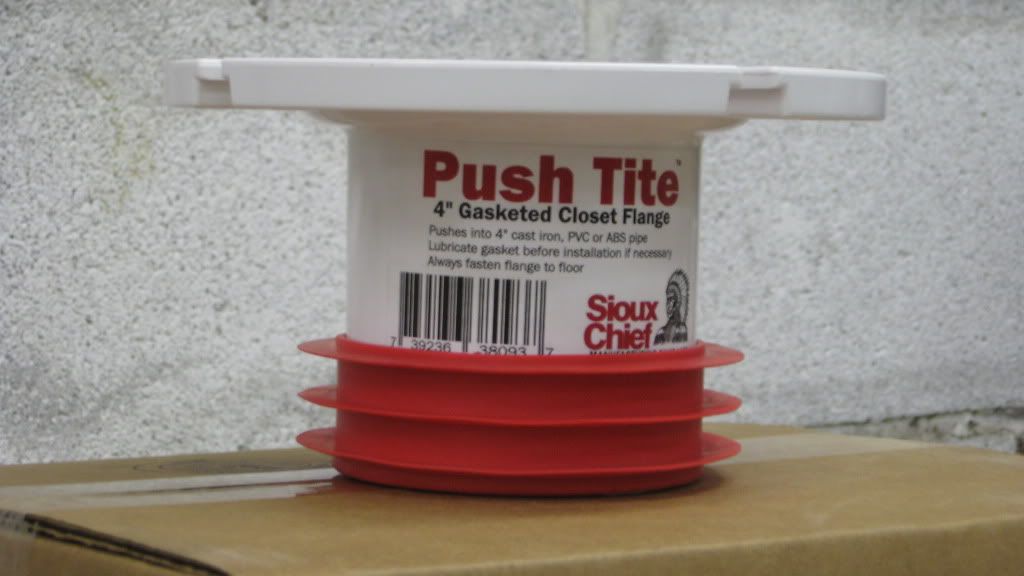 01-30-12, 03:22 PM
Join Date: Dec 2010
Location: Galivants Ferry SC USA
Posts: 18,142
As far as I know that is not allowed in any code I have read. Thats hack type stuff IMO. Why they sell it is beyond my knowledge.

Kind of like the home store flexible trap...lol. Not to code by any means but they still sell them.

I could go on about flexible dryer vents buy I wont.

IMO do the job right. But its your house.

Possibly though code may have change but I doubt it. I will check though just to make sure I have not mis-spoke.

Mike NJ
01-30-12, 04:12 PM
Join Date: Dec 2010
Location: Galivants Ferry SC USA
Posts: 18,142
Yes. Break up some cement......

I believe a compresion flange is good if its an outside mechanical device only.

Or no hub fernco/mission coupling and convert short length to PVC.

I am looking up the code as we speak. I will let you know.

You only probably need to break up around the pipe but I have not seen any pic of your issue so cant say for sure.

Mike NJ
02-08-12, 10:07 PM
I just bought the same flange. My original flange was set below the finished floor and was rusted out causing the toilet to leak. I was about 1 inch below the floor as well. lawrosa makes it sound like it's an easy job for a homeowner to tear up a concrete floor and raise a pipe. It may be the right way to do it, but not everyone has the time and/or money to do that, IMO.

What I did was remove the old flange by drilling out the lead. I then ground the top of the pipe until it was level (mine was jagged) and ground the inside of the pipe smooth. I then made a form around the existing pipe and poured concrete so that my tile would be as close to the existing pipe as possible. I then pushed the flange in and it fits like a glove. I drilled holes and fastened it to the floor. It is surely a better installation than the improper one that lasted for 30 years.
Posting Rules
You may not post new threads
You may not post replies
You may not post attachments
You may not edit your posts
---
HTML code is On
---