Capping a gas line
06-06-13, 08:09 PM
Capping a gas line
---
Hi,
I am taking out an old natural gas pool heater that does not work. I am not going to put in a new one, at least not now. The heater is that black thing on the right side of the picture. Is it as simple as unscrewing the "union" in the middle and putting on a black iron cap over some yellow teflon tape?
Thanks!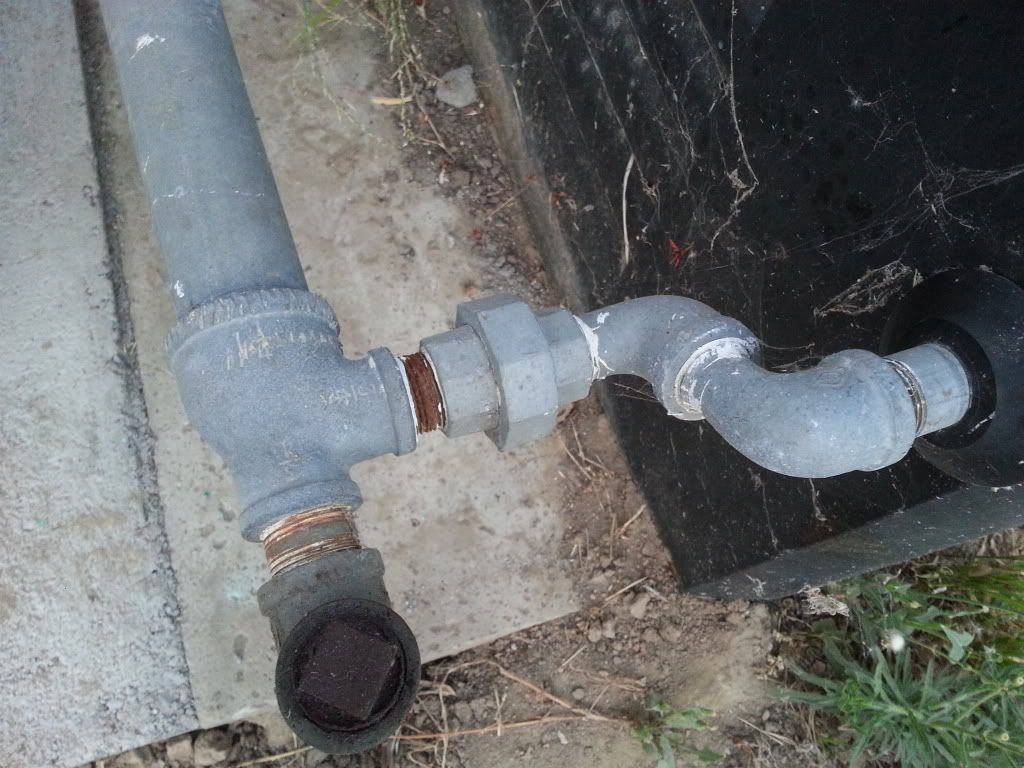 Sponsored Links
06-06-13, 09:21 PM
Remove the union completely. The little nipple may come with it. No problem. Then use whatever cap or plug you need for the situation. And yellow Teflon tape should be ok. If you have the right 'goop', use both. Natural gas is a low pressure system. Turn the gas back on, ASSUMING you already turned it off, use a soap and water solution and spray or brush on and look for leaks.
06-07-13, 06:20 AM
And it looks like that pipe feeds the mechanism only. So maybe consider removing more pipe to get it out of the way, then cap or plug it off. And yes, Joe, I don't know about the east coast, but on the west I've seen plenty of galvy pipe used for gas -- on older homes, and I'm not talking Victorian older.
06-07-13, 07:11 AM
Join Date: Dec 2010
Location: Galivants Ferry SC USA
Posts: 18,139
To the OP... Post # 4 may be misleading.
That sure looks like galvinized pipe to me that should not have been used for a gas line, black iron only.
There's also no drip leg.
Joe some municipality's require galv over black pipe. Also with drip legs. Some are not allowed outside. Moisture will freeze in the drip leg in winter months and crack the gas line.
If you do not know the codes, or have a rough idea what you are talking about, it might be best not to comment.
Posting Rules
You may not post new threads
You may not post replies
You may not post attachments
You may not edit your posts
---
HTML code is On
---