Main water line to mobile home
12-03-13, 10:37 AM
Main water line to mobile home
---
I am trying to help my sister install a main water line to her mobile home. She has put it on a lot that previously had a mobile home on it. Already have to ditch dug from where old water line ended to just under the home where hot water heater is. I was told that I can just use a "shark bite" to connect new line to existing line and then hook into the line coming down from water heater. Is this ok to do? And if so, what is needed to hook into to line coming down below water heater. Can a shark bite be used there as well? I need, or would like to have if possible, all the information that can be given on what to do from connecting to the old main line and then connecting to water heater. I hope I explained this well enough. I do marble, granite, and tile work so the most plumbing I have done is putting drain in shower. She cant afford to hire a plumber and a lot don't like working on mobile homes. Any help would be greatly appreciated. Thank You.
Sponsored Links
12-04-13, 04:16 AM
12-04-13, 04:26 AM
Join Date: Dec 2010
Location: Galivants Ferry SC USA
Posts: 18,139
I would only use ford type fitting under ground. I know they have some shark-bites that are approved but I dont use them..
Make sure you get the correct size if you go this route for what ever pipe you are using.. Such as CTS,IPS..etc
Ford Meter Box - Product View
12-04-13, 10:15 AM
Pics
---
Thanks for the replies. Here are some pics that I had previously taken with my phone. I read the link on how to upload them so hopefully I did it correctly. Maybe they can help you see what I'm dealing with. As you can see in one of them they had put a spigot on the line where it went in to the old mobile home. I was told by a hardware store employee, after showing him the pics, I could remove it and shark bite to the new line but as one of you said it may not be a good idea. He may not have known what he was talking about. I am open to any ideas for the best way to do this so that it will holdup. And the other photo shows the line coming down from water heater. As far as I can tell it is where the main line goes in. But of course i could be wrong, As i stated I'm not a professional. I hope these photos will help if more are needed just let me know. I'm on a job site now but i can get them as soon as I get home. Thanks again for all your help.
12-04-13, 11:07 AM
It looks like PVC. I'd remove/replace the PVC fitting at the spigot and then install whatever length of PVC you need to connect from there to the MH. It will probably by 3/4" PVC but could be only 1/2"
You'll needa PVC to pipe thread fitting, length of PVC pipe, PVC coupler [s] and probably an elbow. You'll also need PVC glue [cleaner and primer is also nice to have] The PVC coming out of the MH needs to be squared up, you can either buy a PVC cutter or use most any type of saw.
12-04-13, 05:29 PM
Thanks for the reply. I actually got some things from someone on our job site today. He said that these things should help with what I'm doing. I included a pic. The fitting on the left is for connecting the new and existing water line. The one on the right is for connecting the waterline to the pvc coming down from water heater. Also gave me some metal "sleeves" to put in pipe before doing so. And an elbow and some tape that may come in handy somewhere, he said. A second opinion wouldn't hurt before starting this so if anyone sees anything that looks wrong please let me know. Thanks.
12-04-13, 06:29 PM
Join Date: Dec 2010
Location: Galivants Ferry SC USA
Posts: 18,139
I see poly in the ground... Great... I see your friend gave you Ford fittings...
But why not just bend the poly up some so its close to the surface and build a type of meter box... Put a valve on it then connect to the trailer.... No?
KY get freezing temps?
If you leave it under ground, the poly, possibly a yard hydrant....You can turn off and winterize if need be...
This is whats at all most mobile home community's here in NJ...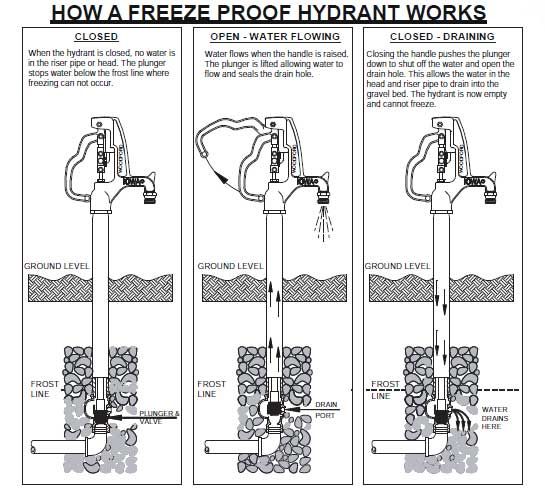 12-04-13, 06:50 PM
Banned. Rule And/Or Policy Violation
Join Date: Apr 2013
Location: USA
Posts: 4,297
Received 0 Votes on 0 Posts
Before doing anything I'd check to make sure that not the pipe for the relief valve on the water heater.
PVC should not be used as a water line inside a home.
It's rated for sewer and vent only.
It looks like the plastic fittings you picked up are CPVC. Are they colored beige? If so that's CPVC, it will not connect to PVC. Also those type fitting tend to crack down the sides. There's other ones that look like those but have a brass sleeve inside the threaded part.
The pipe you think is the supply line is PVC the lines near the ground look like Quest which was discontinued long ago because of all the leaking problems and a class action sute against them but there's still fittings available to connect it to other types of pipe.
12-05-13, 03:36 AM
Most of the MHs I've worked on had 3/4" PVC going to the MH. Once you get to the water supply connection it often changes, somewhat depended on the year the MH was manufactured. There might be a sticker on the exterior of the MH that says 'water supply here' [or similar] There will be a pipe fitting where the water supply enters the underside of the MH. While the supply is usually close to the water heater it does not connect directly to the WH. I hadn't thought about the WH overflow/relief pipe - you don't want to hook up to that!!
I agree with Joe - those look like CPVC fittings and are unlikely to work for the supply side of the MH. I'm not a plumber like Mike and am not familiar with Ford fittings
Posting Rules
You may not post new threads
You may not post replies
You may not post attachments
You may not edit your posts
---
HTML code is On
---