Water dripping on pump
12-23-13, 06:52 AM
Water dripping on pump
---
I have some condensate lines going directly into my sump pit. It drips directly on top of the pump. I would assume that is OK, but I wanted to ask anyway.... is there any harm in having water drip on top of a pumps housing?
Sponsored Links
12-23-13, 04:41 PM
Maybe I shouldny just say condesate... it has condensate from the furnace dripping on it and even water from a laundry tub and a water softing unit.... in any case, water is touching the plastic housing. THe base is metal.
12-24-13, 05:31 AM
If it's a short, fat pump down in the sump then it's probably a submersible and water will not hurt it. It's designed to be totally submerged. If there is a pump at the bottom, a long shaft or tube coming up then the motor up in the air then it's a pedestal pump and you should do your best to keep the motor dry.
submersible pump: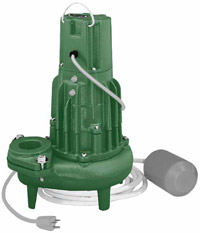 pedestal (not submersible pump):
Posting Rules
You may not post new threads
You may not post replies
You may not post attachments
You may not edit your posts
---
HTML code is On
---