Venting Question - Basement Bath
02-04-14, 12:12 PM
Join Date: Jul 2013
Posts: 41
Venting Question - Basement Bath
---
Plan is for a 3 piece bath, rough-in already done. I'm pretty confident in how the venting needs to be set up...hopefully someone can let me know if I'm missing something.
one question I have is whether the rough-in vent pipe from the floor is tied into both the shower and the toilet. Just the toilet? Just the shower?
My terrible drawing is below. I've also included another angle of the bathroom for reference.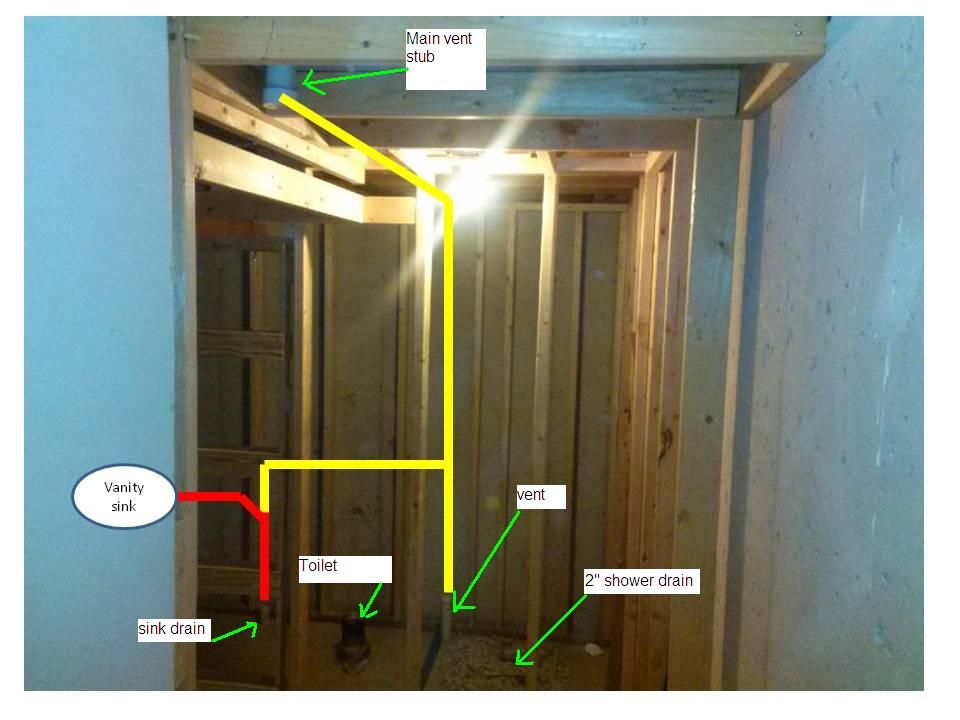 thanks!
Sponsored Links
02-04-14, 03:50 PM
Hello.
Thats a drain for a tub not a shower I am sure...
Yes the sink and tub vent get tied together as you show... They connect together 36" min above the flood plain of the sink....
Very nice....
That main vent in the ceiling looks huge... I wonder why?
02-05-14, 08:01 AM
Join Date: Jul 2013
Posts: 41
lawrosa,

I've confirmed that the drain line in the floor for the tub/shower is a 2" line. I'm going to need to break up the slab a bit to allow me to plumb for a center-drain 48" shower insert. This will also allow for my p-trap too.

As for the vent line in the ceiling; it's also 2". The angle of the picture does make it look gigantic. Is that a sufficient to use? Looks like most of the vent lines are 2" so I assume I'm okay there.

Thanks!
02-05-14, 08:05 AM
I believe we went over this all in another thread.......

Your OK...

Are you looking for others input???
02-05-14, 08:38 AM
Join Date: Jul 2013
Posts: 41
we covered the shower drain issue, yes.
This thread was for confirmation of my venting configuration. I trust your input that it looks good...thanks!
Case closed
Posting Rules
You may not post new threads
You may not post replies
You may not post attachments
You may not edit your posts
---
HTML code is On
---