Coupling ABS to Lead Bushing
06-08-14, 12:31 PM
Coupling ABS to Lead Bushing
---
I remodeled our bath and coupled the 3" toilet line with a Mission clamp to a 3" lead bushing that comes out of a cast iron hub. I'm getting a slight leak. Any suggestions for sealing this type coupling? The old layout used a Fernco for 30 yrs with no leak.
06-08-14, 01:29 PM
Whats a lead bushing?
You would need to explain better...
Coming out of the hub should be cast iron. The only time I see lead that looks like pipe is sometimes part of the toilet lead bend that use to go directly into the hub. Possibly it was cut and a small piece of lead was left?
06-08-14, 03:25 PM
I misspoke. It is a 4x3 lead reducer coming out of a cast iron hub. This is several feet from the toilet. I rearranged the bathroom, but the toilet connected into the cast iron in the same place before and after. This is in my crawl space. House built in 1902. Maybe there is some modern way of connecting 3" ABS into 4" CI and eliminate the lead reducer. I just can't imagine what it is. Are there any living plumbers who pour hot lead?
06-08-14, 06:46 PM
Are there any living plumbers who pour hot lead?
Yes... I pour lead.. Im 48 yrs old... was taught by old timers. Not-really old when I was plumbing but old now if not dead....
I want to know what the 4x3 reducer was for and why was it lead? Do you know any history of that fitting?
Can you take a pic? I have never seen this fitting in my career...
06-14-14, 01:51 PM
I am old and don't know how to post photos. However, I re-visited this problem today and observed more carefully. I have a 4" cast iron tee in my main sewer line. Coming out of the hub on the tee, vertically, is a short piece of 4" lead pipe. Before remodeling the toilet line had been connected to the lead with a Fernco. That worked fine for 30 yrs. I relocated the toilet, but I am coming in to the same lead pipe, just from a different location. Now when I connect the toilet 3" ABS to the lead with a Mission, it leaks at the lead. I have tried really torquing the Mission, which slows the leak, but doesn't stop it.

The lead pipe looks like it had hot lead poured around it to connect to the cast iron. Is there any way for a DIYer to remove all of the lead from the CI hub.
If the lead were gone, could I insert ABS and pack with Oakum or use a rubber donut? I don't think cutting the CI hub off and using a no-hub is an option since there isn't.
06-14-14, 02:04 PM
06-20-14, 08:31 AM
Been working on this for a week. Did my photos attach?

It appears they did. The O.D. of the lead is 4.0, and this is the root of my problem. Mission makes a TWP-43 that is 4.21 I.D., which is as close as I can get to 4.0" with them. Fernco makes a 1059-33, which is 4.00 x 3.50. I have my supply house looking for both. It looks like the Mission is a little more than 1/8" too large for the lead and the Fernco is about an 1/8" too large for the ABS. Maybe these are within tolerances that will seal. I have no clue as to how the Mission that I removed ever sealed, because it is around 4.25".

If none of these work, the only option I can see is to excavate the C.I. tee, cut it out and then couple in an ABS tee which can be coupled easily. Any other ideas??
06-20-14, 09:07 AM
That an old lead wiped joint.. No need to remove the whole Y..
You need to remove that lead out of the hub.. Clean the inside of the hub good.
I prefer installing a PVC adapter and pouring new lead, but I think they make a lead caulk now.
The other option is to use a donut. The donut inserts into the cast hub, then the new pipe slides into the donut..
Trying to use a fernco or mission coupling just will not work ....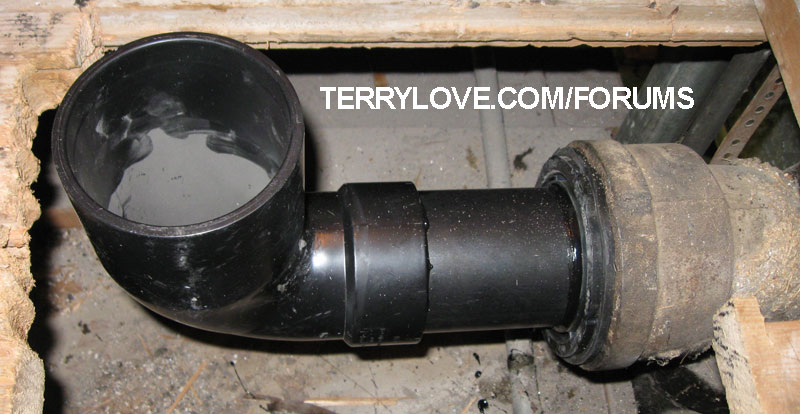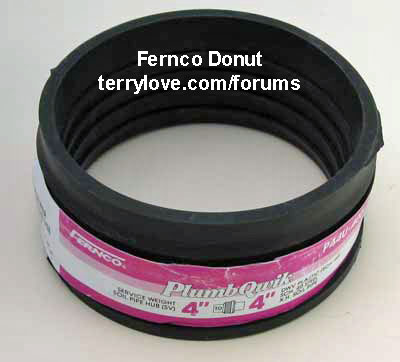 Or this style.
06-20-14, 09:16 AM
Thanks Mike
---
I have no idea how to remove the lead from the old CI tee. That may be out of my league. Does it take a lot of heat to remove it or can it be removed mechanically? I do know of one Boulder plumber who can still work lead.
06-20-14, 10:40 AM
06-23-14, 04:36 PM
Thanks to all for the advice
---
Close the thread. I hired a pro to snap cut the CI and splice in ABS. Took him about 1.5 hrs and me $200. I decided with only 12" between the CI hub and floor joists that removing the lead would be tough. As always, I learn something on this board and that sort of keeps me going at 69.
06-27-14, 05:38 PM
Yes they are shielded no hubs. 4 days and no leaks. For that $200 he was laying on his back or sometimes prone to accomplish the work. In this town you must select plumbing companies carefully. Many are over the top in pricing, some with shoddy work and few good choices. Thanks for being out there for guys like me.