PVC versus ABS
09-08-14, 12:02 PM
PVC versus ABS
---
I have a question regarding pipes.
Lately I've seen many pictures of PVC pipe.

Is this the pipe of choice in eastern states??

Why not ABS??

And I believe this is called Schedule 40??

I see PVC pipe used here, but it's mostly sprinkler lines or condensation lines.
Sponsored Links
09-08-14, 02:32 PM
I think it's a regional thing, but code probably plays into it as well. In VA ABS was almost non-existent. The HD had a very limited number of fittings and pipe selection. Here in AZ it's just the opposite, the PVC takes up about 1/3 of the aisle and only supply sizes up to about 1 1/4" or so, the rest is ABS. I think there's more PVC conduit than there is PVC plumbing.

Maybe something to do with temperatures?
09-08-14, 02:34 PM
Join Date: Mar 2006
Location: Wet side of Washington state.
Posts: 18,493
Yes, the ABS vs. PVC in DWV systems is mostly a regional thing. Many years ago there was a fairly large amount of ABS that had a problem with the foam core that resulted in failures and that spurred some localities to ban ABS. In my area ABS is prevalent in older homes (more than 20 years) and PVC is now making significant inroads for new construction.
09-12-14, 11:15 AM
I've seen it as a regional thing as well, and often depending on the era the house was built. Some locales seem to be changing over from ABS to PVC, at least in terms of how Home Depot stocks items.

I'm curious, other than specific manufacturing issues that Furd mentioned, I'm wondering if there's really any plumbing/engineering pros/cons to one or the other.

I'm thinking like CPVC. It's not bad or wrong, just not a preferred solution.
09-12-14, 11:18 AM
And I believe this is called Schedule 40?
To address this specifically, the schedule refers to the wall thickness of a pipe. So you can get Schedule 40 pipe in PVC, ABS, black steel, galvanized, etc.
Typically the higher schedule, the thicker the wall, smaller ID, and higher pressure limits based on the specific material.
09-12-14, 12:16 PM
zorfdt and greg,

Got it. It's good to learn. For some reason I thought Schedule 40 pipe was specifically PVC, no matter size.
In this area, all DWV fittings will be ABS, or older cast iron/galvanized. There are probably houses plumbed with PVC, I've never seen one.
It is common though for lawn sprinklers (and other outdoor supply lines), condensate, and obviously the PVC slip tube fittings under sink.

Greg, A potato gun? Should I even ask? Yes I do want to build one if it involves a potato projectile. My son would get a kick out of this. As zorfdt says, what's the worst than can happen?
09-12-14, 12:27 PM
You've never heard of a potato gun Brian?? What rock have you been living under. I imagine there are hundreds of sites about them.

Look at spud gun on wiki. They can be simple one shot toylike things or complicated high velocity monsters. I think some folks have even made repeaters.
09-12-14, 12:50 PM
Well Gunny,
Apparently a rather large rock... I'll check it out though and I can tell you this is as good as done.
I've made tennis ball cannons out of pringles cans, but I guess that's kids stuff
Time to take it up a notch.
09-12-14, 04:09 PM
Here is what I built a long time ago.......I think right after I got my rocket science diploma!
I had a similar reaction when I first heard about potato guns but unfortunately PVC wasn't available locally and I couldn't build it fast enough.
You will note the blast shield which is a tight wrap of commercial fishing cord.
And also of note is when first fired the threaded cap blew off and there is now a clamp around the clean-out threads to reduce expansion of the fitting.
The ram-rod is PVC and perfectly safe.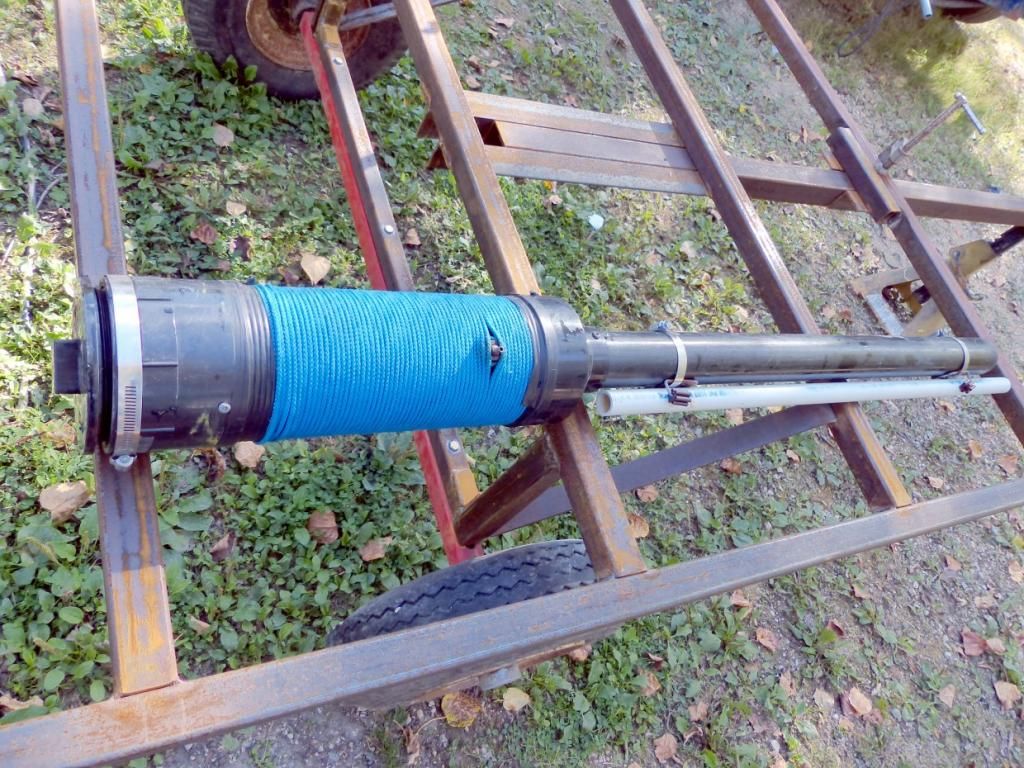 I only fired it a couple of times and like to keep it around as a reminder of dumber times.
Oh ya.....the breach is welded shut to incapacitate it.
09-12-14, 10:05 PM
No, that's the ram-rod to stuff the potato down the barrel.
A few other features are you can just make out a screw on the small end of the 4" to 2" reducing coupler that is a stop to keep the potato from dropping into the combustion chamber.
The other thing is a small protrusion sticking out between the wraps of the rope which is the igniter.
It's a gas lantern lighter that has a flint and striker on the inside of the chamber.
Another feature is that the end of the barrel is sharpened to make it easy for the potato to be cut to the size of the barrel.

I had the best luck using hair spray as my propellant.
Posting Rules
You may not post new threads
You may not post replies
You may not post attachments
You may not edit your posts
---
HTML code is On
---