Sewer cleanout repair question
09-28-16, 06:14 AM
Join Date: Sep 2016
Location: USA
Posts: 32
Received 0 Votes on 0 Posts
Sewer cleanout repair question
---
While dealing with a recent clog in our lateral line running to the street, I accessed the sewer cleanout for the first time. While it seems most new cleanouts are PVC pipe with a cap, mine is cast iron with a metal vent over the top:
I had to dig around the access point a bit because the cleanout pipe was cracked about 12 inches below the surface, and that last piece was angled a bit so I couldn't use my curb plunger to get down in there. Is there a good way to attach a PVC fitting to the cast iron cleanout pipe in order replace the last 12 inch piece that is separated?
Thanks!
Sponsored Links
09-28-16, 06:19 AM
That pipe looks like Terracotta not cast iron. Either way you can use a Fernco/rubber boot/no hub coupling to join new PVC to your existing Terracotta or cast iron. Most home centers sell them in the plumbing dept. and any plumbing supplier will have them as well. Just make sure you get the correct one. For Terracotta to PVC the fitting will be larger on one end than on the other. If your pipe is actually cast iron than it will be straight with both ends the same size.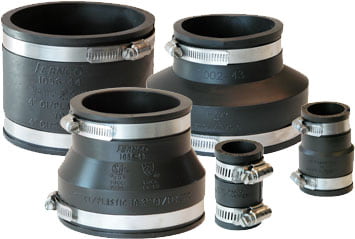 When installing the coupling make sure you really loosen the hose clamp. If it's really difficult to slide over the pipe you can lubricate it with some liquid dish soap.
09-28-16, 08:31 AM
Join Date: Sep 2016
Location: USA
Posts: 32
Received 0 Votes on 0 Posts
Thanks! After I posted, I was thinking "actually, that might not be cast iron..." Thanks for the info and the advice. It's okay to cap it off with PVC, like most cleanouts are, right? Not sure why this just had the grate over it up to now.

Thanks again!
09-28-16, 08:55 AM
Join Date: Jan 2010
Location: North East Kingdom of Vermont
Posts: 2,533
Received 0 Votes on 0 Posts
Are you sure that isn't part of a Drainage or Storm Sewer System instead of the Sanitary Sewer ?
09-28-16, 10:07 AM
Join Date: Sep 2016
Location: USA
Posts: 32
Received 0 Votes on 0 Posts
I'm pretty sure. We were having sewage backup in the house and popped this open, and it was dry in there. We poured a bit of water in there, used the curb plunger, and doing so cleared quite a bit of plugged waste out of the line. Now when we flush the toilet, we can hear it through this pipe and a few seconds later see the water come through.
09-29-16, 09:55 AM
That's called a Philadelphia (or Pittsburg) vent, depending on where in PA you are. Down below that is a trap. This provides a vent for that trap, so you typically want to keep it vented and not cap it.
There are a few different styles of vents like that if you want to replace it.
Home Depot
No issue with using a Fernco coupling and PVC extension like Pilot Dane mentioned.
Posting Rules
You may not post new threads
You may not post replies
You may not post attachments
You may not edit your posts
---
HTML code is On
---