Sillcock parts
10-11-16, 09:01 PM
Sillcock parts
---
My outside slllcock leaks from the vacuum valve. I have been to Lowe's, Home Depot and a plumbing supply store with no luck getting a replacement. The ones I have tried are to large to thread in.
Any ideas would be appreciated
10-12-16, 04:49 AM
If you replace your spigot one of my favorites is made by Woodford. It has a high flow rate, is quite reliable as far as not leaking and it's easily repairable. Lowes used to carry them long ago but now you'll have to find another source like online or your local plumbing supplier.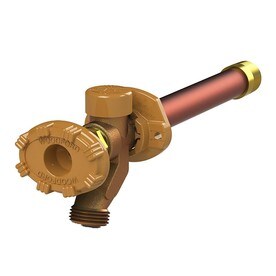 10-12-16, 07:26 AM
Thanks for the suggestion, I wanted to find the parts first because they put the sillcock on the corner of the house and I would have to remove some of the siding to get to it. I don't want to try to unscrew it without seeing how it's attached. Maybe I can find a plug to cap it off.
10-25-16, 11:37 AM
You no longer have the anti-sipon feature so make extra certain that you unhook your hose before winter. Also, when it comes time to sell your house a inspector may pick up on the hack and note that it does not comply with code.
10-25-16, 03:10 PM
Join Date: Dec 2010
Location: Galivants Ferry SC USA
Posts: 18,159
10-27-16, 04:19 PM
Join Date: Mar 2008
Location: United States
Posts: 9,029
The shut off is on a long stem and shuts off in wall. With hose off or hose on ground water will drain out of exterior part of valve That is where the anti siphon part comes in. Anti siphon will open and valve will drain.
10-27-16, 07:09 PM
Join Date: Dec 2010
Location: Galivants Ferry SC USA
Posts: 18,159
Please explain, if the outlet is shut off inside the wall how does the water get siphoned past it?
I'm having a senior moment, thanks
It does not...
Only if you left you faucet on say for watering the garden. Then the town came by and shut off the water to your street and your house.
If the hose was left on the ground and in a puddle of water then there could be a siphon effect. The water in the puddle will come back up the hose and into your drinking water ..
The anti siphon valve eliminates it...