installing bathroom in basement below septic drain
01-08-17, 11:25 AM
Join Date: Nov 2006
Location: northeast usa
Posts: 56
Upvotes: 0
Received 0 Upvotes on 0 Posts
installing bathroom in basement below septic drain
---
Hi, I want to install a bathroom in my basement , but i would need to have it pumped up as the outlet for the septic is higher. My question is from what I understand there are 2 options, 1 is dig the concrete and install a pump or 2 use a system that has a pump connected to the back of the toilet or something like that. The bathroom will only have a toilet and a sink. I don't really want to dig the the concrete as I am concerned about possible issue with leaks and just don't like the idea of it. So I would like to ask some advice as what is the proper way to do this. I had 2 contractors come and 1 said to dig concrete and install in ground pump was the only option he would use and 2nd one said to use the the pump on top.

Also if I do install the system that goes above does the bathroom need to be a step up form the rest of the floor?

Thanks
01-08-17, 01:15 PM
Join Date: Dec 2005
Location: USA
Posts: 36,608
Upvotes: 0
I've had experience in neither, but it would seem logical to go with newer technology and use a pump toilet. You will run your sink into it as well. Poking holes in otherwise good and sound concrete doesn't seem right. This is an example of a cursory Google search, which you can do as well to decide on the brand you want.
https://www.supply.com/shop?nid=6383...RdfRoC5vzw_wcB
01-08-17, 06:01 PM
Join Date: Sep 2016
Location: USA MI
Posts: 9,460
The pit system is very similar to a sump pump but the "pump" is called a grinder for, well for grinding up everything and pumping it up to the septic system.

The toilet is similar but self contained.

The pit is usually what is installed when the basement is prepped for a basement bathroom.

If just a 1/2 bath then the toilet will be sufficient!
01-09-17, 05:22 AM
Join Date: Sep 2016
Location: USA MI
Posts: 9,460
There used to be a system that was elevated but what Chandler is showing is newer.

Actually I recall seeing one where the "grinder" could be moved behind the wall so it looked more like a conventional toilet.
01-09-17, 07:00 AM
Join Date: Mar 2003
Location: NC, USA
Posts: 26,295
The benefit of busting concrete and installing a sump is that all the fixtures in the bath can be standard. It also allows your bath floor to remain as low as possible so you don't have a step up into the bath and to preserve the headroom. And they use standard, full size sewage pumps which are resistant to clogging. Unfortunately it means busting up concrete to install the sump and the drain lines to the sump.
Using a Saniflo pump behind the toilet is easier. It still allows your bathroom floor to be low and allows you to run your sink to it as well. The downside is that you need a special, rear discharge toilet. The small tank of the Saniflo also means it fills quickly so the pump must turn on and off very frequently. And, worst of all they are prone to clogging. They can macerate poo and reasonable amounts of toilet paper but if someone uses too much paper or puts a feminine product down the toilet you'll have the stinky fun of unclogging the mess.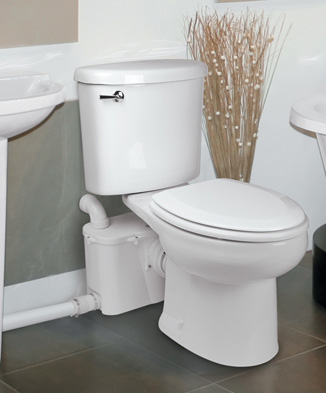 A third option is to raise your toilet one step up and use a Zoeller Quick Jon. It uses a full size sewage ejectment pump so it's resistant to clogging and it's a commonly available pump size to replacements can be found easily. It uses a standard toilet and allows other bathroom fixtures to be plumbed to it. Unfortunately it raises the floor of the bathroom, or just the area under the toilet by about 5".