3" copper leaking?
03-01-17, 04:12 AM
3" copper leaking?
---
In the picture this 3" copper has worn thin ,and it started to flood my basement whats the best and/or the least expensive way to repair this leak.I retired from plumbing 30 years . Tell me how you'd do it yourself.I don't!-- want to sweat it loose. My arms won't stay up there long enough, to get it done. Do they make repair kits for this problem? 3" if so where?.."checking to see whats new" in this area. I didn't think copper ever woreout. Its thin but not a long ways about 3" leak. Anything you have as a plumber, please help me out. and thank you bob s
03-01-17, 04:27 AM
Join Date: Jan 2001
Location: Manitoba
Posts: 9,498
Fernco couplings
and PVC drainage pipe would make a good patch.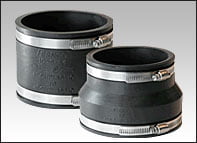 We use a lot of these in our 1928/1970 construction era hospital.
03-01-17, 05:56 AM
Would you know how long these can be purchased? and thank you bob s


I am thinking maybe get a piece of 3" dia copper.split it wrap it around the present bad piece. Clean up the pipe extra good.And sweat it back on the bottom side Maybe half circle, copper piece.any other ideas bob s
03-01-17, 06:29 AM
This the main branch to the toilet. Its 3" for sure.Thing i am concerned is The bottom of this short line maybe getting thin also.This bad pipe shown is 9" long into each fitting Bob s Cutting it out to replace would be a fight to repair .inserting another complete new 9" piece. All the branches as shown won't give enough to ft it it up.??
03-01-17, 08:33 AM
There's a variety of Fernco or similar products available similar to the one's GregH showed. However, I suggest getting one with an metal outer shell and strongly suggest you stick to those. I'm concerned your pipe may be thinning and a purely rubber product may put pressure on the pipe. You can find them in HD or almost any hardware store, also Amazon.
03-01-17, 05:14 PM
Hi, Fernco couplings work well. Replace that section with ABS or PVC. If you can find a coupling that would fit over the hub of the bass fitting you could cut the pipe flush with the coupling then run a new piece of abs to the toilet. They make those couplings all types of configurations. If you get the right coupling the rest will be easy.
Good luck Woodbutcher
03-02-17, 05:23 AM
Repair came out well--- good as ever after 32 years retired,Copper is solid every where else.Ihave always been under the impression that ..being A plumber myself Copper never wears out ?thanks all bob s before and after shown