How to remove old Pfister kitchen diverter
01-11-18, 08:37 PM
How to remove old Pfister kitchen diverter
---
I have the old Price Pfister diverter under the kitchen sink as follows: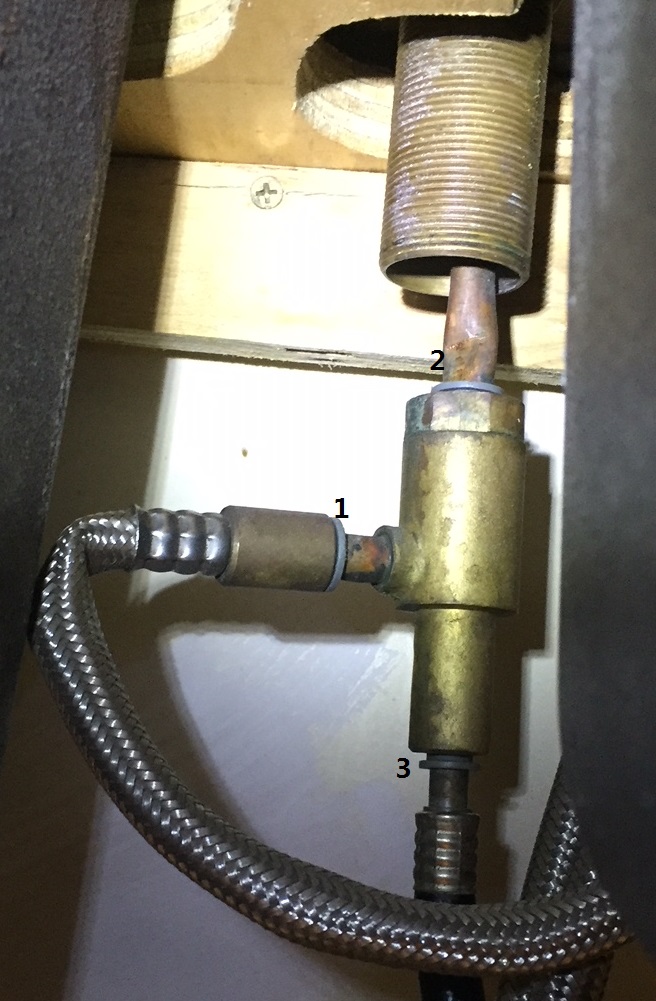 (Amazon seems to have this model:
https://www.amazon.com/Pfister-951-0...dp/B002YR7KTQ/
)
I thought I could push the gray collars (1 to left,, 2 down, 3 up as shown) and pull the attached tubes away and off. Either I'm wrong or they're just stuck due to old age. What do you advise? Thanks.
By the way, the copper tubing above 2 was pressed almost flat and I don't recall ever doing that. The symptom I have is that when I turn on the spout, the normal flow lasts for only one second and reduces to very small flow. But I can make it flow normal again by opening the side sprayer even for just a second. I don't know how to explain. But the diverter may just need to be replaced.
01-11-18, 08:58 PM
Join Date: Oct 2012
Location: Jersey
Posts: 62,535
You have to hold the lock tightly in the directions you listed while turning the fitting back and forth. Take 1 and 3 off first and then try 2. They will be tight from age.