Weird kitchen sink drain issue
06-02-19, 11:38 PM
Join Date: Jan 2018
Location: USA
Posts: 8
Weird kitchen sink drain issue
---
Hey,
My kitchen sink only drains with the garbage disposal on, see attached video for an example. I removed the p-trap and verified that issue is not the kitchen drain/garbage disposal (water ran right through), so then I ran a drum-type 25' snake through the pipes, and turned it fast while I slowly pulled it back out. The snake was fairly clean looking and it didn't feel like I hit anything other than 90 degree bends. I'm sure it went through the drain pipe and not a vent pipe because my basement is unfinished and I used a magnet to make sure it was there.
I then put the p-trap back, and poured a ton of baking soda + vinegar mix into the sink drain, then followed that up with a pot of boiling water. I had to use the garbage disposal to get it to go through, it got stopped up again after a gallon or two of liquid. Unfortunately none of what I just did helped at all, it still has the same issue. I'm pretty sure I went far enough with the snake.
Is it possible there is something weird going on with the vent? I can't see behind the wall where the pipe goes, so I guess it might be attached to some vent pipe before it pops out into the basement where I can see the rest of the pipe. Any help would be greatly appreciated, thanks!
video -
https://youtu.be/BQLFOOefZHs
-Marc
---
Last edited by PJmax; 06-06-19 at

08:24 PM

. Reason: resized picture
Sponsored Links
06-06-19, 02:19 AM
Join Date: Aug 2017
Location: USA
Posts: 31
Upvotes Received: 3
There's a chance that your snake went up the vent rather than thru the drain.
06-06-19, 04:57 AM
Sounds like you have a clog farther down the line. I had one about 30 feet down line that my small snake could not reach till i found another clean out in crawl space.
06-06-19, 03:10 PM
Check to make sure that the elbow coming down out of the disposal is not too long inside the slip joint fitting. On rare occasions I have seen a tail piece cut too long, jammed right into an elbow, (in this case the trap) and it is more prone to collect crud and won't drain fast enough because the pipe is restricted.

Unrelated, but the dishwasher loop should be way higher... zip tie it up tight to the eyelet.

Curious to know if you remove the dishwasher hose temporarily if it would drain any faster... that would mean it's a venting issue.
06-13-19, 06:32 PM
Join Date: Jan 2018
Location: USA
Posts: 8
Thanks for the suggestions! So the elbow joint coming off the disposal, as well as the p-trap, were relatively clear and now are 100% clean, but I still have the issue, so I know it's not there.

I'm surprised you even noticed the dishwasher loop, good eye! Yeah I'll definitely raise it up, thanks for the suggestion.

Removing the dishwasher hose makes it not back up into the sink, but it seems like there is still an issue. I'm going to grab a 50 ft snake, it's possible the clog is further down the line. I have a very long horizontal pipe with barely any slant to it (definitely less than 1/4" per foot) that extends past the 25 ft limit of my existing snake.


06-14-19, 04:58 AM
Join Date: Mar 2003
Location: NC, USA
Posts: 20,368
Upvotes Received: 139
Since you have a 90 degree fitting glued onto the nipple coming out of the wall it will make snaking a bit more difficult. You can cut the pvc pipe in the middle so you can have straight access into the pipe. Then when you're done use a shielded coupling to re-install it. If there is a clog in the future you can just loosen the clamps on the coupling and pull the 90 off easily.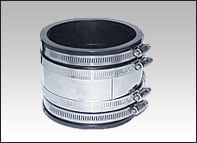 Posting Rules
You may not post new threads
You may not post replies
You may not post attachments
You may not edit your posts
---
HTML code is On
---