Tub Spout Replacement
02-22-20, 02:20 PM
Join Date: Nov 2005
Location: USA
Posts: 12
Received 0 Upvotes on 0 Posts
Tub Spout Replacement
---
Howdy,
I've lived in this this house for 15 years, several years ago I replaced this spout with one from the store, it was a simple buy and replace procedure at the time. I recall it just screwed right on. However, now the diverter is starting to give problems and I want to replace this tub spout again, but this attachment seems to have been welded on by the contractor when the house was built. I've been to Home Depot and the local hardware store and none seem to be any kind of simple screw on replacement as all of the new one's I'm finding are of a smaller diameter fitting. Any advice like what brand or type I need to be looking for? I apologize because I hate plumbing and pipe work, I'm much more comfortable dealing with electrical.
Thank in advance.

Ferris
02-23-20, 03:56 AM
Join Date: Mar 2003
Location: NC, USA
Posts: 25,944
That is a slip on spout. If you can't find the same exact spout you might also have to replace the mounting adapter on the pipe. Usually though I convert them to a threaded type by sweating a male threaded adapter onto the pipe.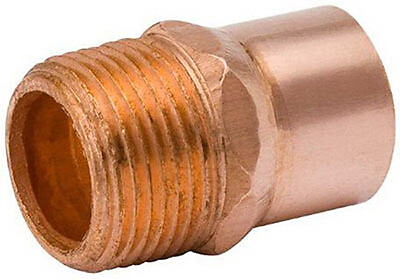 02-23-20, 06:50 AM
Join Date: Sep 2016
Location: USA MI
Posts: 9,249
That's a new one for me. Every one that I have ever has is the type that screw on using the adaptor that PD is showing.

I've seen others that have an o-ring that fits over just a piece of pipe.

You appear to have one that screws onto some type of adaptor, bet that is a flat sealing washer on the end!
02-23-20, 08:22 AM
Join Date: Sep 2019
Location: Canada
Posts: 1,781
Recently there was another post of the same type of spout.
tub shower leak
Looks like finding any info on it is difficult to say the least.
Perhaps that poster came up with a fix.
What is the problem with your diverter?
Does it have a manufacture's name on it?
One think to note is that on this type with Orings as seals the hole in the wall should be sealed.
Over time the Orings will fail.and need replacing.
02-25-20, 01:13 PM
Join Date: Nov 2005
Location: USA
Posts: 12
Received 0 Upvotes on 0 Posts
What is the problem with your diverter?
Does it have a manufacture's name on it?
This is my kids bathroom shower. It is occasionally not shutting off the water completely to the spout and diverting it to the shower properly, I have to put my finger inside the spout and push it a little to get the diverter to engage.
I did not see any manufacturers emblem on it at all, however I will remove the spout again and inspect it closer.
I did not realize this was such a rare and odd thing, weird that it even exists since it is so out of the norm. It could perhaps be a Delta since that's what the OP said his was on the other thread you linked to.
I'll keep looking into this and thanks guys.
02-25-20, 01:36 PM
Join Date: Sep 2019
Location: Canada
Posts: 1,781
I do not know how this diverter works but perhaps the following will help.

I get black slime growing in mine so once very 6 months or so I use bleach and drip some on the handle (working it up and down) so it runs down into the spout . I also spray some up into the spout and that clears it up and the diverter works OK again.

If you get a calcium build up then I would use vinegar.

I did see a video of a woman who used pam to solve a sticking diverter but have never tried this.




02-25-20, 01:50 PM
Join Date: Oct 2012
Location: Jersey
Posts: 62,035
Click on the link. Go down a little ways to "
Tub Spouts with Brass Adapters - Threaded or Slip-on
."
Tube spout repair
Looks like you should be able to replace the spout with the existing brass adapter.
If it leaks it may need a new o ring.