Need advice for stagnant pond
07-05-10, 05:10 PM
Join Date: Jul 2010
Location: United States
Posts: 3
Received 0 Votes on 0 Posts
Need advice for stagnant pond
---
My Grandfather (who passed last year) dug a large pond on my property in 1994. It is pretty darn big, it takes up at least 1/2 acre and is 8 feet deep in the middle. It is fully stocked with bullfrogs and hundreds of red slider turtles who have multiplied over the years. We also have a family of muskrats and who knows what other creatures inhabit the water.
The problem is, this summer, the top of the pond has a thick, slimy, green, foamy, layer floating on top. The water does not even move in strong winds, this layer of muck has consumed the top of the pond. It has began to smell like sewage as well.
We are wondering what we can add to this pond to oxygenate the water or to otherwise get this slime under control. We do not want to harm the wildlife so we are pretty stumped. It is a natural pond with no water features. Any and all advice will be greatly appreciated.

Thanks so much in advance.
Sponsored Links
07-05-10, 07:53 PM
Can you post a picture of the pond?

Where are you located? You don't have to get too specific but southeast, New England or Midwest will help.

Where does the pond get it's water? Is it fed by a spring or is there a creek flowing from a farmer's field?

What are your plans for the pond and how much work and/or money do you want to put into the project? Do you want to turn it into a swimming pond, a good fishing pond or just clean it up so it looks & smells better?
07-06-10, 06:34 AM
Pond
---
Your profile gives your location as Orleans County, New York. Is this where the pond is located?

What you describe is usually the result of low rainfall and excessive nutrient run-off from the surrounding land area. Is this pond getting run-off from farm land where farm animals graze?

There are species of fish which will reduce pond algae. Be careful here as you may introduce undesirable species harmful to other aquatic life.
07-06-10, 06:28 PM
Join Date: Jul 2010
Location: United States
Posts: 3
Received 0 Votes on 0 Posts
Thank you for the replies!
---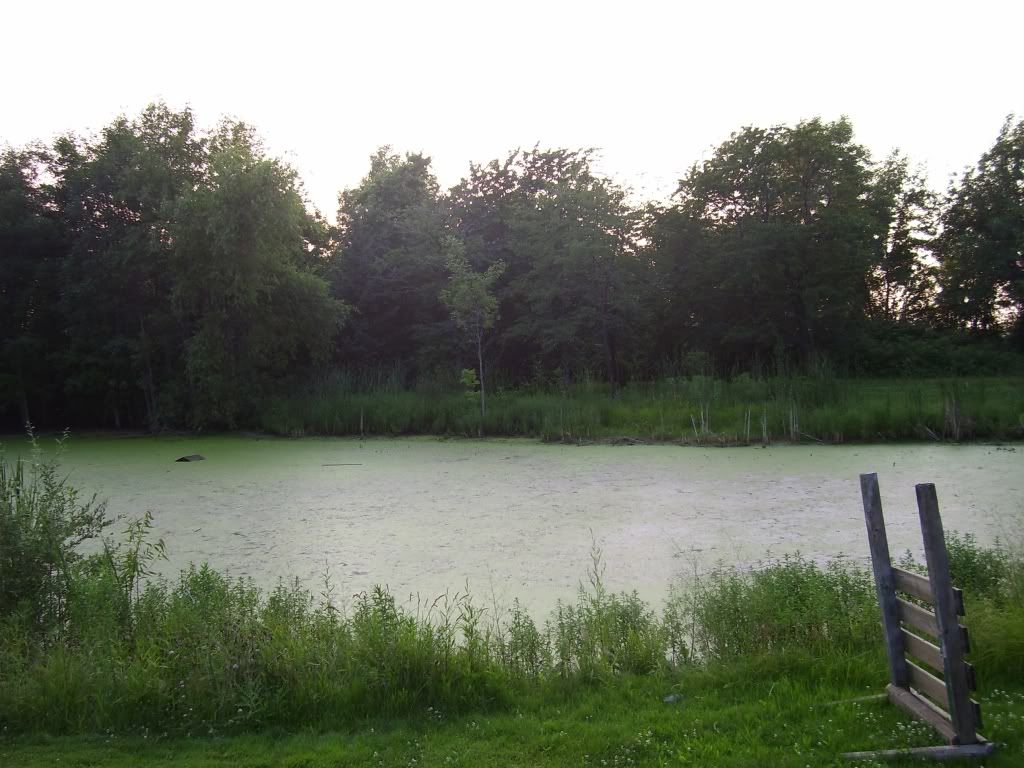 07-06-10, 07:27 PM
Join Date: Jul 2010
Location: United States
Posts: 3
Received 0 Votes on 0 Posts
Pond Info
---
Thank you both for the replies! The pond is located in Orleans County in Upstate, NY. It is not fed by any creek or other water supply. It recieves all it's waeter from the rain. We are pretty surrounded by farm land, but we are a little elevated so I am not sure how much runoff actually gets in the pond.

Basically, all we want is for the water to clear up so the wildlife can have clean water. We do not plan to swim in it or use it for any recreational purposes. We would like to eliminate the smell as well. We do not want to invest too much money but are open to suggestions of any kind. Any advice is greatly appreciated!

I posted a picture of it before this post so you can see exactly what we are dealing with.
07-06-10, 08:58 PM
Have you asked your local Agriculture Extension Agent? What about algecides? I have read of them being used here on lakes.

My thought would be a shallow well, perhaps hand drilled, solar or wind powered pump to add water if you have a way to handle the drain off.
07-07-10, 05:00 AM
Chemicals like algaecides can temporarily get rid of the algae but they only treat the symptom. The cause of the problem still exists so the algae will return. Many algaecides are toxic to some fish so I would only resort to their use after you have addressed some of ponds the other issues.

The root cause is too many nutrients in the water. Sources of the nutrients can be: fertilizer from surrounding fields, runoff from animals grazing, leaves from trees... These nutrients have built up in the pond over many years so do not expect a quick solution.

If you have control over the surrounding land stopping the use of fertilizers and not allowing farm animals to graze will help reduce the amount of nutrients making it into the pond. Removing trees and brush surrounding the pond will cut down on the leaves falling in the water and will allow better airflow to the pond's surface. If you don't have control of the surrounding land (mainly the fields) you may be fighting a constant battle.

The easiest and fastest but most destructive way to quickly clear up the pond is to drain it and remove the muck layer on the bottom of the pond. Some muck removal can be done from shore with a large excavator, but again it is rather destructive and you then have to figure out where to put the muck. As you can imagine this will take several thousand dollars unless you happen to have free access to heavy equipment.

You can install a pond aerator. Microbes and bacteria in the pond will naturally break down nutrients and work to clean the pond. In most stagnant ponds with a thick muck layer on the bottom there is mostly anaerobic activity. It works, but it is slow. By adding oxygen to the water you make conditions right for aerobic bacteria and microbes which work much faster to break down the nutrients. Oxygen can be added with bubblers/air pumps, fountains or surface agitators. This is a natural process so plan on it taking several years and it may need to be continued indefinitely.

My favorite method are bubblers. The pump can be placed on shore for easy maintenance and a hose runs to air stones or rubber bubble membranes on the floor of the pond. These provide the most thorough circulation of water since they also move water from the very bottom and are the most efficient at introducing oxygen to the water. Another benefit of the bubbler is that there is no electricity in the pond so there is an added level of safety. You will probably need a rotary vane compressor to deliver the volume of air to be useful. A small system will start at around $1'000 without the cost of getting electricity to the pond.

My second favorite are surface agitators. Some look like a little paddle wheel boat anchored in the center of the pond and others made by Kasco Marine and look like an inner tube floating on the surface and have a motor & propeller under the surface. They are not pretty but the motor is above the surface and small ones start at about $750 and... you still have to get electricity to it.

My least favorite but the most popular are fountains. People like them because they are pretty. Since energy is used to throw the water high in the air they are less energy efficient for the results provided. Don't bother considering a fountain from your local home supply store. They are very, very undersized to be of use. Floating, packaged pond fountains start at about $1'000 and can quickly be several thousand dollars.
07-07-10, 06:38 AM
07-07-10, 07:10 AM
Join Date: May 2010
Location: South Florida
Posts: 376
Received 0 Votes on 0 Posts
Wirepuller38 and Pilot Dane already made excellent points. Some comments and links which either reinforces what theyíre saying or expands the discussion.
You mention an abundance of critters inhabiting the pond and that its shallow . . . add wildlife to possible mix of causes as they also excrete feces . . . no mention of any fish which biologists use as an indicator species with respect to dissolved oxygen content.
There is an absence of any aquatic vegetation . . . while not familiar with aquatic species to NY, I did a quick search to confirm some same species indigenous to FL and see you have your share of troublesome invasive non-native species. While a much warmer climate likely makes a big difference between FL & NY, a nutrient rich pond here in FL causes an explosion of aquatic vegetation. Abundant aquatic vegetation can absorb some of the nutrient load. Is anyone spraying herbicides next to shoreline to control vegetation? . . . far side shows barren ground but may be caused by a low water event. I would be observant of other water bodies in your local to determine if aquatic vegetation is a normal feature or not.
The rich organic muck mentioned by Pilot Dane . . . the 8 ft. depth, if based on how it was dug, may be considerably less after 15+ yrs. It looks like it was dug as a pit but unsure if embankment has some slope to it meaning water holding capacity may be deceiving.
The two conditions, green haze and clumps of stuff, may not be related . . . one link shows a number of pics and identifies different causes of these blooms. Some are temporary and clear up in a matter of days . . . do you visit the property regularly enough to determine if your pic represents what is normally seen or a short-term seasonal event? An answer to that question may shape a control strategy response.
A poster identifies your stateís cooperative extension service . . . donít know how yours is organized but if you have a commercial division who work with farmers, that agency should have technical publications on how to minimize nutrient run-off if thatís the main culprit. The pic doesnít clearly show evidence of run-off coming into pond . . . I would go to far side shown in pic to see if barren earth also shows on opposite side . . . if not, flow may be coming from far side . . . also look for evidence of a path or flow way as the vegetation should be a darker green than other areas if run-off is nutrient rich.
If getting run-off from an adjacent farm, one option may be to build a small berm adjacent to that property if landowner is unwilling to help out . . . first coordinate w/ your local govít. body responsible for regulating this matter (may be your local building dept.).
Maumee Bay Aquatics
Algae or pollen? - Pond Boss Forum
Good luck.
Posting Rules
You may not post new threads
You may not post replies
You may not post attachments
You may not edit your posts
---
HTML code is Off
---