Planning Materials for Spa Conversion to 220
04-19-20, 03:31 PM
Planning Materials for Spa Conversion to 220
---
Hi everyone! With this extra time at home I want to convert my spa from 110 to 220. I've taken pictures of what I think is pertinent. Apparently this house had an outdoor spa at one time as the wiring from the breaker panel in the garage to the outlet box on the wall of the house in the back yard has 3 live wires. As you see 2 are black and 1 is yellow. The yellow is ground and the other two are power wires. The things I know is I need to run conduit from the outlet box where the wires are now, to the spa panel I just bought which is a 50amp spa panel. I also know that I must have 18" depth of buried conduit where it goes from the spa panel to the tub itself.

As you also see the heavier gauge wire is aluminum and has some sort of terminal block on each end and then what looks like either #6 or #8 copper wire coming out of those terminal blocks that apparently went to the previous tub. This previous tub no longer exists. I just know that the breaker panel reads that the 220 breaker was labeled as hot tub.

The spa I have been using these past 4 years is a Balboa Sierra built in 1999. I've posted pictures of the spa terminal as well and that has me concerned as well. But before I get ahead of myself I want to have all the materials before I have an electrician come and hook it up. It looks to me like the tub is a 4-wire but looking at the tub circuit panel. This may pose a problem since I only have 3 wires coming out of breaker box in the garage. I am not in ANY way an electrician. I can install ceiling fans and things of that nature but not something that requires a licensed electrician. What must I do about only having 3-wire power source for a 4-wire requirement?

I look forward to your constructive comments and suggestions. Please ask any questions you feel necessary!Thanks folks!


04-19-20, 04:38 PM
Join Date: Oct 2012
Location: Northern NJ - USA
Posts: 60,876
Welcome to the forums.
It looks to me like the tub is a 4-wire but looking at the tub circuit panel.
Yes..... that is correct. You will need an actual green wire in that conduit.
By code you should have two hot wires...... black is fine.
A neutral wire..... should be white.
A ground wire which must be green.
04-19-20, 05:41 PM
Thanks for the welcome Pj,
If that's the case then am I going to need to pull all the wire out from the breaker box and install new 4-wire, or is there a work-around for the green wire requirement?
08-14-20, 02:38 PM
What gauge is the wire that's there and what diameter is the conduit? I just did what you are doing. I used #8 gauge and i pulled a Black a Red a White and a Green. it was 60 some cents a foot from Lowe's and I used one inch conduit. that went to the GFCI 50 amp breaker box in a box at least 6 feet from tub. My tub is an inside tub so I installed a 50 amp outlet a foot off the floor and ran a 50 amp 15 foot RV cord. here are some pictures.That GFCI works very well my heater went out and as soon as I threw the 50 amp breaker in the main panel the GFCI tripped,.Some where in my instructions it specified to use only copper wire no Aluminum.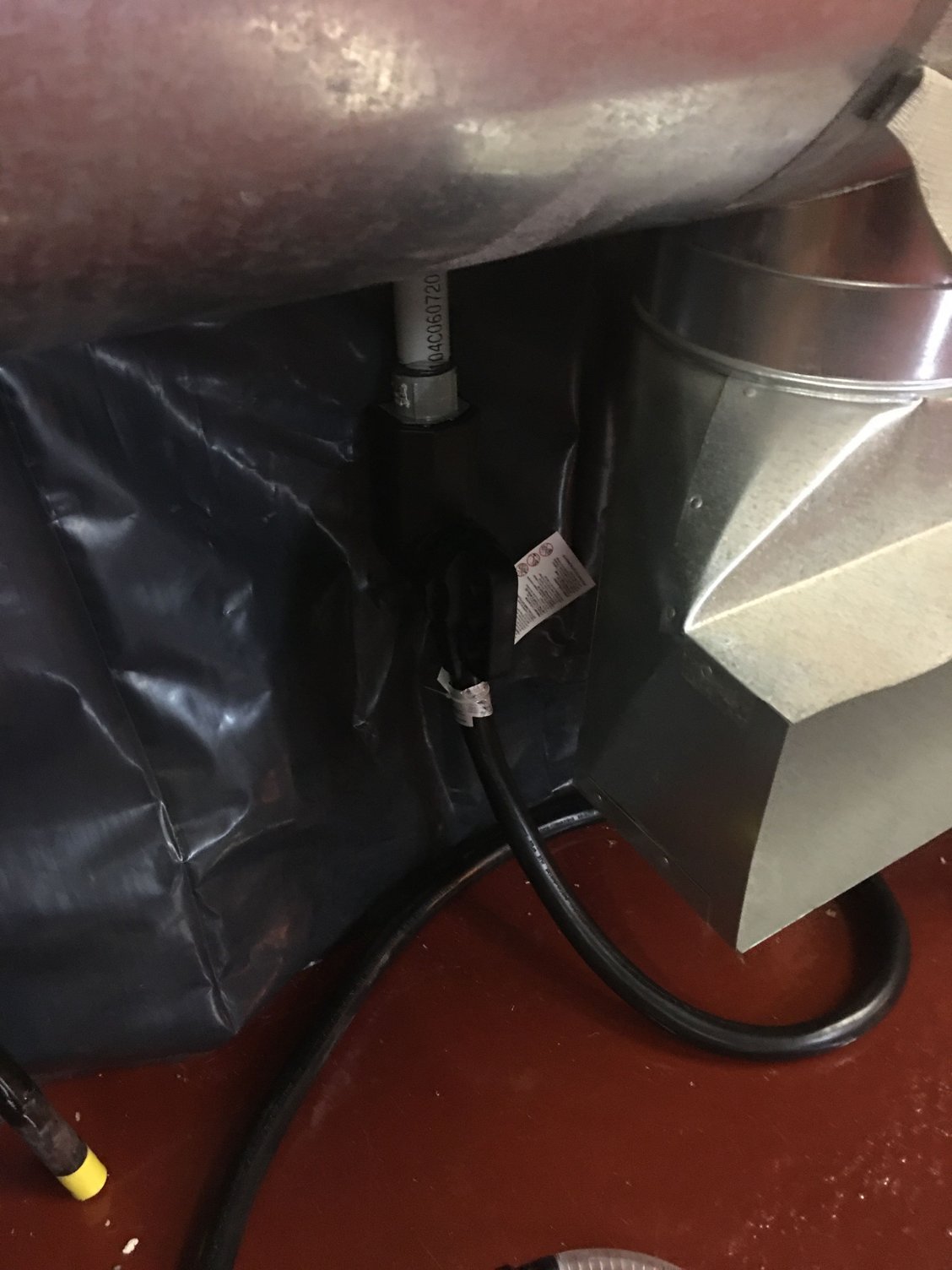 ---
Last edited by Bob James; 08-14-20 at

02:41 PM

. Reason: additional information
08-14-20, 02:47 PM
Join Date: Oct 2012
Location: Northern NJ - USA
Posts: 60,876
Your install is fine Bob. Everything looks proper. #8 is ok in conduit.