Handleset for older door
06-19-10, 12:33 PM
Join Date: Jun 2010
Location: United States
Posts: 1
Handleset for older door
---
Looking to replace the locks in our house and one tricky issue is the front door. It's got an older one piece handleset on it with an 8 inch long assembly inside the door jam.
So I'm looking for a handleset that will fit exactly inside the existing cutout inside the door. It's exactly 8 inches high.
I had been looking at Schlage, Baldwin and Medeco. Do you know of any handlesets from these brands that will fit my door?
Attaching a photo of the door & lock so you can see what I mean.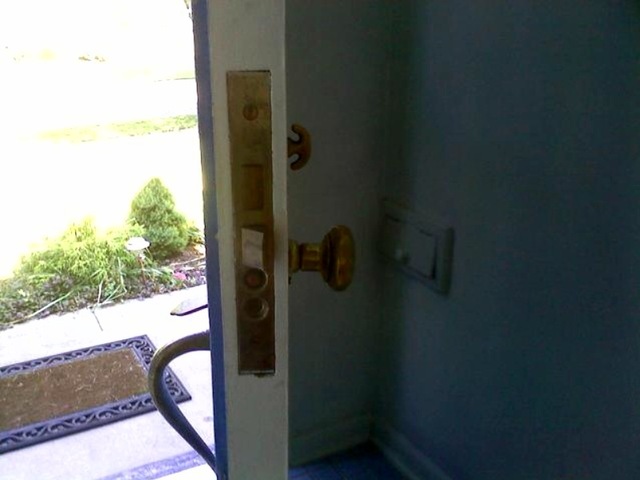 I had been looking at handlesets like this but I don't think they'll fit?
Baldwin Handlset
Medeco Handleset
Schlage Handlset
thanks!
Sponsored Links
06-19-10, 08:50 PM
Join Date: Nov 2008
Location: USA
Posts: 1,196
Just curious, is there a brand name anywhere? If you still have the original key cylinder, it should be there above the keyhole.

1st thing, you have a "mortise handleset" which has a 8" lock body faceplate as shown in your pic; the Schlage residential
handleset is NOT a mortise prep, and so, won't fit in your door.

And while 8" X 1.250" faceplate size is standard for most US mortise lock bodies, as is 2-3/8" backset (residential), the height of the knob spindle hole, thumbturn hole, cylinder hole and thumbpeice hole, varies a bit from one brand to another, so, generally, the larger the escutcheon plates are on the new lock, the more likely they will cover old holes that may not line up exactly.

The Baldwin line, although expensive, carry a lifetime warranty, and have a very wide selection of mortise handlesets.

Many manufacturers have the actual templates you can see online, which shows where the holes are drillied in the door.
06-21-10, 09:04 AM
Don-Jo is a manufacturer of renovator plates designed to cover the mortise prep in the door edge. You could use 2 push plates on the inside and outside face of the door to cover the old holes. Then just fit any brand of standard prep lock that you choose.
I have done this multiple times for people who want to modernize.
Here is a link to the product page
http://www.don-jo.com/catalog/pdfs/p46.pdf
you can get these from most locksmiths but you may have to order them.
Posting Rules
You may not post new threads
You may not post replies
You may not post attachments
You may not edit your posts
---
HTML code is Off
---